Bandol's Domaine Tempier 2014 Rosé Makes Wine Spectator Top 100 List
The Wine Snoop Report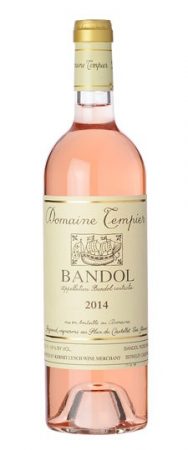 One thing about Americans is that we love lists. It can be for almost anything…best dressed, best city to retire in, best actress in a supporting role, etc., etc. In the world of wine, readers of Wine Spectator excitedly open the final issue of the year to see which 100 wines, out of more than 18,000 tasted, make the "Top 100" list. This year, Bandol's Domaine Tempier 2014 Rosé was selected, landing at No. 75.
Talk about select—wow! If, say, each of the 400,000+ copies published each month gets passed along to just five people, then 2 million people are looking over that list in print alone. Factor in Wine Spectator's online audience and the readers of the other media outlets that will cover the "Top 100 of 2015," it is easy to imagine that indeed the 3.05 million readers the magazine estimates they have is about right, if not on the low end.
With list in hand, it's off to the races to stock up on the winners. The retailers are panting in anticipation. Some are panting because they managed to lay in supplies—with 2,275 cases of Domaine Tempier Rosé in the US, odds are decent that bottles will be in stock in select wine shops in major metropolitan areas. Most other retailers are panting as they provide excuses why they can't get their hands on these "top" wines. You may be curious why—simple supply and demand. Do the math:
a. Only 20 of the selected wines are available in quantities above 10,000 cases.
b. Producers of 50 of the selected wines provide less than 3,500 cases (20 of these are at less than 1000 cases). A Côtes de Jura Chardonnay ranked at No. 99 only sends 10 cases to the US.
c. Per Nielsen, in 2014 there were 522,420 wine retail outlets in America.
If the folks at Tempier are seen doing handstands in the streets of Bandol, one can understand their enthusiasm. They can regale the regulars at the local bistrots with the news that their rosé, ranked No. 75 with 93/100 points and price of $40 a bottle, outranked Chapoutier's White Hermitage Chante-Alouette 2014, which scored 95 points, sells here at $100 a bottle, and settled in at No. 77, two spots lower than Tempier. Even better than that, the much vaunted Chapoutier 2012 Ermitage White L'Ermite, which was scored 98 points earlier this year by Wine Spectator and sells here at $615 a bottle, didn't even make the Top 100 list (along with 252 wines that Wine Spectator gave 95 or more points to in tastings this year).
Now let's consider another observation which might humble, or incense, all lovers of rosé. In the past 20 of the 37 annual issues of the "Top 100" lists published by Wine Spectator, a rosé was deemed worthy of inclusion a total of four times.
1. 2015 – Domaine Tempier 2014 Bandol Rosé (No. 75)
2. 2013 – Jolie-Pitt & Perrin 2012 Côtes de Provence Miraval Rosé (No.83)
3. 2012 – Domaine Lafond 2011 Tavel Roc-Epine (No. 64)
4. 2010 – Domaine Tempier 2009 Bandol Rosé (No. 99)
Going back to 1996, which covers a total selection of 2,000 wines, the above four were the only rosés chosen. Perhaps my original title, "Wine Spectator Bestows Token Award to Provence Rosé in New Top 100 List," was more à propos. (And, don't get me started on the inveterate absence of Provence wines, in general, on that coveted list!)
Now that Domaine Tempier has appeared in the Top 100 twice, I only hope that should they surface again in the next few years, Wine Spectator will not give them a special citation and then eliminate rosé from the list entirely. In the meantime I have found a merchant who did get his hands on No. 75.
-JC