A Roundup of Some Lovely 2019 Rosés
by Elizabeth Gabay MW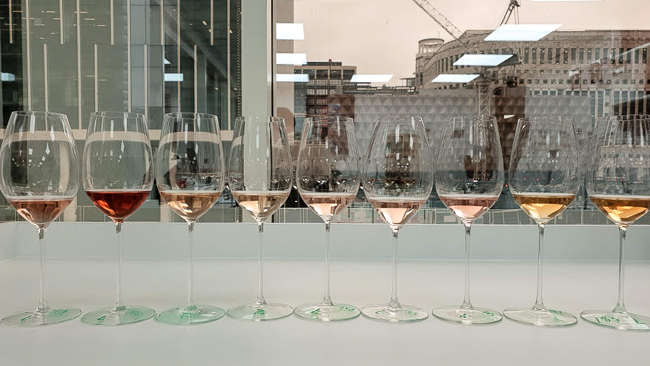 My 2019 schedule for tasting was so well laid out…. WineParis, Prowein, AIR Provence, Vinitaly, as well as numerous local tastings…. What could possibly go wrong?
But there is always a silver lining, and, in many ways my tasting this year has been much more focused. Tasting 183 Provence rosés for Decanter magazine just before lockdown and receiving (at home) a number of rosés to taste from around Languedoc have shown that the 2019 rosé vintage is excellent.
Here are some of my favourites to show the enormous regional variety of pinks from southern France.
From central Provence, Abacus, Domaine des Mapliers, Côtes de Provence AOP. Almost 50:50 Grenache and Cinsault, (with a touch of Syrah and Cabernet Sauvignon). Juicy redcurrants and cream with long fresh acidity and beautiful firm, ripe weighty structure.
Château Barbebelle Rosé Fleuri, Côteaux d'Aix-en-Provence AOP. 50:50 Grenache and Cinsault, with a touch of Syrah. Floral aromas followed by fresh and vibrant hedgerow fruit and long crunchy berry, mouth-watering acidity.
Château Coussin, Côtes de Provence-Ste Victoire AOP. Predominantly Grenache with some Syrah and Cinsault. Creamy, fresh acidity, typical of the limestone soils of Ste Victoire, with an austere minerality and powerful firm structure.
Croix Hautes des Schistes 2019, Château Peigros, Côtes de Provence-Pierrefeu AOP. Cinsault, Grenache, Syrah. Beautifully showing the powerful character of the schist soils just north of Toulon. Austere minerality, wild red berries and long acidity.
Cuvée Isaure 2019 Château de Brégançon Cru Classé Côtes de Provence AOP. Just over half Grenache, the rest a blend of Syrah, Rolle and Cinsault. Located right on the Mediterranean this wine has zesty salinity, lively red fruit and round ripe structure.
Crossing over to near the Spanish border in Languedoc-Roussillon, I tasted a few rosés made by winemaker Olivier Dauga.
Stellaire, IGP Côtes Catalane from the cooperative of Arnaud de Villeneuve is 100% Grenache Noir. Ripe red cherry fruit, silky, white peach creaminess and extra complexity and depth with subtle notes of bitter orange and garrigue leading into long fresh acidity.
Casa St Pierre Gris, IGP Côtes Catalanes from the Vignerons Catalans. Made with Syrah, Grenache Noir, Muscat à Petits Grains. Almost white gris colour. Perfumed Muscat coming through on the nose and palate. Orange blossom with hint of black fruit coming up behind, and lovely fresh acidity. Lovely individuality – with that twist of Muscat.
Editor's Note:
Until April 30, 2020, you can get 40% off the cover price (£30/$38) of Elizabeth Gabay's book Rosé: Understanding the Pink Wine Revolution. For European customers, use code ROSEWINE40 at http://bit.ly/BuyClassics. For USA customers, use the same code at http://bit.ly/BuyClassicsUS. Hurry as there are only a few days left to take advantage of this sale price.
This is the definitive book on rosé. It includes history, winemaking, and information about a selection of rosés from around the world. If you are a serious rosé fan or simply curious, this book belongs on your shelf. It occupies a prominent place on mine.