A TRIBUTE TO JERRY CLARK, THE WINE MAVEN (November 16, 1939 – April 17, 2019)
by Susan Manfull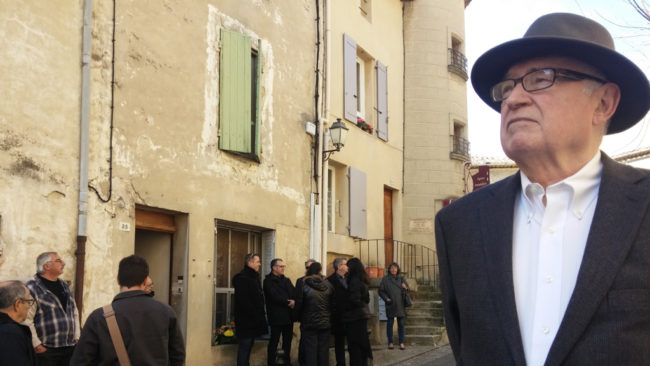 Provence WineZine lost an important voice this week and I, along with many readers, lost a very dear friend: Jerry Clark, aka "The Wine Maven," passed away on Wednesday, April 17, 2019. He was 79 years young.
Jerry loved wine, he loved France — especially Provence — and he loved to write. He embodied the qualities of the quintessential Provence WineZine contributor and PWZ was very fortunate to snag him.
Anyone remotely acquainted with Jerry knew that, aside from his beloved family whom his world truly revolved around, few subjects captured his passions more than wine. As he wrote in a PWZ article about creating one's own wine cellar, he began collecting fine wine in the late sixties when "… [A]ll Bordeaux classed growths (save the handful of first growths) could be had for less than $10 a bottle." He started off with "a nine-bottle wooden rack" that he kept in the back of a clothes closet in his seventh-floor, air-conditioned apartment in New York City. From that point, his collection grew to an impressive and well-organized cellar in his home in Mystic, Connecticut where he and his beloved wife, Benedicte, and family moved in 1994. He also still has wine stashed in several wine caves in France, where he and his family lived early on and where, I suspect, he and his wife, who I would often hear him call "mon chérie," longed to return.
Jerry collected not just wine, but wine-related paraphernalia such as wine bottle labels, posters, books, articles, movies, and rubber stamps. I believe he even referred to himself as a bit of a pack rat, by way of explanation, when he showed me a stack of yellowed but chronologically-ordered newspaper ads from The New York Times, each in plastic sleeves. They dated back to the early 1970s and confirmed the remarkably low prices for bottles, like a 1966 Château Lafite Rothschild for $18. It was exactly what was needed for his PWZ article. Another time, he surfaced with a significant number of old catalogues and brochures featuring international and domestic wines, also used in a PWZ article. His rubber stamp collection must have been expansive (in the category of wine alone) as a different image created from one or two or three stamps seemed to surface on each piece of US Postal Service correspondence from Jerry (of which there were many, especially in the form of postcards which, I am pleased to say, I kept all of).
Jerry was a very generous wine collector, hosting many wine tastings over the years and inviting many friends to enjoy his bounty. These were highly organized tastings, always fun but with serious underpinnings. I'm told they grew tamer over the years, making me wish I had known Jerry and Ben in the heyday of their early tastings. In recent years, he spent a lot of time revamping his rating scale, a seemingly tedious task but, when doing anything having to do with wine, I am confident Jerry was in his glory. The last tasting, organized around wine from Rasteau (in the Southern Rhône Valley), was one of the best I have ever attended.
My path first crossed with Jerry's over a postcard. It's a perfect example of serendipity, one so far-fetched that you are compelled to wonder if it wasn't meant to be. For years after our family lived in Lourmarin, a small village in Provence, my daughter continued to send postcards to a French friend who collects postcards. She is the wife of our daughter's soccer coach from our time in Lourmarin. It happened that Jerry and Benedicte frequently traveled to Lourmarin, too, and were also friends with the soccer coach and his wife. It also happened that my daughter's postcard arrived when Jerry and Ben were visiting their friends and that the wife showed it to Jerry because she knew Jerry also had an affinity for postcards. Jerry recognized the last name as that of a man who had worked for the same printing press manufacturer that Jerry had although Jerry had been based in France and the man, my husband, was based in New Hampshire so, at that time, they didn't really know one another.
The next thing we knew, we were exchanging emails and talking on the telephone. When I first actually met Jerry, he was standing at our back door holding a case of wine. He and Benedicte had stayed a couple of nights in our home in Lourmarin while traveling in Provence and he was returning the favor with a few selections from his storied wine cellar. I cannot recall, with any certainty, when that was. Probably about eight years ago but that image, so perfectly Jerry, remains ensconced in my mind's eye: broad smile, twinkle in his eye, chuckling a bit, generous, kindhearted, and bearing wine.
I had the good fortune to meet Jerry and Ben in Lourmarin on several occasions. The most memorable of those rendezvous was a visit Jerry arranged to the internationally renowned Tardieu–Laurent, one of the premiere négociant firms in the Rhône Valley whose cellars happened to be in Lourmarin. Jerry introduced me to Bastien Tardieu, son of Michel Tardieu who co-founded T-L, and we proceeded to have an incredible tasting. Popping open bottles and dipping into barrels all afternoon, it was dinner time when we finally emerged from the maze of barrels. Jerry lit the grill and opened a bottle of rosé from the local cooperative in Cucuron, quickly bringing us back to reality; but, thanks to Jerry, I had met Condrieu that day, and its minerality sprinkled with faint floral, stone fruit, and vanilla notes still lingered, indelibly changing my sense of Viognier forever. I will always think of Jerry and Ben when I sip Condrieu.
Jerry wrote for PWZ for nearly four of the five years we have been churning out articles. His column, Musings of a Wine Maven, includes 18 articles covering a broad range of subjects from the death of California winemaker Joseph Phelps to the alleged importance of vintage when buying rosé. Jerry was particularly interested in – and skeptical about – wine competitions that yielded winners of questionable merit and lists of wines that were rank-ordered based on elusive criteria.
A keen observer and a pensive man, Jerry often homed in on details the rest of us missed and had the remarkable ability to create a story from just a small part of the big picture that typically captures the average person. For example, in January of 2016, while people like me were clamoring to get to Millésime Bio, the organic and biodynamic wine fair now held annually in Montpellier, Jerry scoured the literature to confirm that few wine consumers (in the U.S., at least) really care whether the wine they buy is organic, sustainable, or least of all, biodynamic.
As a sidebar and evidence that Jerry did indeed keep an open mind (even though it didn't always appear so), he later changed his opinion about organic and biodynamic wines, even going so far as to embrace "natural" wines. He credited six Lodi AVA Zinfandels — part of the Lodi Native collaborative project — made from sustainably grown grapes with minimal intervention in the cellar, as awakening his interest and a bottle of Tavel vin naturel produced by Eric Pfifferling of Domaine de l'Anglore as solidifying that interest. From then on, it seems no one could get Jerry to stop talking about the very wines one would find at Millesime Bio.
With sardonic, sometimes snarky, humor, he always made me smile. Well, almost always. We did butt heads occasionally. There was the time he wanted to end an article about rating scales with "Did the satyrs score the virgins?" We wrangled for days until I relented, and you can read his reply to the query he put forth in "Has a Good Beat…. Easy to Dance to." Oh, how I will miss his humor.
One of Jerry's best pieces was about the death of the esteemed Châteauneuf-du-Pape winemaker, Henri Bonneau. Jerry happened to be in Châteauneuf-du-Pape when Madame Bonneau told another winemaker with whom Jerry was talking that her husband was hospitalized and, later, hearing that Bonneau had passed away, he was able to alter his travel plans to return from Lourmarin to Châteauneuf-du-Pape for the service. It was a very moving article that earned him First Prize for the "2016 Wine Blog Post of the Year" at the international Wine Bloggers Conference (now called the Wine Media Conference).
Jerry and I had a long-running, heated debate over whether rosé is a serious wine, culminating with an editorial piece entitled, "Can We Settle This Over a Rosé?" When you are writing for a blog largely devoted to Provence wine, the majority of which is rosé, I would say to my friend, you must at least consider that some cuvées really do demand your respect. It took multiple emails and many telephone calls between New Hampshire and Connecticut — and a lot of tastings — for us to (at least ostensibly) settle this matter, eventually espousing our respective opinions in the editorial. It was terrific fun, and we agreed we would find other subjects to debate and write about. We did find other subjects, but, sadly, we never got around to writing about them.
One of those subjects would surely have been whether the large and heavily capitalized wineries would change the delicate landscape of small wineries, cooperatives, and farmers that have long defined Provence. Would they buy too many small estates and gobble up too many of the grapes putting the cooperatives, long the bedrock of Provence wine, out of business? Jerry worried about this: is there a dark side to the explosive growth of the rosé business? I didn't have a chance to fully brief him about what I learned in our February trip to Provence: The competition for grapes in Provence has become fierce, skyrocketing the price of grapes, and causing a growers' market. Ah, Jerry, you always did home in on the elements that comprise the big picture on which the rest of us were focused.
How could you go so soon? We had more subjects to debate, stories to tell, postcards to write, and wines to enjoy. Echoing the sentiments expressed by Rabbi Jonathan Sacks about grief, a subject with which I am now woefully familiar, it will be a long process adjusting to the presence of his absence. I will miss him terribly, but I am grateful that our paths merged at the crossing of wine, Provence, and writing. Nous te saluons, cher Jerry.