Acquiesce Winery's Sparkling Grenache Blanc to Debut on Friday, July 13
by Susan Manfull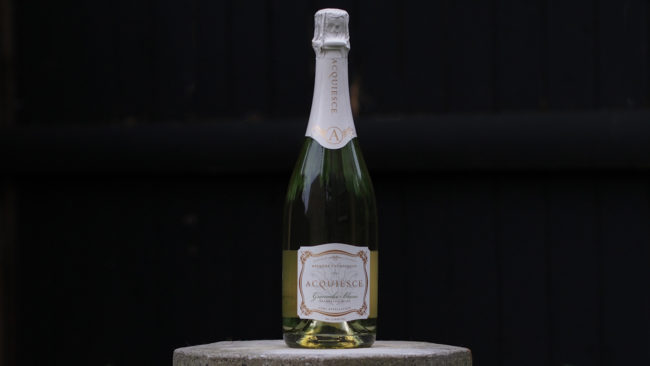 Grenache Blanc is widely grown in both Châteauneuf-du-Pape and Côtes du Rhône. If you are lucky enough to be familiar with Acquiesce Winery in Lodi, California, you know that they have a vine or two of this grape variety. It was a white Châteauneuf-du-Pape wine – typically some combination of Grenache Blanc, Roussanne, Picpoul Blanc, Clairette Blanche, Picardan, and Bourboulenc — that propelled Acquiesce proprietor Sue Tipton into serious winemaking. In fact, she began with a half-acre of Grenache Blanc (and a half-acre of Grenache Noir).
Tipton has come a long way since her serendipitous sip of that renowned white wine back in 2006 and her initial half-acre of Grenache Blanc vines. Her first vintage was 2010. Beginning with a blend she christened "Belle Blanc" of mainly Grenache Blanc, a third Roussanne, and a little Viognier – Tipton's homage to Châteauneuf-du-Pape – as well as a single varietal Grenache Blanc, this renegade winemaker then dipped her toe into sparkling wines. On Friday, July 13th, the first vintage of this bubbly varietal will be released to the public. And what a splash it will be!
Most of the world's Grenache Blanc is grown in France. It is the fourth most widely planted white grape in that country, with most of those vines planted in the South of France. Spain, the country where this variety originated, is second in terms of the hectarage of Grenache Blanc. The United States is a distant second with about 140 hectares (350 acres) of vines in California (three times as much Chardonnay is grown in that state).
According to a recent announcement from Acquiesce Winery, "Grenache Blanc is a rare grape varietal in the U.S., and we don't know of another sparkling Grenache Blanc." Just 200 cases were produced.
This 2016 Sparkling Grenache Blanc is first fermented in stainless steel tanks in Acquiesce's cellar and then "refermented" in the traditional méthode champenoise at Rack & Riddle, a winery by the same name that offers a "cooperative" service they call "Custom Crush" for making, in this case, sparkling wine, in Healdsburg, California.
I was lucky enough to taste this wine a few weeks ago and was bowled over by its crisp and flinty flavors coupled with (big) hints of tart green apple and white peaches. Deliciously elegant. In my notes, I wrote: "It filled my mouth with wonder!"
Tipton feels the wine is "ready" now. According to the same announcement mentioned, orders may be placed beginning July 13th by sending an email (Deanie@av-wine.com) or calling Deanie (209 269 6869).
If you can get to Lodi on Friday, July 13th or Saturday, July 14th (from 6:00 to 8:00 p.m.), I suggest you reserve a place to taste this very special sparkling wine at the Winery. Appetizers, prepared by chef Nick Kubitz and his team, will accompany the tasting. At $25 per person, this would be a great way to meet this wine and to experience, first hand, its versatility in food-pairings. RSVP here: https://www.eventbrite.com/e/acquiesce-sparkling-release-tickets-47035820405
If you can still get tickets, this would be one lucky Friday the 13th!