April Frost Damages 25% of Château Vignelaure Vineyard
by Susan Manfull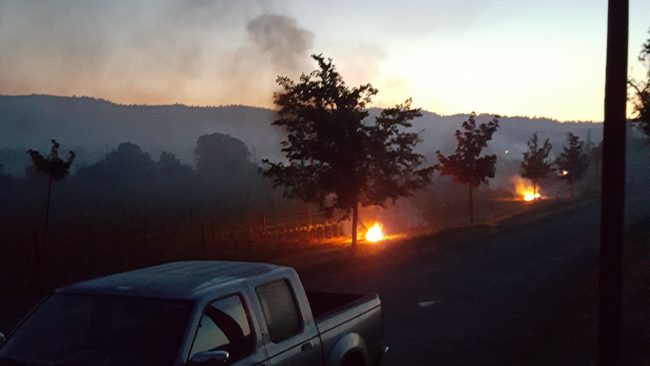 "We are lucky the damage was not worse," Philippe Bru, Directeur Œnologue of Château Vignelaure, said of the April 29th frost that hit his vineyard, located in Rians, just north of Aix-en-Provence. "I hear that the center of the Var was hit much worse, especially around Correns."
That devastating frost, considered the most destructive since 1991, wreaked havoc all over France as well as Spain, Italy, Germany, and the U.K. Over the course of about a week, the devastating frost affected almost all wine regions of France. Bordeaux was probably hit worst with as much as one-third of the total harvest lost and some estates reporting 100% lost. Temperatures plummeted to -3° Celsius (26.6 degrees Fahrenheit) following early spring temperatures that had hastened the growing season. In terms of revenue, the losses in Bordeaux alone may exceed €1 billion.
At Château Vignelaure, they raced to light fires in the vineyards. In Provence, Bru explained, frost is not generally a problem so most estates are not prepared with the heaters, fans, and helicopters that other regions have at their disposal. He added, "Frost is becoming more prevalent here, so maybe some better equipment will be needed to help prevent the effects of such frosts."
Most of the damage to vines was sustained in the lower levels of the vineyard where Semillon, Sauvignon blanc, and some Carignan varieties are grown. Thus, mostly the cépage for white wine will be affected although Bru was quick to add "there will be white wine in 2018" as well as the usual red and rosé wines.
"The blends will be different but they are slightly different every year anyway," Bru said. The estate produces two white wines –Château de Vignelaure blanc and Le Page de Vignelaure blanc—each with Sauvignon Blanc and Sémillon. The Château cuvée also includes Roussanne and Le Page also includes Rolle. Both are now certified organic.
I first tasted the Château Vignelaure Blanc (2013), a blend of Roussane (70%) and Rolle (30%), in June 2015. It was the first white wine ever produced on the property and had been released just before our visit. It remains one of my very favorite white wines produced in Provence. Attributing much of the success of the wine to top terroir, Bru said that as the Roussane vines age—they were just six years old when they produced the grapes for this wine—the wine will continue to grow in complexity. I am relieved to know I'll be able to replenish my stock with 2017s when they are released a couple years from now.
As a result of the frost, the vines will require more labor than usual this year, Philippe explained. "More pruning and care of vines to restore vitality," he said. They will watch the flowers closely and it's comforting to know that "the flowers seem to be doing well now."