Catching Up with Stephen Cronk, Owner of Mirabeau-en-Provence
by Susan Manfull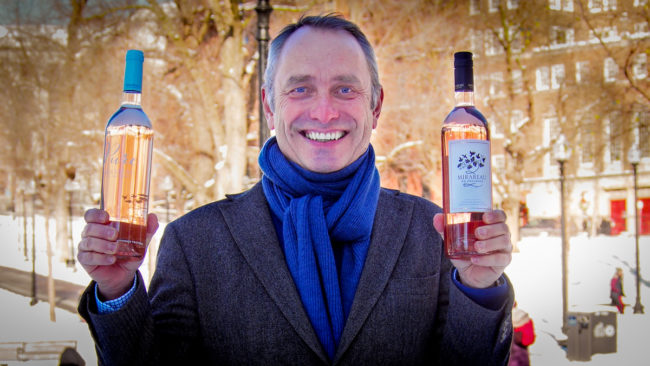 Mirabeau-en-Provence's Stephen Cronk landed in Boston Saturday night, just as Winter Storm Helena, New England's first major snow storm, was ramping up. "The flight was a bit bumpy," Cronk told me. Cronk, in town to solidify his contract with importer Pacific Highway, met me Sunday morning over a couple of Italian frittata sandwiches and lattes at Caffé Nero in Boston's Theatre District.
Cronk was smiling broadly to be establishing a relationship with a new importer—and we, in the States, will be, too, when Cronk's signature rosés, Pure and Mirabeau Classic, become more widely available—but there was other exciting news that emerged from our rendezvous.
I first met Cronk and wife Jeany, who is also instrumental in building the couple's wine business, in Cotignac, a lovely village nestled at the base of dramatic cliffs in the Var department in the heart of Provence rosé country. That was in the summer of 2014 and they had been in the winemaking business in Provence for just five years, focusing on the region's iconic dry rosés. Their rosés had already received accolades from the likes of Robert Parker, Jamie Goode, and Jancis Robinson. It happened to be the first day that their tasting room, in the heart of this small village, was open for business and I was their very first customer. The business has grown in leaps and bounds since then.
"We doubled our production last year," Cronk told me when we met in Boston. "We went from 250,000 to 500,000 bottles [of rosé] last year." This year, production will reach 750,000 bottles of rosé. Mirabeau rosés are sold in 30 countries.
Two new rosé cuvees will be added to the portfolio, Cronk told me. In ascending order, Mirabeau-en-Provence will now include Étoile, a blend of Syrah and Grenache from a single estate located near Saint Victoire, and at the top of the line, a "very, very limited production" cuvée—name not yet disclosed—that will have the benefit of a little oak.
Étoile came about from a request by Sainsbury's, the second largest chain of grocery stores in the U.K. and a premium-quality grocery store company, to produce a premium cuvée. Cronk was eager to comply. Bottling will take place at the end of January and about 1,000 cases should be available in the States at the end of February. Look for a new bottle shape to set it apart from the original two roses. It's worth noting here that Waitrose, another premium-quality grocery store chain in the U.K., was Cronk's first customer, a break that Cronk has not forgotten.
The top-tier rosé is a culmination of three years' experimentation with different barrels and different cépages. Inspired by Sacha Lichine's highly successful line-up of rosés—produced under keen eye of legendary winemaker Patrick Léon—the top three of which spend varying amounts of time in oak barrels of varying ages, Cronk and Nathalie Longefay, lead winemaker, will launch a new cuvée at the end of May, having aged in oak for six months.
"We are hoping to make something quite special this year," Cronk said, adding the caveat that if the blend is "not good enough," we won't go forward. "We've got a fun name for it, but I'm afraid it's top secret for the moment."
At this time, there are no plans to sell this premium rosé. Instead, Cronk and his team will query key movers and shakers in the rose wine trade and media, "This is where we think we can take rosé, what do you think?"
Other news on the red side is that a second red wine will join Mirabeau La Falaise, a Provence red I am quite fond of and wrote about after my first visit. The new sibling will enjoy some aging in oak.
The accolades and awards for Mirabeau continue to accumulate. Most recently, just for example, in July 2016, Mirabeau Classic (2015) took Gold in the International Wine Challenge as well as the Trophy for Best Value Rosé under £15, chosen from among 400 rosés from 27 countries; in August, Mirabeau Pure (2015) took Gold in The Drinks Business, as well as another 91 score from The Wine Advocate.
Currently, the Cronks do not own a vineyard. As a négociant, Cronk has the pick of several vineyards, each with whom he has a relationship and from whom he selects the wines which he and his winemaker later blend. Is there a vineyard and winery is their future? Cronk told me one time that he takes a cold shower whenever the urge to buy a vineyard surfaces. Still, my euros are on "oui."