A DAY IN THE LIFE OF A WINE WRITER: VINISUD 2017
by Susan Manfull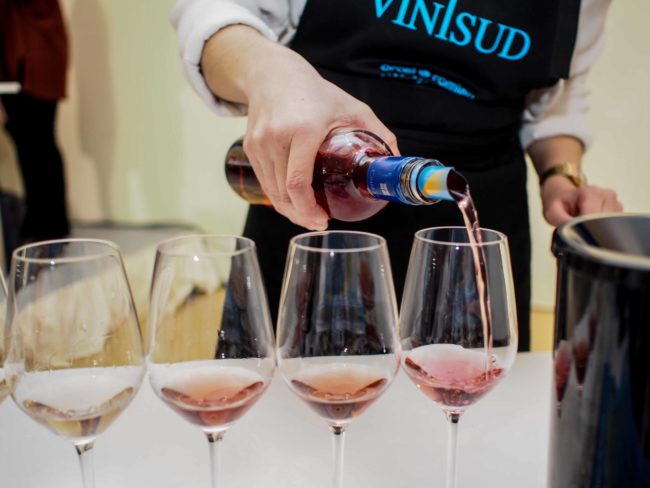 Just over two weeks ago, my husband and I landed in Paris Charles de Gaulle airport where we hopped aboard a TGV (Train a Grande Vitesse or, in English, France's high-speed train) that sped south to France's eighth largest city, Montpellier. Since 1994, this vibrant city has hosted Vinisud, said to be "the showcase for the world's leading wine region," which, unbeknownst to me, is the Mediterranean. Over half of the world production of wine comes from Mediterranean countries. I had no idea. Or, rather, I hadn't thought about it. Considering which countries are along the Mediterranean, it should be no surprise that so much wine flows from these producers. Italy, France, and Spain are the largest wine producers in the world and at this expo, those countries are joined by winemakers from Portugal, Greece, Croatia, Bosnia Herzegovina, Turkey, Lebanon, Israel, Algeria, and Morocco.
Over 900 exhibitors were pouring "Mediterranean" wine which, in the case of France, refers to wine from the country's southern regions: Languedoc-Roussillon, South-West, Pays d'Oc, Corsica, and, of course, Provence and the Rhône Valley. Exhibitors from these regions comprised about 80% of those at the expo. Provence WineZine (PWZ) was in the thick of it.
We arrived in Montpellier in just four hours which, I'm compelled to point out, is 50 kilometers more than the distance between Boston and Washington, D.C., a trip that takes seven hours on our "fast" train; but that's not news so back on track….We had hoped we would steal a brief snooze before heading off to Grenachista, a celebration of the Grenache grape. But, the snooze turned out to be the night's sleep which, the next day at Vinisud would reveal, was a godsend. (And, we were consoled by the knowledge that we would have ample opportunity to pay homage to Grenache as we sample the rosés of Provence as well as the reds of Châteauneuf-du-Pape, Gigondas, Vacqueyras, Lirac, Tavel, Rasteau, and Cairanne where it is part of the classic blend of Grenache, Syrah, Mourvèdre, or GSM.)
Vinisud is a three-day event that, this year, took place from Sunday, January 29 to Tuesday, January 31. Held in a vast complex called the Parc Expo, six huge halls were packed with rows and rows of stands manned by exhibitors ready to pour and chat about their wines as well as other pressing subjects such as the challenges of most recent vintage and the current problems facing the wine business. There were also several free-pour areas where visitors could educate themselves about the styles and grape varieties of, for example, roses, sparkling wines, boxed wines, and Languedoc wines. Other areas were devoted to food pairings, wine tourism in France, showcasing heritage grape varieties of the Mediterranean (the Wine Mosaic project), and introducing the first vintage wine from new-generation wine growers (La Nouvelle Vague), all of which were new additions to the show and viewed as very successful.
Now in its 13th year, 2017 marks the year it moved from a biennial event to an annual one. Slated as one of the top five major international gatherings for wine buyers, this year 20,775 visitors—buyers and journalists—attended, including 6,673 international attendees from 70 countries.
In recent years, Vinisud has been held in tandem with Millésime Bio, another major international wine expo but one dedicated to organic and biodynamic wines. This year, Millésime Bio, instead, met in Marseille from January 30 through February 1. Sources we spoke with at Vinisud (as well as taxi drivers and restaurant workers) felt attendance was lighter than usual on the first day and figures later confirmed this observation, revealing attendance was 7,423 on Sunday and although it jumped to 9,562 on Monday, these figures were lower than previous years. The consensus of my unscientific sample was that holding both together in the same city works better for exhibitors as well as attendees. It was a good size for us, though, offering perhaps a little more time to interview those pouring the wine.
Attending an event like this can be overwhelming (okay, it was!) and a plan of attack is indispensable. Eat breakfast and spit. I tasted well over 60 wines, expectorating nearly every time, and was feeling no pain at the end of the day. Study the layout and stay on task. In our case, we wanted to reconnect with old friends we've written about in PWZ and make new acquaintances for future articles, all the while tasting the most recent vintages released and snooping around for the latest news. We focused exclusively on Provence and the southern Rhône Valley. Here's what we gleaned:
We didn't make it out of the press room before we ran into François Millo, former Director of Conseil Interprofessionnel des Vins de Provence (CIVP). Retired now, he remains busy taking photographs and writing. He writes for V & S News: L'essentiel de l'actualité économique des Vins & Spiritueux and is also wrapping up a book to mark the 40th anniversary of the inception of Côtes de Provence appellation, an anniversary that will be marked with a celebration this spring.
Our initial response to Vinisud was feeling bowled over by the amount of rosé we saw. Everywhere. Strolling around in the huge halls, among the long tables and elaborate booths, all displaying rows of bottles, ice buckets filled with bottles, and carefully arranged exhibits of bottles, one can't help but be struck by the sheer volume of rosé. Mediterranean countries are leaders in this category: In 2014, France, Spain, Portugal, and Italy accounted for 66% of world production of rosé and 73% of world exports of rosé wines both by volume and by value. The U.S. market accounts for 13% of the rosé consumed in the world with 66 million consumers drinking rosé in our country. Provence rosé has been the beneficiary of the States' passion for rosé or, arguably, it has driven it; in either case, Provence rosé exports to the U.S. have grown annually in double digits since 2003. From January 2015 to January 2016, Provence rosé imports to the U.S. have grown 58% on volume and 74% on value, not including on-premise bars and restaurants, which comprise 20% of the market, or small independent retailers (all to say growth figures may be much higher). Millennials (loosely defined as individuals born between 1982 and 2004) are leading the vanguard, according to many sources, and men are keeping up with women now in their purchases of rosé.

Château Léoube, an immense organic estate located on the Côtes d'Azur, between Toulon and St-Tropez, had a stand at Vinisud (as well as Millésime Bio). I am a huge fan of their three rosés as well as their reds. They make a single varietal Cab Franc (highly unusual in Provence) that sings to me. There, we had the pleasure of sitting down with winemaker Romain Ott for a tasting of the full portfolio of elegant Léoube wines. The two Côtes de Provence roses, Léoube and Secret, and the top-tier La Londe denomination rosé were as exceptional as ever. Considered premium rosés (by virtue of grape quality and care in vinification as well as the final product and price), these roses clearly help to set the gold standard Provence is known for. "Easy to drink but serious at the same time," was how Ott described them at one point in our conversation.
The premium rose category continues to grow in demand in the U.S. The average price for "premium rosé" (defined as those bottles above $12.00) in the U.S. continues to rise, according to Nielsen. For example, it went from $16.83 in 2014 to $17.26 in 2015. Why the growth in demand for higher priced rosés? Ott cited a more engaged and educated public and also suggested that the demand may simply be the logical transition in the evolution of rosé, as with any category of wine. When asked if he made wines to meet this demand for premium rosés, he said that his aim is to make serious and balanced rosés: "It's not my aim to make fun wines." (Oh, but these rosés are certainly my kind of fun!) The Blanc de Léoube (2016), a blend of Ugni Blanc, Rolle, and Semllon, is also lovely as is their very refreshing sparkling wine.
It was nice to see François Lethier, proprietor of Château Réal d'Or, again; we met at "Provence in the City" in Boston last year, shortly after he had purchased this property and thoroughly modernized the cellar to produce very appealing wines in all three colors. Lethier, who is a rally race car driver, looked very happy with the success thus far of his two cuvées. I had the pleasure of tasting his red wine, Le Rocher, from the Monaco Monte Carlo line (2014), one I especially liked. Houston, Texas is one of his top markets.
Of course, we had to drop by Château d'Esclans' stand. I was particularly interested in tasting Garrus (2015), having tried it last summer shortly after it was bottled. The oak was more integrated this time around and I thoroughly enjoyed it. (Really, who doesn't like Garrus although Rock Angel, at a third the price, is also spot-on, for my palate).
Whispering Angel, the rosé that has led the parade of Provence rosés in the current wave of popularity in the U.S.—it commands 20% of total Provence rosé sales in our country—was particularly fresh, maybe a wee bit more floral than usual, and had with a nice dash of minerality. This entry-level wine is a négociant wine–that is, grapes and wine are sourced from other properties–but the top-tier wines are made from grapes harvested on the estate. I encourage Whispering Angel fans to step up to Rock Angel (about$10 to $15 dollars out of your pocket, but well worth the extra bucks for a special treat!). I am also a fan of the cuvée Déese Diane rouge, which they had alongside another cuvée, S Clans rouge. (Neither available in the States.)
At Château Vignelaure's stand, we chatted with Philippe Bru, Œoenologue at this Coteaux d'Aix-en-Provence estate. News from this château is that the latest vintage of two of the three rosé cuvées—the signature line and Le Page—are now certified organic. Although Château Vignelaure rose to fame on the basis of their red wines—and I thoroughly enjoy the reds, as an earlier article I wrote will confirm—that signature white wine really grabs me. We began with the most recent vintage (2015) of the Château Vignelaure white, a blend of Rousanne, Sauvignon blanc, and Semillon; it will be just as lovely as the earlier vintages I have tried and loved.
Winemaker Nathalie Millo greeted us at the booth for Domaine Clos des Roses, a winery I was not familiar with. It is a 36-hectare vineyard located in Fréjus, at the base of the Massif de l'Esterel. Known for their volcanic soil which Millo said contributed to the minerality I noted in several of the wines, we found the two white wines particularly refreshing. The single varietal Rolle was very nice; Millo suggested pairing it with Roquefort cheese (which sounds terrific at this moment).
Domaine Pey Blanc is another vineyard I was not acquainted with until Aurélien Pont, consultant and formerly of Château Pigoudet, introduced us to vigneron Gabriel Giusiano whose family has owned the property since the 1930s. Exclusively a rosé producer, Giusiano poured the three rosés for us, all very easy drinking wines. The mid-tier rosé, Domaine Pey Blanc, would be my first choice of the three for an apéritif on the Cours Mirabeau, from which, we were told, one could walk to the château.
We caught up with Nicolas Touchard, Commercial Director for Château du Seuil, and discovered that this estate has just released their first sparkling wine. Located just south of Rognes, on the Route de Luberon, this Coteaux d'Aix-en-Provence property has just finished a complete cellar renovation as well as a vineyard upgrade. The sparkling white wine, called Le Grand Seuil, is made using traditional methods from 100% 2015 Ugni blanc grapes from vines growing at 450 meters. It is Extra Brut (0.4 grams/liter). An exceptional value at €14 (from the château).
According to information provided by Vinisud, sparkling wines are "clearly a growth driver for Mediterranean wine exports." There was 27% growth in exported sparkling wines in the past two years. Italy was responsible for 67% of the Mediterranean sparkling wines exported in 2015, an increase of 48% from 2013 to 2015; Spain was responsible for 32% of those exports in 2015 with 2% growth in the same period. The U.K. is the largest export market (28% of the export market) and the fastest growing export market with a 75% increase between 2013 and 2015. The U.S. is the second largest market with 17% of the exports, followed by Germany (14% of the export market). Canada and Switzerland are the most valuable markets in terms of price per bottle.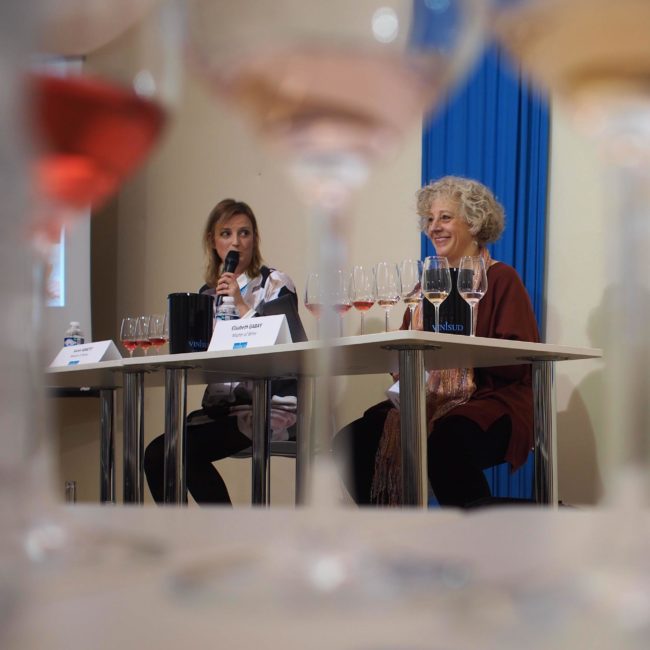 A highlight of Vinisud was surely the masterclass, "The Many Different Styles of Mediterranean Rosé" given by Masters of Wine Sarah Abbott (UK) and Elizabeth Gabay (UK). (Unfortunately, Christy Canterbury, USA, who was scheduled to participate on the panel as well, was unable to fly out of New York's JFK airport due to demonstrations against President Trump's immigration orders.) We tasted 10 roses—representing Provence, eastern Mediterranean, western Mediterranean, Sparkling, and Sweet styles of rosé—while Abbott and Gabay regaled us with their thoughts about the role of social media in growing the popularity of rose, trends in the rose market, and the immense diversity of geographic locales and production methods and the consequent styles and colors. While I am a huge fan of the famous dry, pale roses of Provence, there is a big world of other roses out there and this class whet my appetite for the darker side!
One of our last stops was the CIVP area in which many of the rosés from Provence were available for self-pouring. I tried a few more rosés I had not been able to taste at the booths and made some notes about other estates I would like to follow up on. There, among the shelves upon shelves of bottles of Provence rose, was Julien Miquel, aka the "Social Vigneron." As the founder of a highly popular website/blog by the same name—winner of Wine Bloggers' Best New Wine Blog in 2015—and with 260,000 Twitter followers, Miquel was the perfect person to address the conference on "Why and how the wine industry has to conquer the digital world."

With the indisputable role of millennials—21 to 35 year olds born and bred in the digital age—in driving the continued rise of wine's popularity, wine (like nearly every other industry) needs to be an active participant in the digital world.
In the aforementioned master class, we learned from Abbott that 60 million Americans use Instagram. In the case of rosé , Abbott suggested that the wine-related images typically posted are lifestyle images of drinking, for example, on fancy yachts, in lovely swimming pools, and at inviting tables. People associate these compelling images with rosé, Abbott said, thereby inadvertently but very effectively selling rosé .
According to a Vinisud study conducted by SOWINE/SSI, 35% of millennials in London and 42% of millennials in New York City get their information about wine from websites. However, 28% and 36%, respectively, are also informed by professionals and fully half of this age group (from London and New York City) also turns to relatives for their information. It seems that millennials, at least in the case of wine, employ multiple sources for their information. (They make up one quarter of the readership of PWZ.)
Wine is a social beverage. As underscored by my observations at Vinisud of people actively and passionately engaged in conversation about wine, we all will continue to be informed by and to form our opinions through talking with one another as we sip our wine. Isn't that what drinking wine is all about? One of my greatest pleasures is sitting around the table with good food, good wine, and good conversation. As someone who writes about wine and relays the stories of the men and women who make it, I also hope websites/blogs will continue to be a significant source of information for all age groups…because I am having a great time supplying a tiny portion of that information.
Our day at Vinisud was over all too quickly, leaving a long list of winemakers whose booths we did not have the pleasure of visiting and master classes we would like to have attended. But, we had a TGV to catch to Marseille for Millésime Bio and I had photos to post on Instagram and Facebook, and stories to write for Provence WineZine!
Notes:
Most of the data cited in this article came from material provided by Vinisud. "Wine Intelligence for Adhésion Group," published in November 2016, is one such document in which Wine Intelligence compiled data from various other research groups. "The Wine Consumption Trends of Millennials (21 – 35 year-olds) in 2016: New York City vs London" is a Vinisud study conducted by SOWINE/SSI. The source for data related to Provence rosé is CIVP.