Decanter's Man of the Year 2017 Steven Spurrier once owned a Vacqueyras Estate
by Susan Manfull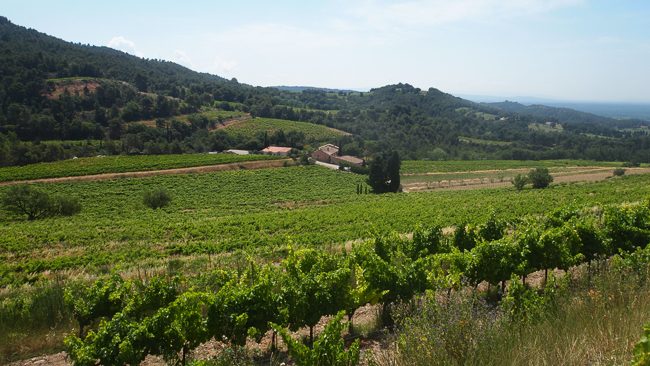 Steven Spurrier, British bon vivant extraordinaire, was just named Decanter Man of the Year 2017. As handsome as he is smart, Spurrier has worn so many hats in the wine world that I am not sure space permits listing them all. Even Jim Stimpfig, in his Decanter article about this announcement, wrote that "just some of the roles Steven Spurrier has taken on and excelled at over his wine career" include "critic, journalist, buyer, entrepreneur, wine guide, vintner, visionary, mentor, restaurateur, author, educator, judge, communicator and consultant."
Probably his most famous role, propelling him onto the global stage, was organizing the "1976 Judgement of Paris." After that infamous tasting, both Spurrier and California wines–Cabernet Sauvignon and Chardonnay—were known around the world.
If you happened to live in Paris in the 1970s, you may have known him first as the proprietor of Les Caves de la Madeleine, a wine store apparently filled to capacity with his favorite (mostly French) wines (and his palate is said to be amazing).
Currently, Spurrier keeps himself busy making sparkling wines at this Bride Valley estate in Dorset, southern England. He has also just accepted the role as Honorary President of the Wine & Spirit Education Trust.
What you may not know is that he once owned Le Clos de Caveau in Vacqueyras, Provence. The property, located 20 kilometers (12 miles) east of Orange and 35 kilometers (22 miles) northwest of Avignon, lies at the base of the Dentelles de Montmirail and just a tiny way from Gigondas. The lovely ochre-colored mas, where current owner Henri Bungener lives, is surrounded by a patchwork of vineyards and forest with the occasional cypress dotting the landscape. There are some 12 hectares (30 acres) of vines that comprise the estate, many of which go up the hillside that reaches as high as 200 meters (650 feet) above sea level. I met Bungener at this home in 2014 and published a PWZ article about this visit.
Gérard Bungener, Henri's father, bought the property from Spurrier in 1976. The senior Bungener was the first vineyard owner to convert his property to an organic one, long before it was common and, in fact, it was controversial and downright weird in the late 70s and early 80s. It would not be until 1985 that "organic certification" would be introduced in France. In 1989, Le Clos de Caveau was certified organic.
Today, the younger Bungener, who took the reins from his father in 1993, continues to produce organic wines with minimal intervention in the cellar. Bungener produces four reds and one rosé and reports that a white is on its way. The wines, particularly the Fruit Savage, have garnered many accolades and awards along the way.
I met up with Henri at Millésime Bio in Marseille in early February. The latest vintages were quite good. My personal favorite remains the Fruit Savage cuvée and, in honor of Spurrier being named Decanter Man of the Year 2017—and his penchant for selecting outstanding terroir, e.g., Le Clos de Caveau, some 50 years ago—I opened a 2014 bottle tonight. Cheers Messieurs Spurrier and Bungener!