Diary of a Master of Wine in Provence
Solidarité – "Le coeur des chefs"
by Elizabeth Gabay, MW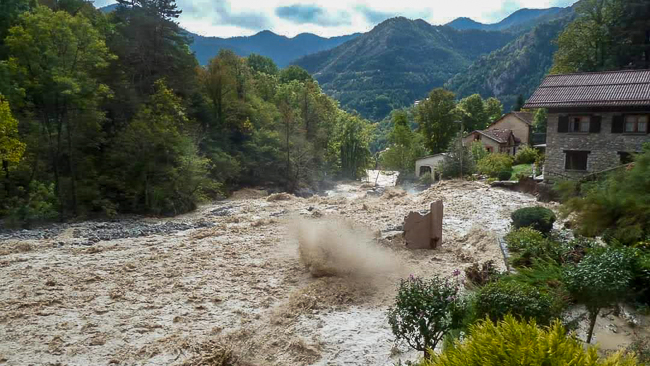 Written in Saint Martin Vésubie 18th October 2020. I am often described as living in Provence – which makes sense being a rosé specialist, but I actually live in the southern Alps, just over 40 miles north of Nice on the Italian border in a small medieval town called Saint Martin Vésubie. Originally on the salt trade route between Nice and Turin, it became a fashionable tourist location from the late 1900s when it was dubbed La Suisse Niçoise. The village was in the news on 30th August when the second day of the Tour de France whizzed through. It felt like fiesta time as we lined the main road, cheering on the cyclists. Just over a month later we were in the news again, for very different reasons.
Over the 30th September to 1st October 2020, Storm Alex swooped down from Brittany in northwest France, arriving in the far southeastern corner of France, and my village Saint Martin Vésubie, by the morning of 2nd October. Throughout the day of the 1st we had received weather alerts on phones and email. "Move your car to somewhere safe", "make sure you are prepared for flooding". The messages increased, but, living at 1000m, we are used to the water running down the mountain and it is the lower villages which are hit, rarely us. This may sound more familiar to those living in the path of hurricanes, but not here. We have little earthquakes, landslides after rain, but not flood alerts.
On the morning of 2nd October it started to rain. Then thunder and lightning. It rained and rained, increasingly with greater power. Our electricity went on and off. By 4pm our electricity completely went, but the rain had eased a little. The Madone river at the bottom of our garden was swollen and roaring, and was rising rapidly. My son and I decided to don our boots and take a walk. We reached our garden gate and my son commented "oh – it is a bit wet…" We waded down our lane – up to our knees in water. We came to the main street – water rushing down bringing rocks and gravel in its wake. We reached the village square – why was it full of fire engines? We walked along the main road road towards the new sports centre and stopped. Instead of the small, pretty, babbling Boréon river, there was a torrent of violent angry, muddy water.
We stared in horror as our village petrol station was swept away – others shouted: "the police station has gone!", "the brewery has gone!", "thirty houses up stream have gone!" We watched the car park of the sports centre fall away. "The cemetery is being swept away!" someone shouted. We rushed back home. Shocked. The rain was starting again. With no telephone or internet, we had no idea what was happening and where.
Saturday 3rd October. we woke up to bright sunshine and walked into the village. It was full, it was silent. People were crying, blank looks on their faces. The extent of the devastation was enormous. One third of the village swept away. Lines of holiday makers were queuing, waiting to be evacuated to Nice by helicopter. The elderly and ill were also being evacuated. The air was full of emergency helicopters. For the next week we lived in a twilight zone of no electricity, water, telephone and endless helicopters – the services slowly resuming via emergency generators. We climbed a mountain to get a faint signal to send a quick message to my daughter in London, "We are OK". Over 1000 emergency staff came in, endless debates on whether we should evacuate or not. In the end just over half the population left – many because their homes were no longer safe.
The roads and bridges up the valley and around our village were destroyed and we had become an island. In one day, our little mountain river had become the sixth biggest river in Europe. Almost 2 feet of water had fallen in one day in the village – more rain fell higher up the mountain.
With no electricity or water, getting locals and emergency crews fed was important. Retired local traiteur, Sylvain Laurenti, set up a team of locals to provide a soup kitchen for hot drinks, lunch and dinner for the 100s of rescue teams and locals. The village vets had a stand distributing food for pets and ran a search and find service for lost cats and dogs. The nearby wolf park had been destroyed. One wolf was killed, the rest escaped and needed recapturing.
On the 6th October the seaside town of Theoule-sur-Mer sent up a jolly Romanian chef who toured the villages of the valley cooking up a giant paella for the emergency services and those still unable to cook. Still unaware of how much the outside world knew of what was happening in our village, this caused a few emotional tears.
On the 7th October our phone signal came back (with hundreds of messages) and we learnt of the devastation had hit the Roya Valley as well. We sat in the square chatting to friends over Sylvain's salad niçoise and grilled merguez. In the evening I was due to give a Maremma rosé masterclass in Milan, unable to go, and a dodgy connection tethered through my phone, I recorded my commentary on each wine and sent the files, bit by bit to the winemakers. President Macron flew in in the evening.
On 9th October, a week after the storm, the internet was re-connected!!!! And the centre of the village was reconnected to water. I never knew shower envy before – but when we walked into the village for our communal coffee in the square on the 10th, we stared sadly at everyone else boasting clean hair and clothes. A friend came to the rescue – we could use her bathroom during the day and she would do our laundry.
Friends have commented on whether we still had wine to help us through, but the sad fact is, wine dehydrates, and when you have to go and collect bottles of drinking water from the village, or jerry cans of water to wash up and flush the toilet, drinking wine rather looses its allure.
By week two, rough roads and a circuitous route up and over the mountains connected us to Nice. We moved from the emergency atmosphere on to bewilderment of what next. On the 14th October, the mountain village of Isola sent over cauldrons of daube (beef stew) and polenta and our local folk band rustled up some musicians for a convivial atmosphere. It wasn't a party, but it cheered the soul.
Help has come in many forms. The local brewery, Biere du Comté (Comté du Nice) was washed away and local craft brewers from around the Alpes Maritimes gathered together to make a beer, Conté sur Nous (count on us) with proceeds going to help the brewery re-establish itself.
The mountain valleys behind the Côtes d'Azur are the soul of the region, with many people who live on the coast having family roots in the small villages. One reason this region voted to join France in 1860 was because so many mountain villagers found work in the restaurants and hotels along the French coast. Many still own family homes up in the valleys, many others come up to the mountains for holidays, the villages swelling in size every weekend.
With this emotional link, many have wanted to help the villages, but the Vésubie has been closed to everyone but residents as the roads are still fragile and only emergency services and deliveries such as food, clothes and medical supplies have been coming through. Restaurants are still closed, hotels have been taken over by emergency crews. After two weeks one café has re-opened. Like everywhere else in the world, we had already been hit by Covid. Restaurants had been closed during March and April, reopening with outdoor dining only from May, but now with rising figures again, and cooler weather and diners less willing to eat outside, restaurants are closing again. A number of restaurants in Nice and surrounding towns have organised fund raising dinners for the valleys hit by the storm, but with this tough economic atmosphere, help from some of the top restaurants in the region, directly in the villages, was not anticipated.
The Chain of Chefs
On the 10th October, chefs Mauro Colagreco of Le Mirazur in Menton and Christophe Bacquié of the Hôtel du Castellet near Bandol (both 3 Michelin stars), realised they wanted to help – but were unsure how. In April, Colagreco had already helped out medical workers caring for Coranavirus patients by offering seventy-five meals, twice a week. The two chefs contacted fellow chef Philippe Joannès from the Société des Bains de Mer (SBM) in Monaco, and president of the "Meilleurs Ouvriers de France" in the south east, to brainstorm ideas. They each rang up a colleague to help and asked everyone to contact another chef – to form a chain of chefs. Each chef contacted a colleague creating a chain of thirty-four chefs. (Michelin stars indicated)
The participants were:
Christophe Bacquié, Hôtel du Castellet ∗∗∗
Jean-François Bérard, Hostellerie Bérard, La Cadière d'Azur
Cédric Campanella, Chef Pâtissier Société des Bains de Mer à Monaco
Mauro Colagreco, Le Mirazur ∗∗∗, Menton
Jérémy Czaplicki, Hôtel Ile Rousse ∗, Bandol
Julien Diaz, Saisons à Marseille ∗
Arnaud Donckele, Cheval Blanc ∗∗∗, St Tropez
Noëlle & David Faure, SensÔriel, Nice
Arnaud Faye. La Chèvre d'Or ∗∗, Eze
Michel Hulin, La Cabro d'Or, Baumanière, Les Baux-de-Provence
Philippe Joannes, Société des Bains de Mer, Monaco
Franck Lafon, Café de Paris, Monaco. Lafon comes from the village of Tende in the Roya, on the Italian frontier
Stéphane Lelièvre, Les Pins Penchés, Toulon
Lionel Lévy, Alcyone *, Intercontinental Hôtel-Dieu, Marseille
Dominique Lory, Le Louis XV Alain Ducasse ∗∗∗, Monaco
Jacques Maximin (Chef consultant)
Gérald Passédat, le Petit Nice ∗∗∗, Marseille
Nicolas Pierantoni, L'Hostellerie de l'Abbaye de la Celle ∗, Brignoles
Michel Portos (Chef consultant)
Patrick Raingeard, Le Cap Estel ∗, Eze
Frédéric Ramos, L'Azzurra Kitchen, Monte Carlo
Marcel Ravin, Blue Bay ∗, Monaco
Fanny Rey, L'auberge de St Rémy ∗, St Rémy de Provence
Julien Roucheteau, La Réserve de Beaulieu ∗
Richard Rubbini, Le Sporting, SBM, Monaco. Rubbini comes from the Vésubie.
Guillaume Sourrieu, L'Epuisette ∗, Marseille
Thomas Subrin, Chef Boulanger SBM, Monaco
Ken Thomas, Chef pâtissier, SBM, Monaco
Ludovic Turac, Une Table au Sud ∗, Marseille
Glenn Viel, L'Oustau de Baumanière ∗∗∗, Les Baux en Provence
Alain Llorca, Restaurant Alain Llorca ∗, Le Colle sur Loup
Cedric Campanella, patisserie SBM, Monaco
Virginie Basselot, Le Chantecler ∗, Hotel Negresco, Nice
Mathias Dandine, La Magdaleine ∗, Gémenos
Map showing the location of the restaurants and chefs that participated in the "chain of chefs" effort. The"chain of chefs" support came from as far as 300km (186 miles) from the relief.
On the 11th and 12th the chefs project was publicised in the press. By the 14th October they had worked out the logistics. Each chef was asked to prepare a starter, a main course or a dessert for 100 people, while the bakers were asked for bread. Each dish had to be packaged suitably to be easily transported up to the villages. Together they prepared 3000 meals cooked for volunteers and disaster victims. The chefs asked their suppliers to help to supply products and transportation. Refrigerated trucks were loaned free of charge by a number of companies, with considerable support from the company Balicco. These trucks toured the region collecting the meals and delivered to the central collection point, the Palais Nikaïa in Nice, by Thursday October 15th. On Friday 16th, the meals were delivered to the villages, by either trucks or helicopters, depending on the volume to be transported and accessibility.
Friday 16th, bang on 1pm, Philippe Joannès arrived with a small refrigerated van full of meals. A team of locals were on hand to distribute the meals and locals and emergency service crews sat in the sunshine to enjoy the gourmet food. Every village had a different combination of meals. Wine was not included – maybe not a sensible idea given that many of those eating were working in the emergency services, but we brought our meals home and benefited from the range of Hungarian and Austrian rosés I had been tasting during the week.
The range of meals for the Vésubie (the meals we had in bold) included:
Christophe Bacquié (Hôtel du Castellet) – Blanc de volaille rotie aux épices, penne rigate, olive, basilic. This was beautifully seasoned – I thought possibly cinnamon or five spice with the chicken. Semi sun dried tomatoes added to the sweet intensity, the olives gave salinity.
Jean-François Bérard (Hostellerie Bérard) – La Morue en fine brandade, legumes du pot
Mauro Colagreco (Le Mirazur) – Daube de boeuf aux écorces d'Agrumes
Jérémy Czaplicki (Hôtel Ile Rousse) – Risotto Arborioi au beurre de clementines potiron et éclat de Châtaignes
Julien Diaz (Saisons à Marseille) – Daube de boeuf limousine d'Aveyron olives, câpres et polenta cremeuse au beurre fume. I think this was the creamiest polenta I have ever had – beautifully creamy with tender beef.
Noëlle & David Faure (SensÔriel) – Le chocolat au coeur confit de pommes gingembre, cacao passion
Arnaud Faye (La Chèvre d'Or) – Saumon fumé maison, quinoa gourmand citronné
Michel Hulin (La Cabro d'Or) – Suprême de volaille label rouge roti, roseval et morilles
Franck Lafon (Café de Paris) – Daube de boeuf mijotée aux petits oignons et pommes grenailles
Lionel Lévy (Alcyone) – Escabeche de maquereau à l'orange.My husband had this. The diced vegetables, largely carrots, were lightly cooked and just the right amount of crunch, the filets of mackerel very fresh and no bones.
Dominique Lory (Le Louis XV) – Panettone du Louis XV Alain Ducasse à l'Hotel de Paris
Jacques Maximin (Chef consultant) – Gratin de macaronis à la Parmigiano
Gérald Passédat (le Petit Nice) – Palais chocolat 'Passedat aux passion'
Nicolas Pierantoni (L'Hostellerie de l'Abbaye de la Celle) – Gâteau Basque aux prunes de Brignoles
Michel Portos (Chef consultant) – Le boeuf Bourguignon comme Michel l'aime
Patrick Raingeard (Le Cap Estel) – Epaule d'agneau confite, jus épices, polenta aux petites olives
Frédéric Ramos (L'Azzurra Kitchen) – Supreme de volaille, crème de truffe
Marcel Ravin (Blue Bay) – Curry de volaille au lait de coco et riz Madras
Fanny Rey, (L'auberge de St Rémy) – Brandade de Maigre de Mediterranée, aïoli citonné et Poutargue de Martigues
Julien Roucheteau (La Réserve de Beaulieu) – Blanquette de veau sur riz aux legumes, joue de boeuf braisé à la citronelle sur une ecrassé de pommes de terre
Richard Rubbini (Le Sporting) – Poulpes de roches en daube au Barolo et riz blanc
Guillaume Sourrieu (L'Epuisette) – Saumon aux girolles et herbes fraî.My husband's second dish. The thick, rich mushroom sauce had whole girolles with the pieces of salmon perfectly cooked.
Ken Thomas (Chef pâtissier) – Fraîcheur éxotique, moelleux noix du coco, confit mangue passion
Ludovic Turac (Une Table au Sud) – Volaille jaunes rôties au romarin, risotto d'herbes et pastis
Glenn Viel (L'Oustau de Baumanière) – Ris de veau crème, champignon du moment, Tarte amandine aux poires
Alan Llorca (restaurant Alain Llorca) – Veau rôtie au thym, traditional gratin dauphinois
Cedric Campanella, patisserie SBM – Pralinée pignon, crémeux lactée et crumble confit de baies rouges
Virginie Basselot, Hotel Negresco – Mousse Lactée, marmalade d'abricot et biscuit noisettes
Mathias Dandine, La Magdaleine – Saumon, déclinaison de fenouil, sauce vin blanc
The chefs had wished to show solidarity, to bring cheer to the villages, to support them as they recover from the devastation and, judging by the smiles on peoples' faces, we all appreciated our taste of gourmet cuisine.
Once again, the hospitality industry (restaurants, food producers, wine and beer producers) have shown its value in society, supporting those in need. Not just a luxury, they are very much part of our society, bringing people together.
Stop press: On the 19th normal deliveries were resumed, including four boxes of rosé to taste! 20th we were finally connected to water!!!