Provençal Pairings: Wine with Food
A Hearty New Year Greeting (and Pairing)
by David Scott Allen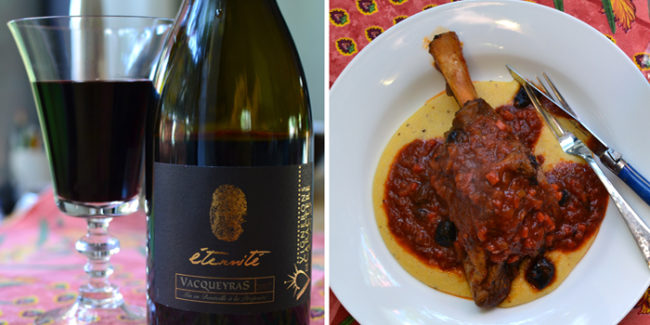 Winery: Vignerons de Caractère
Cuvée: Éternité
Appellation: Vacqueyras
Type: Red
Vintage: 2007
Grape Varietals: Grenache (50%), Syrah (40%), and Mourvèdre (10%)
Alcohol: 15%
Average Retail Price: U.S. $30.00, G.B £17.00, FR €30.00
I can't think of anything I enjoy more than lamb with a rich, full-bodied red wine by its side. A bottle of 2007 Éternité has been sitting in our caves (okay, it's a wine rack) waiting for the right meal. It's Christmas, and Provençal lamb shanks have been braised; the Éternité joined the celebration. With its blend of Grenache, Syrah, and Mourvèdre, this Rhône wine was perfect for the earthy, tomato-y, citrus-infused lamb. The nose was deceptively light, but the first taste was full, fruit forward (blackberry and cherry), and spicy. After a taste of the lamb, the intensity diminished only slightly and we were left with a round, minimally tannic, wine with a soft finish that could easily pair with any variety of roasted meats or fowl. This is a terrific bottle of wine – one I will get again soon. At $30.00, it is perhaps not an everyday wine, but one for special occasions. It is readily available in the United States through Total Wine.
For my recipe for Braised Lamb Shanks, please visit my blog Cocoa & Lavender .
Other Pairings: Roasted beef, pork, lamb, and fowl, as well as rich, hearty stews.
Post and Photos by David Scott Allen