LE CHATEAU IN LES CALANQUES: A WELCOME REFUGE ON A HOT DAY IN PROVENCE
by Susan Manfull
When the summer temperatures begin to rise in Provence, one of our favorite destinations for lunch is Le Château, perfectly placed atop Sormiou, one of the region's best known calanques. Located just 15 minutes from the Old Port in Marseille, you will find dramatic views of aqua-colored water dotted with sail boats next to towering white cliffs as well as cool breezes and terrific food. It is just an hour and a half from our beloved Lourmarin, so it can be a quick jaunt or the focal point of a wonderful day trip.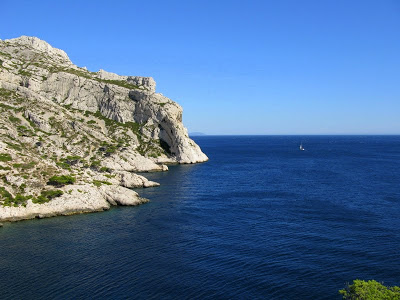 Calanque de Sormiou
You may be surprised when you pull up to your destination: there is no castle, not even a small one! Le Château is, shall we say, unassuming in its appearance, living up to its name only in its commanding view and excellent food. Don't look for turrets or fancy table settings! This is a modest restaurant popular for its simply prepared food and fabulous view (and, of course, the parking advantage!)
Our friends from Lourmarin, Pierre and Muriel, introduced us to this diamond in the rough. It seemed to be a well kept secret among locals–I couldn't find it in any of the guide books. I didn't even want to include it among our list of favorite restaurants (not that we have millions of readers but I just didn't want any more people knowing about it!). Now, it is more widely known and listed many places as a excellent choice for lunch.
I always feel like time stands still when I am sitting at one of the tables in Le Château. The sky is usually that deep blue color for which Provence is so famous, the summer heat is kept at bay by the light breeze and the canvas cover that shades the deck, the view is spectacular, the food and service are excellent, and the rose is perfectly chilled. Maybe this is how royalty feels.
Our après-dejeuner adventures fall into the "walk" category although I want to underscore that this area is famous for its hiking trails. I hasten to add that summer is not the time for serious hiking in this part of Provence. In fact, many of the calanques are closed to the public in the summer months (due to the high risk of forest fires in the dry months).
Lunch at Le Château and a short walk along the calanques–a great way to spend a hot summer day! Extend your day with a stop in Marseille or Aix-en-Provence.


We often start the day off with a stop at Marseille's famous Vieux Port. Watch the fishermen unload their catch and see the fishmongers expertly prepare the fish for their customers. Enjoy a grand creme in one of the cafes that line the port where you'll have a ringside seat for people watching. We often walk over to the colorful Arab market for interesting spices, exotic aromas, and a little more people watching.