MARC: A SPIRIT FOR PEOPLE WHO LIKE IT ROUGH
by Susan Manfull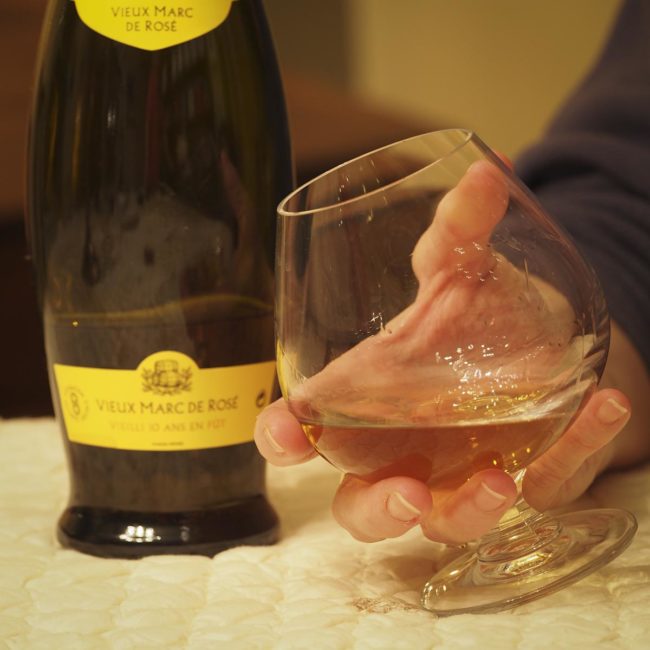 Marc (pronounced mahr and rhymes with car, like one a Bostonian would park) is not for everyone. Perhaps it is not even for most people, which works well—keeping the universe in balance—as the production of this spirit is so small that most of it never leaves the immediate area where it is produced. I happen to be an enthousiaste passionnée about this style of pomace brandy (that others would just as soon relegate to moonshine).
I picked up a bottle of Marc de Provence, produced by Aureto a few years ago, and despite the miserly portions I doled out to guests (and myself), it didn't last long. It's the kind of marc that might shift the balance of supply and demand.
Almost exclusively served as a digestif, marc is a delicious way to consummate a long dinner, especially following certain desserts (e.g., chocolate and caramel) and strong cheeses. Some people prefer it with their espresso. In the morning, this is referred to as a "corrected coffee," although I draw the line at 2:00 a.m. and cork the bottle—still the flask it was drained quickly.
Eau de vie de marc (its full name) is distilled from what is left over after pressing the grapes used in wine production—the skins, pulp, seeds, and sometimes stems collectively called pomace—and then aged in oak barrels, typically 10 to 20 years, giving the spirit its typically orange-ish caramel color. (The marc in Alsace, however, is clear.) The average Alcohol By Volume (ABV) is around 43%, a beverage clearly not for the faint of heart.
The first distillation of French wine by-products dates back to the 13th century when Arnaud de Villeneuve (1238-1311), a doctor and theologian in Montpellier, had the idea. Although he might have more aptly named it "eau de feu" (water of fire), considering the medicinal properties he attributed to it, he called it "eau de vie" (water of life). He wrote, "This product can cure poisoning, clear the chest, prolong life and maintain youth."
Throughout the Middle Ages, eau-de-vie was made in stills located in pharmacies, where it was also sold. In 1831, it was decreed that the distiller must own the vineyard (or orchard) from which the products for eau-de-vie distillation come. Traveling distilleries became a popular business. Of course, enterprising folks continued distilling their neighbor's marc (confining their distilling to those on which fragrant lavender was also distilled, hiding the pungent smells of alcohol distillation.)
In the early 20th century, when wine overproduction reached a crisis, this law was relaxed and distillery cooperatives were built. The earliest such cooperatives in Provence were built in the 1930s in St-Maximin (in the Var) and in Coustellet (in the Vaucluse).
In 1942, Marc de Provence was established as its own (regulated) appellation, regulating the production of eau-de-vie of marc throughout Provence-Alpes-Côte d'Azur and in two departments from the Rhône-Alps region. Today, about 170 hectoliters of eau-de-vie de marc is produced annually in all of Provence plus the two outside departments; by comparison, the Côte de Provence appellation, alone, produces 924,000 hectoliters of wine each year

Cognac and Armagnac, although also distilled from wine, are not rough around the edges like marc. Even Calvados, distilled from cider, is usually less rustic than marc (although, in Normandy, I've been served Calvados, undoubtedly distilled in a neighbor's tub, that I feared would be the last drink I swallowed). Grappa, Italy's version of marc, is increasingly popular and more widely available outside the country's borders.
Marc can be made from the pomace from white-wine grapes, red-wine grapes or those combined to make rosé. The marc I enjoyed so much from Aureto is produced from Syrah and Caladoc grapes. The ABV is 45%
On my last trip to Provence, I had planned to return to Cave Aureto, part of La Coquillade Village, a Relais & Château property in the Luberon Natural Forest, to replenish my marc supply. Instead of traveling north from Lourmarin, I found myself heading southeast to La Londe-les-Maures, on the Mediterranean Coast, to visit Clos Mireille, one of three Domaines Ott properties. There in the tasting room, at the conclusion of an immensely interesting tour with Adelaïde Beaudonck, I saw a bottle of marc. Produced by Château de Selle, the first property Marcel Ott purchased, it is the only Ott property that produces a marc. Two, in fact.
Of course, being Domaines Ott, this is not just any old marc. Certainly, one would not flambé her quail with this marc. It is called a "Vieux Marc de Rosé" meaning that it made from the skins of grapes used to produce rosé. They are slowly fermented to encourage "a very distinct marc character over the distillation process" and then aged in oak barrels for ten years. Two different batches are produced, one with an ABV of 46% and another with an ABV of 52%.
Neither marc is exported. Already filled with anticipation, I was compelled to lug home at least one bottle. (Who wouldn't be?) I had the occasion to open the handsome bottle a couple of months ago after a long dinner on a cold winter's night. It was worth the weight in my suitcase and worth the wait for the right occasion.
The color is a lovely amber, suggesting the rich flavors that followed. On the nose, there are earthy floral notes, hints of vanilla and nougat, and a trace of pepper. On the palate, I detected honey against an oaky backdrop. My husband noted toasted coconut on the nose and an earthy version of Bananas Foster as he sipped it. Domaines Ott's marc is an immensely pleasant experience to sip as eau de feu mingles with eau de vie, finally settling à la vie. Just enough roughness to intrigue.
I've been carefully dispensing tiny pours since then, savoring every drop as if I might never put my hands on another bottle. However, I will be there again this summer and I suspect another bottle might find its way into my bag, reaffirming my faith in a universe that supplies when demanded. Or something like that. I will ponder that subject with a glass of marc.