MAS DE CADENET: SEVEN GENERATIONS OF NÉGREL FAMILY WINEMAKERS
by Susan Manfull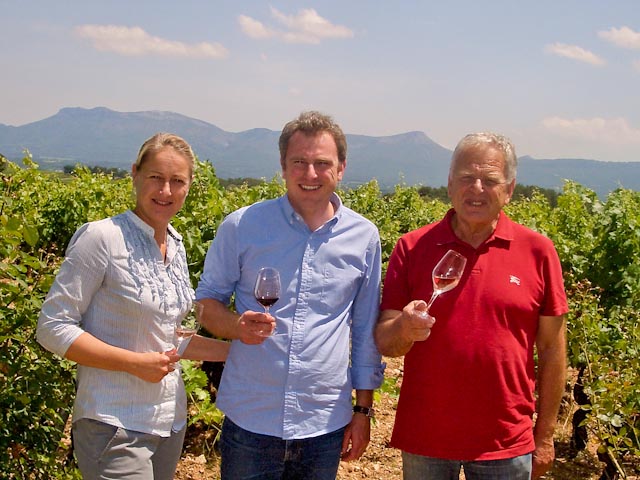 "The greatest challenge as a [seventh-generation] wine maker is to find your place," said Matthieu Négrel. He and his sister Maud Négrel comprise the most recent generation of wine makers to step forward at Mas de Cadenet and, along with their father Guy Négrel, work to produce the terroir-driven rosé, red, and white wines for which this domaine has long been known.
I recently had the opportunity to sit down and talk with Matthieu, whom I had met earlier this year at a "Provence in the City" wine tasting in Boston. Pamela O'Neill, photographer, and I later had the pleasure of continuing this conversation while tasting a few of their wonderful wines and breaking bread with him as well as his sister and father.
It was a moving as well as informative conversation that spanned the gamut of winemaking over the years, including the unique challenges and rewards that one faces in growing a winery that's been in one's family for 200 years.
Mas de Cadenet is situated in a peaceful locale near the base of the ever-imposing Mont Sainte Victoire. Traveling on narrow roads with a constant view of Cezanne's favorite subject, it's just a few kilometers from the small town of Trets. From Aix, it is about 25 kilometers (13 miles) and from Marseille, about 40 kilometers (25 miles). The vineyards cover approximately 45 hectares (111 acres) of the property which is located 250 meters (820 feet) above sea level. Certified sustainable viticulture is practiced in all the vineyards; that is, no chemicals are used.
About 5 hectares (12 acres) are classified as part of the Côtes de Provence appellation and about 40 hectares (99 acres) are further classified in the Sainte Victoire denomination (sometimes referred to as a sub-appellation). The average yield of the wines is 45 hectare liter/ hectare acre.
Mas de Cadenet produces three cuvées in all three colors. Mas Négrel Cadenet (AOP Côtes de Provence, Sainte Victoire) is the premiere cuvée, made from the oldest vines (35 to 70 years old), , vinified and aged in oak, and made for aging in your cellar. Mas de Cadenet (AOP Côtes de Provence, Sainte Victoire), made from 15 to 30 year-old vines and characterized by their complex fruit bouquets, is the second-tier cuvée. Arbaude (AOP Côtes de Provence) is described as the "everyday drinking" wine. The domaine also makes a sparkling rosé and an outstanding vin cuit, which I tasted in New York at a tasting hosted by David Bowler, importer for Mas de Cadenet.
As in much of Provence, wine has been made on this estate for hundreds of years. Fragments of amphorae dating back to when the Romans inhabited the area, some 2000 ago, have been found on the property.
The Négrel family came on the scene in 1813 when the property was purchased by Jean-Jacques Négrel and his brothers. After Jean-Jacques came Leonard, followed by Josef, then Leopold, and then Gaston before Guy took the helm in 1974. As the sixth- and seventh-generation Négrels spoke with us and so easily bandied about the names of generations past, it was clear that today's close-knit family had strong emotional connections to those family members who had proceeded them at Mas de Cadenet.
From the very beginning of this domaine, the family has been dedicated to the careful selection of grapes to produce high quality wines, defined by the terroir. Both tradition and innovation, still very much present today, are said to have been the guiding spirit of Mas de Cadenet from its inception.
Two hundred years of history coursing through the vineyards must be a pretty powerful force. In reflecting on the role of the seventh generation that he and his sister share, Matthieu mused about the importance of finding "our place" amidst this long history of style and taste that has been passed on from generation to generation (from father to son until the most recent generation!).
"Maud and I want to put the mark of our generation [on our winemaking] but we can't go against history," Matthieu said. "We want to harness it."
It is in that spirit that the siblings have recently launched "Famille Négrel" wines, venturing into the négociant business and producing wines with the same high standards the family has followed with all their wines since 1813. Matthieu stressed that he and his sister are intimately involved in every step of the vinification of these wines.
"The objective is to show the terroir," Matthieu explained. To that end, they produce several cuvées that they describe as expressing "the purity and nuances of each terroir of Provence." For example, Matthieu was especially excited about a trio of all three colors called Nuit Blanche from AOP Côtes de Provence vineyards; a rosé from AOP Côtes de Provence Saint Victoire vineyards; and a rosé and a red made from grapes from AOP Bandol vineyards.
Matthieu talked about how excited he and Maud are with this project. When the rosé market started to grow globally, Matthieu said that "consumers just knew global tags." As consumers learn more, he feels that they will pay more attention to the nuances that can be found in each terroir.
We walked around the estate. Matthieu pointed out where he was married, where his grandparent's lived, and the home in which he and his wife now live. "It's about loving this place," he explained. "I was born here and I knew from [the time I was] a child that I would be part of this."
We met Matthieu's father and sister at the picnic table under the umbrella of an old tree. There was an inviting array of delicious pâtés (sold in the small boutique in the tasting room) and saucissons.
We began with a tasting of the Arbaude (2013) rosé, the entry- level rosé named after the largest parcel in Mas de Cadenet. These wines are made for everyday drinking. This AOP Côtes de Provence wine is a blend of Syrah (70%), Cinsault (15%), and Grenache (15%), creating a nose that is an intense red currant and citrus. It is fruit forward, creamy on the palate with a fresh finish that lingers. Matthieu said that it makes a particularly nice pairing with barbequed foods. (I thought it went well with the saucissons we had. Not surprisingly it garnered the Médaille d'Or in Paris (2014). This cuvée is certified biologique.
The next rosé came from the Famille Négrel brand developed by Matthieu and Maud. This Nuit Blanche en Provence (2013) AOP Côtes de Provence rosé, like the first wine we tried, is a blend of Grenache (60%), Cinsault 40%), and Syrah (1-2%) but in different proportions. It had floral overtones, more citrus, and some peachiness on the palate, compared to the Arbaude. Its light body and freshness make it ideal as an apéritif.
The first two wines are definitely made in the traditional spirit of Provence rosé. As Guy said, "For the convivial and simple moments of life."
The next rosé is more structured with layers of flavor. A recent article in Wine Enthusiast Magazine (July2014) gave this wine a "91" and suggested that it is "[o]ne of the rare rosés that will improve with some time in the bottle." I was smitten with this rosé's elegance and minerality—almost saltiness—when I first tasted it in the Provence in the City tastings in Boston and New York earlier this year.
From the Mas de Cadenet cuvée, this pale salmon rosé (2013) is one of my favorite Provence rosés. It is a Côtes de Provence Sainte Victoire blend of Grenache (40%), Cinsault (40%), and Syrah (20%) harvested from vines 15 to 30 years old. This wine as well as the white wine from this cuvée is certified biologique. To me, this rosé strikes a lovely balance of fruit and acidity. I tasted citrus—grapefruit?—with a little spiciness. There is also a very appealing minerality, perhaps due the influence of the distinct Sainte Victoire terroir. I would love to serve it with sea scallops wrapped in bacon.
Guy Négrel knows a lot about the terroir of Sainte Victoire— he led the vanguard to make Sainte Victoire a denomination within Côtes de Provence. Thirty years ago, as President of the Côtes de Provence association, he recognized that the soil and climate of this area are distinctly different from the rest of Côtes de Provence. The soil is clay and limestone (with some dinosaur eggs, too!) and the climate, due to the area's protected location between Sainte Victoire and Sainte Baume, is actually a microclimate (with the lowest amount of rain and the greatest variation in temperature in Provence).
It took about 15 years to be classified as a separate denomination, during which time the soil was studied, focusing especially on analyses to determine which grapes were best adapted to grow in it. Only the best parcels of the vineyards are used, only certain grape varietals may be used—Grenache, Syrah, and Cinsault are a dominant part of the blend—and the length of aging is specified. A final tasting of the wine is the last hurdle to determine whether the wine reflects the Sainte Victoire profile. (If it does not, it is classified as an AOP Côtes de Provence.) The first vintage was 2004.
The last wine we tasted was a 2009 red from the top cuvée, Mas Négrel Cadenet, Côtes de Provence Sainte Victoire. All three colors of this cuvée are aged in oak, this wine for 14 months (in new and up to three year-old) French barrels. Composed of Grenache (45%), Syrah (45%), and Cabernet Sauvignon (10%) from vines 35 to 70 years old, it was a beautiful rich red color with an intense red fruit taste to match. The finish was a little spicy and very pleasant. I would thoroughly enjoy it with a Provençal daube, or a lamb dish seasoned with rosemary, or even a juicy burger right off the grill.
There was a lot of animated conversation around the table about terroir and its integral role in imbuing personality into the wine. It was very clear that the Négrels feel that this is especially true for Sainte Victoire wines.
"The only thing that never changes is the terroir, le sol, which imprints itself on the wine," Guy said.
Terroir, sol…there is no exact English equivalent of this very French concept that refers to a holistic picture of the vineyard's soil, topography, slope, elevation, orientation to the sun, and the subtleties of its microclimate, which, in totality, is the source of a wine's personality.
"Mas De Cadenet was renowned for their reds for years," Matthieu said. Now, with rosé's popularity soaring, the domaine has significantly increased their production of rosé to meet the demand. Currently, Mas de Cadenet produces about 60% rosé, 30% red, and 10% white. The Famille Négrel also produces more rosé, followed by red, and then white.
Matthieu chuckled, wondering if les vins blancs de Provence might have their day in the limelight, adding that they produce an excellent white, made with 100% Rolle (Vermentino) in the top two cuvées. "What will be the next surprise?" Matthieu asked himself.
"It's so much fun," Matthieu said, smiling broadly, as he described how much he loves what he does. "It's motivating, inspiring, and makes you wake up in the morning!"
Matthieu will need the passion of winemaking to wake him these days. The last week of July brought the birth of baby George, the first born of Matthieu and his wife. Let it be noted that the newest addition to the eight generation of the Négrel family has already demonstrated his appreciation for the annual rhythm of winemaking by arriving after the promotion of the most recent vintage and before the new harvest.
Address:
Mas de Cadenet
Chemin départemental 57
F-13530 Trets FRANCE
Tel: 00 33 (0)4 42 29 21 59
www.masdecadenet.fr
Open hours:
9:00am to 12:00pm / 2:00pm to 7:00pm
Open everyday except Sundays and bank holidays.