MILLÉSIME BIO 2018: MY THREE TAKEAWAYS FROM PROVENCE AND SOUTHERN RHÔNE TABLES
by Susan Manfull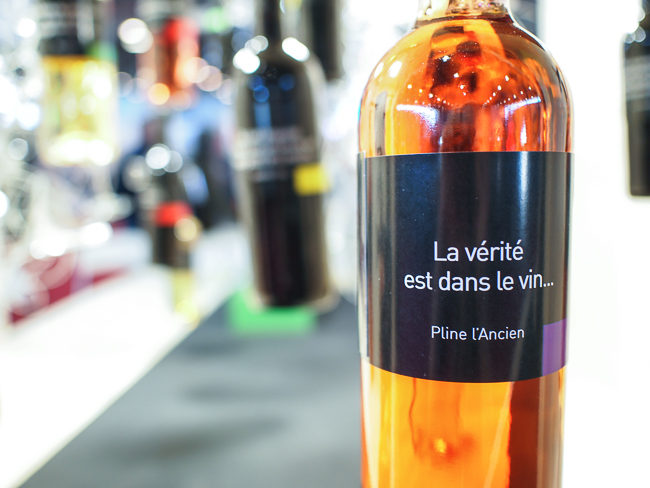 Millésime Bio 2018 opened their doors on January 29th to upwards of 3000 people. I was one of those people on that first day.
After last year's venue switch to Marseille, the renowned organic wine fair returned to Montpellier, where it all began 25 years ago. Back then, a few organic wine producers from what was then called Languedoc-Roussillon got together to share their wines from the latest vintage and engender a little camaraderie. Since its inception in 1993, Millésime Bio has grown into a three-day global wine fair where, this year, close to 1000 organic producers from 15 different countries poured wine for a total of about 5700 people from around the world.
Despite Millésime Bio's phenomenal growth in participation and attendance, its purpose remains the same: providing a venue for discussing and tasting organic wine, especially the latest vintage, in an amicable environment. I can attest that conversations flow as easily as the wine at this wine fair.
The original group, from which Millésime Bio was born, consisted of members of Sudvinbio, the inter-professional group of private cellars and cooperatives, in place since 1991, in what was then the administrative region of Languedoc-Roussillon. Now representing Occitanie, the new French region that was created by joining together the former French regions of Languedoc-Roussillon and Midi-Pyrénées (effective September 30th, 2016), its mission continues to be promoting and advocating on behalf of the region's thriving organic wine industry. Sudvinbio still runs Millésime Bio, now including participants well beyond the borders of Occitanie. They also oversee the international wine competition called "Challenge Millésime Bio," the results of which are made public at the wine fair (with the opportunity to taste the wines that received awards).
I caught up with one of the co-founders of Millésime Bio, James Frelin, former president and current vice-president of Sudvinbio as well as general manager of Terroirs Vivants, the leading supplier in the French trade of organic wine. Sitting in the largest of the four halls at Parc des Expositions, we could gaze out onto the sea of 287 tables, each covered with rows of wine bottles and gobs of glasses, and we could hear the hum of conversations, laughter, and clitter-clatter of glasses emanating from the many tables in just one of the four halls of the Millésime Bio's 25th and largest year.
I asked Frelin if he ever imagined such a scene 25 years ago. He laughed and shook his head, saying "the market has increased and increased—we have a waiting list of about 100 exhibitors," Frelin said. "We try to keep a balance between exhibitors and visitors," he explained.
In France, almost all regions have shown growth in organic vineyards and conversions. The total amount of land covered with organic vines (certified and in conversion) has grown from about 20,000 hectares (almost 50,000 acres) in 2007 to 70,740 hectares (about 175,000 acres) in 2016. In Occitanie alone, 25,142 hectares (62,000 acres) are devoted to organic vines (certified and in conversion), an impressive 35% of viticultural surfaces, making it the region with the largest number of hectares of organically-grown vines.
The region with the second largest number of organic vines in France is Provence-Alpes-Côte d'Azur, the administrative region—usually referred to by its initials, PACA—which includes all of the Provence wine region plus part of the Rhône Valley wine region; there, 16,200 hectares (about 40,000 acres) are dedicated to organic vines (certified and conversion). That is, 17.8% of viticultural surfaces. It may be interesting to note that PACA figures reveal a 1% drop in certified hectares and a 6% decline in conversions from 2015 to 2016.
Millésime Bio 2018: The World Organic Wine Fair
"Millésime" means "vintage" in English and "Bio" (pronounced 'bee-o') is short for "biologique," which translates into "organic" in English. All participants are certified organic and the vast majority of producers do indeed present their most recently bottled wines (along with other vintages).
What is organic wine? In very general terms, it refers to wines made from grapes grown without artificial chemical fertilizers, pesticides or other synthetic products and with the use of preventative natural measures in the vineyard and with minimal tinkering of the wine in the cellar. In Europe, there are very specific guidelines for both viticulture and, as of August 1st, 2012, for viniculture; and both sets of guidelines must be followed for the wine to be certified organic. Regulation falls under the purview of the European Commission and, in France, the INAO (Institut national de l'origine et de la qualité).
To participate in Millésime Bio, each exhibitor is carefully vetted. Only fully certified organic wines are allowed; no conventional wines or wines that are in the process of organic conversion are permitted.
For organic viticulture, there are four main specifications: 1) all synthetic chemicals and GMOs (Genetically Modified Organisms) are strictly prohibited; 2) the use of prophylactics to "reduce the sensitivity of crops to pest attacks" is required prior to introducing natural products for plant protection or biological control; 3) mechanical procedures, such as tillage, mulching, and hand weeding, are required to control invasive plants (i.e., weeds); 4) natural fertilizers (e.g., green manure or compost) are required. As a result, sustainable characteristics of the land, such as soil fertility, biodiversity, and water quality, are maintained and improved.
For organic viniculture, regulations for the cellar went into effect about six years ago, as noted above. Generally, this means: 1) all agricultural ingredients must be certified as organic (e.g., grapes, sugar, alcohol, rectified concentrated must; 2) certain physical procedures are forbidden (e.g., de-alcoholization, electrodialysis, filtering with pores less than 0.2 um; 3) certain additives and oenological procedures are restricted; and 4) adhesion to the sodium restrictions is very important.
Which countries attended Millésime Bio? Unsurprising the majority of participants hailed from France, especially the Languedoc Roussillon region. Italy had the second highest representation, followed by Spain. Other countries present at the wine fair include South Africa, Argentina, Australia, Austria, Bulgaria, Chile, Greece, Hungary, New Zealand, Portugal, Slovenia, and Switzerland. There was one producer from the U.S. (with French representation): Le Sentier des Vignobles, with wineries in both Mendocino County, California and Columbia Valley, Washington.
China was not represented at Millésime Bio although, in 2015, its surface total of organic vines was roughly 14,156 hectares (35,000 acres), accounting for 1.9% of the country's land and ranking China as the world's fourth largest in terms of the surface total of organic vines. The U.S. had 11,622 such hectares (28,700 acres), according to the 2015 data, revealing that roughly 2.9% of the country is devoted to organic vines and ranking it fifth in the world in terms of surface total of organic vines.
Spain has the highest surface total of organic vines (106,719 hectares), followed by Italy (103,545 hectares), and France (70,740 hectares/about 175,000 acres).
Biodynamic wineries—I saw a few cow horns around—were well represented at Millésime Bio 2018. About a quarter of the exhibitors were certified biodynamic by Demeter or Biodyvin. These are organic estates that embrace a holistic philosophy and consider the lunar and planetary influences on all aspects of viti- and vini-culture. About 245 such wineries were in attendance, the majority of which were from France (194 producers).
One of the hallmark characteristics of Millésime Bio is that all exhibitors are provided with the same set of the furniture and accoutrements (i.e., a table with a white tablecloth, two chairs, name board, tasting glasses, and spittoon) to showcase their wines because the purpose of the wine fair is "to compare and assess wines rather than to display exhibition techniques." Another characteristic that sets this wine fair apart from others is that it is not organized by region (or any other common factor such as country or appellation). Rather, in an effort to encourage discovery, everything is mixed up. It takes a little while to get one's bearings, but, for me, the arrangement (or lack thereof) did indeed lead to wineries and wines that were not initially on my radar.
Conversations with Winemakers from Provence and the Southern Rhône Valley: My Three Takeaways
I had the pleasure of visiting about 15 tables during the two days I visited the wine fair. With two exceptions, I limited myself to wineries located in Provence and the southern Rhône Valley but, even with those boundaries in place, I regrettably missed some of my favorite wineries.
I know it must be hard to imagine covering such a fraction of the tables; but, at each table, there's a lot of conversation about the vintage, the cepage, the stresses imposed by Mother Nature, and, of course, there's a lot of wine to taste. There are usually other tasters around and banter easily emerges among the tasters, too. Further tethering one to a given table is that it's not unusual to find one producer who owns three different vineyards in three different appellations! How can I say 'no' to tasting what a singular producer (e.g., Clos du Joncuas) is doing with grapes harvested from Gigondas, Vacqueyras, and Seguret in Côtes du Rhône Villages for three different labels? Then, there are interviews with other people in the wine business who are not pouring wine and, very importantly, one needs to eat!
There was one subject that dominated all conversations: the low yields from the 2017 harvest due to weather conditions, namely frost or drought (or both). In a recent Decanter article (February 16, 2018), Andrew Jefford likened 2017 to "one of the most disaster-strewn years the wine world has endured since the onset of phylloxera."
Across Provence and up into the southern Rhône Valley, yields were generally down 25 to 50 percent and some vintners reported even greater losses. The men and women with whom I spoke shook their heads in dismay but quickly reported that they took it all in stride, shrugging their shoulders as if to say "c'est la vie!" I'm not convinced that they were all so unfazed by the abject loss of such a significant chunk of their production and ultimately their livelihood; later conversations revealed, among other things, that some winemakers have organized to change INAO regulations regarding irrigation and that they are considering immensely expensive investments in installing irrigation systems (but that's another story).
I hasten to add that at Millésime Bio and in conversations with the winemakers I spoke with after the wine fair, there was unanimous agreement that although production was low, the juice was highly concentrated and the wine exceptional. If the wines I tasted from the wine fair and in later visits to wineries is any indication, I would wholeheartedly agree.
Secondly, the rosés I tasted were exceptionally good. Most were straight from the tank, bottled just for this event, but their strong bones were unmistakable even if the nose was not fully evident in some cases. I tasted rosés that were less red fruit-forward (such as the ubiquitous strawberry, a characteristic that does not speak to my palate), and more stone fruit and subtle floral flavors. There was no evidence of unintegrated oak or alcohol, even at this point in their evolution. Lots of freshness and zing bode well for an excellent vintage of rosé. There seemed to be greater variety in color this year. The highly concentrated juice (mentioned above) undoubtedly played a role in the ever-so-slightly (but noticeable) darker hues I saw. At least two of the distinctly pale rosés I saw were lighter at the time of the tasting, according to the winemakers, due to the tiny amounts of sulfites added when bottling the week before for the show; but the winemakers made a point of saying more color would surface.
A third takeaway from the wine fair is that, dare I say, Provence rosé seems to be sharing a wee bit of the stage with white wines from the region renowned for its pale dry rosé. I thought it might have been my imagination or a function of which wineries I visited, but since then, other knowledgeable sources have told me they agree. In addition to the predominately Rolle (Vermentino-based) wines that have increased in both production and popularity in Provence, it seems that producers are increasingly including more aromatic grapes in their blends (e.g., Viognier, Sémillon, Clairette, and varieties of Muscat). I visited several wineries in Provence after Millésime Bio and continued to confirm this observation.
New Wines on the Market
Among the 50-plus wines I tasted, there were three new wines to the market. Château Léoube introduced an entry level rosé to their premium line-up of pink wines. Developed for the export market, 'LOVE by Léoube" is marketed as "a simpler blend of only two grapes (Grenache and Cinsault)." Indeed, it is an easy-drinking rosé probably created, at least in part, to round out their portfolio of high-end, more gastronomic rosés made from older (estate) vines and priced to reflect their ascending complexity (from $22 to $50). However, according to Patrick Pouvatchy, Sales Manager for North America, it was also launched to mark the 20th anniversary of Lord and Lady Bamford's purchase of Léoube in 1997 and the 10th anniversary of the release of the first vintage in 2007. This pale pink apéritif rosé is very pleasant, fruity, and balanced, with a notably pleasing creamy mouth. In contrast to most other entry-level négociant wines (such as Cave d'Esclans Whispering Angel and the brand new Cave d'Esclans rosé called "The Palm by Whispering Angel"), LOVE by Léoube is a certified organic wine. It is priced at about $19.99 a bottle in U.S.
Domaine de Richeaume unveiled a new apéritif rosé, much lighter than the previous rosé from Richeaume (when rosé was even included in the predominantly red lineup). Proprietor Sylvain Hoesch consulted with oenologue Pascal Lenzi of Ze Wine Xperience to help create a fresher rosé than what Hoesch had been producing. Comprised of Grenache with a dash of Syrah, this is a very pale rosé with lots of minerality and a distinctly aromatic nose reminiscent of stone fruit and pear. After tasting this cuvée, I clearly understood why Hoesch and Lenzi were so excited. This is a certified organic rosé wine.
Château Grand Boise was pouring the first vintage of a new white wine to join their Château Grand Boise 1610 Rouge wine. The 1610 Blanc version is a blend of 60% Rolle (Vermentino) and 40% Sémillon, reminiscent of a widely acclaimed wine made at both this estate and at Château Simone in the mid-20th century. This version is co-fermented in both barrels and amphorae and is well structured, balanced, very aromatic and immensely pleasing on the palate. This is a certified organic white wine.
Looking Forward
In my conversation with James Frelin who, as mentioned above, is one of the co-founders of Millésime Bio, he summed up the future of organic winemaking by saying: "Chemical agriculture is not the future….Our goal is 100% organic."
Next year Millésime Bio will be held in the same place, at Montpellier Parc des Expositions, from the 28th to the 30th of January 2019. In the meantime, I'd love to hear your thoughts on the state of organic wine.
Notes:
You may enjoy reading this past article about the difficult 2017 harvest in Provence and Southern Rhone… https://www.provencewinezine.com/2017-harvest-provence-southern-rhone/