Millésime Bio 2018 Slated for Late January in Montpellier
by Susan Manfull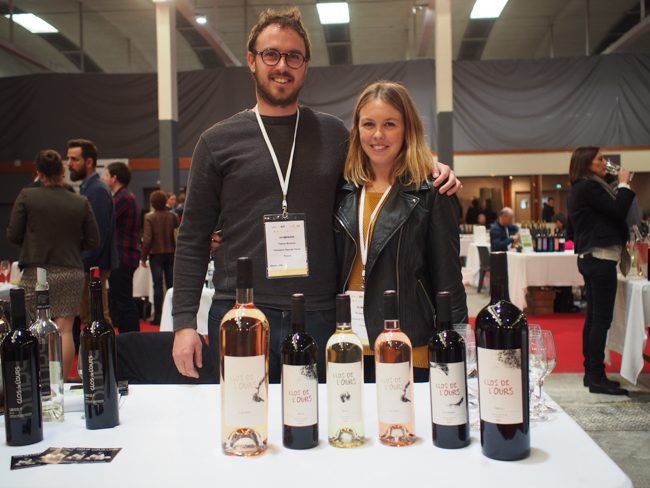 Millésime Bio, said to be the world's largest trade fair devoted to organic wine, has announced its 2018 dates and a return to Montpellier: it will take place from Monday 29 January to Wednesday 31 January next year at the Montpellier Exhibition Center.
Millésime Bio is the only international fair focused entirely on organic wine. It was created in 1993 by Sudvinbio, the inter-professional association of organic wines in Occitanie (formerly Languedoc-Roussillon), funded primarily by memberships and the fair itself.
Since its inception, this organic wine fair has taken place annually in Montpellier. Every other year, Millésime Bio took place in tandem with Vinisud, a leading international wine fair in both France and internationally that is devoted to Mediterranean wine (which represents nearly 30% of global wine production). Millésime Bio was typically held at the end of January and Vinisud held their biennial event in mid-February. This year, however, according to a 28 February Press Release by Sudvinbio and Montpellier Events, Millésime Bio vacated Montpellier Exhibition Centre, their previously booked venue, (thereby making it available to Vinisud) as a result of "Vinisud's request to hold its show on the same dates as Millésime Bio."
This year's Millésime Bio was held in Marseille at the Parc des Expositions. Although widely considered a success by Sudvinbio as well as exhibitors and visitors with whom I spoke and by my husband and me, the origin and heart of Sudvinbio and Millésime Bio lie in Occitanie.
According to Cendrine Vimont, communications and public relations contact at Sudvinbio, in a private exchange of correspondence with me, their board was amenable to the shows being held in Montpellier, "one after the other on the same week, the end of January, but not on the same days."
Vimont cited several reasons why the board felt that scheduling the events simultaneously was not feasible, including lack of adequate space and the practice of many vintners of exhibiting in both fairs or alternating (recall Vinisud was held every other year). In addition, beyond the obvious organic versus conventional wine difference, Vimont elaborated on two main approaches that distinguish the fairs. "…Millésime Bio is organized by a non-profit organization, an association aimed at helping and counselling organic vintners of Languedoc and Roussillon first, whereas Vinisud organizers are [trade] fair specialists and a private company, partly owned by a pension fund." Also, the physical organization is different: Millésime Bio, with its attendees from around the world and emphasis on organic wine, does not organize the tables by region and appellation, as does Vinisud, with its focus on Mediterranean wine; instead, the Millésime Bio tables are randomly assigned to "promote encounters and curiosity."
Having attended both fairs, I can attest to the stark contrast in styles between the two events. At Vinisud, there was a variety of set-ups, in terms of size and glamour, but all had at least a nominal level of adornment which Millésime Bio set-ups never came close to. At Millésime Bio, as described in their literature about the event, the set-ups—table with white tablecloth, two chairs, glasses, ice, a spittoon and a display—were described as "'turnkey' stands, all equal." The only distinguishing characteristic was said to be the wine: "Only the wine makes the difference."
An agreement was signed by Sudvinbio and Montpellier Events that gives Sudvinbio an exclusive booking at the Montpellier Exhibition Centre (with no other competing wine fair) and the Exhibition Centre has their booking for the next five years. So, look for us there next year!
Now, what about Vinisud 2018? According to a Vinisud Press Release dated 10 February, 2017, the Mediterranean wine fair will also take place in Montpellier in 2018. In a telephone conversation yesterday, Catherine Bourguignon, press office contact at Vinisud, confirmed the Montpellier locale and that the board of directors met yesterday and that dates may be announced as early as today.
The disagreement between the two groups over setting dates for their respective wine fairs (beginning last year) has clearly escalated and, as evidenced by recent press releases from both organizations, has spilled into the public arena. I am certain the roots of the disagreement extend deeper than deciding dates but I do hope the two groups will be able to reach an agreement on the dates that respects the interests of both parties. Many people I spoke with in the trades as well as many exhibitors and journalists (at both wine fairs) would like to attend both events without digging too deep into their pockets. I hope to be able attend both Millésime Bio and Vinisud again next year.