Mirabeau en Provence Completes Final Assemblage of 2015 Rosé Cuvées
The Wine Snoop Report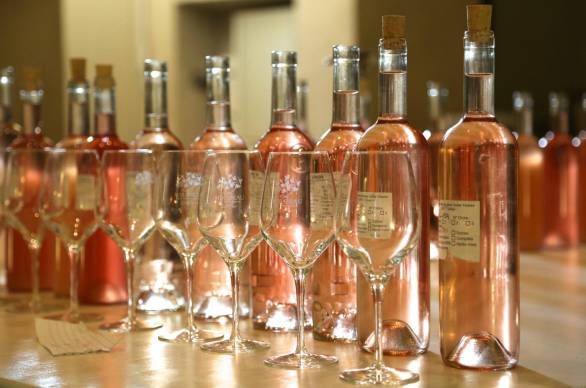 Mirabeau en Provence wines come with an inspiring story. The label's founders, Stephen and Jeany Cronk, realized their dream of making wine in Provence when they resettled in Cotignac in 2009. (Provence WineZine has the Mirabeau story in an earlier article entitled "You Know Mirabeau Rosés but Have You Met the Red Wine?)
Winemaking includes no guarantees, so moving family and home from the UK required the fuel of passion, community connection, and steady vision. It's a pleasure to see the growth and success this path has afforded the Mirabeau team as they prepare to release the 2015 rosé blends, for which the final assemblage was recently completed.
Mirabeau doesn't grow the grapes that become their rosés, labeled Mirabeau Classique and Pure. Instead they act as negociants, choosing the most suitable grapes from a selection of vineyards in the Côtes de Provence appellation. For the 2015 blend, Mirabeau had 140 tanks of wine from which to choose. These were narrowed down to 27 tanks that were considered carefully by the winemaking team in terms of blending balance and taste profile. Eventually three growers were selected to provide the Grenache, Syrah, Cinsault and Carignan that became the 2015 blend.
I recently caught up with Stephen Cronk, just after the 2015 blends were finalized. He shares some intimate details about the Mirabeau rosés, darlings to Provence WineZine readers:
JB: Please confirm for me that 2015 will produce two cuvées, same as in the past, the Classique and Pure? Is Mirabeau utilizing grapes from the same three vineyards?
SC: Yes, we will be producing two cuvées this year, Classic and Pure. We're working with three vineyards again this year but one of them is different from last year as we had to go higher up into the hills around Mont Sainte Victoire to find the right levels of acidity this year. The 2015 vintage was very hot and dry so we had to look further afield to find the right structure and balance this year. After tasting from around 200 parcels we eventually found the right elements to make our final assemblages for the two Mirabeau rosés. In fact, this vintage was a very strong validation of our winemaking philosophy. We make a wine that is consistent year in year out, in terms of style and quality and when faced with a challenging vintage like this one, we were still able to create our two cuvées in a style that our followers will recognise as being classically Mirabeau.
JB: Will there be more Mirabeau rosé to go around? Will the 2015 production be larger than last year's? Harvest was outstanding, no?
SC: We're making nearly double the amount we made last year as demand for Mirabeau has increased so much. The harvest was good in terms of great condition fruit, but the hot, dry weather saw higher levels of alcohol and lower levels of acidity. So from the perspective of the vine growers (vignerons) it was great but from the perspective of the winemakers (oenologues) it was a little more challenging.
JB: If I were going to quote you (with a tweet, for example) are there a couple words that I could put down in history as Stephen Cronk's impressions of Mirabeau's 2015 roses?
SC: Beautiful, elegant and refreshing as always.
JB: You've got an excellent social media relationship with your customers so chances are they saw the Instagrams of your winemakers with hundreds of wines, working towards the final assemblage. I'm so curious about the atmosphere of that experience. Not so much the technical click-and-clack, but what it feels like to start with all that rosé and settle in with something that screams (or whispers) Mirabeau. Would you give me a quick summary of the essence of the Mirabeau blending process? Anything that made 2015 unique?
SC: As the brand owner, I'm always filled with trepidation when it comes to creating our final assemblages, no matter how good the individual wines on our tasting benches are. After 5 days of tasting our two oenologues came up with the goods though but it is only when I try the final results can I breathe a sigh of relief. It's rather like building a complex puzzle with the picture in your head rather than on the top of the box! But we always get there in the end…thankfully, as we only get one chance per year to get this right.
JB: Mirabeau wine is an international phenomenon these days…still growing the distribution range?
SC: We're selling in more than 40 markets now and the US is our big focus next year. We've got two such awesome rosés, a great team and I love working in the States, so everyone's happy!
JB: Does the Mirabeau team do anything special on release? Any traditions you've built when rolling out a new wine?
SC: We always have a celebratory dinner the night of the final blending with a few glasses of the previous vintage. The slightly frustrating thing is we can't really enjoy the new vintage until January as we bottle in December and then we have to wait 3-4 weeks for the wines to get over the 'bottle shock' (because wine gets rather shaken up during the bottling process and takes a while to settle down).
Here's a little information to help you find a Mirabeau bottle near you, to learn more about the Mirabeau team, or to plan a visit to the tasting room:
Mirabeau en Provence
Cours Gambetta
83570 Cotignac
Tel: +33 (0)4 94 37 40 02
http://www.mirabeauwine.com/
-JB