NORTH AFRICAN COUSCOUS, PROVENCE ROSÉ, AND RHONE RED: A COSMOPOLITAN COMBINATION THAT WARMS BOTH BODY AND SOUL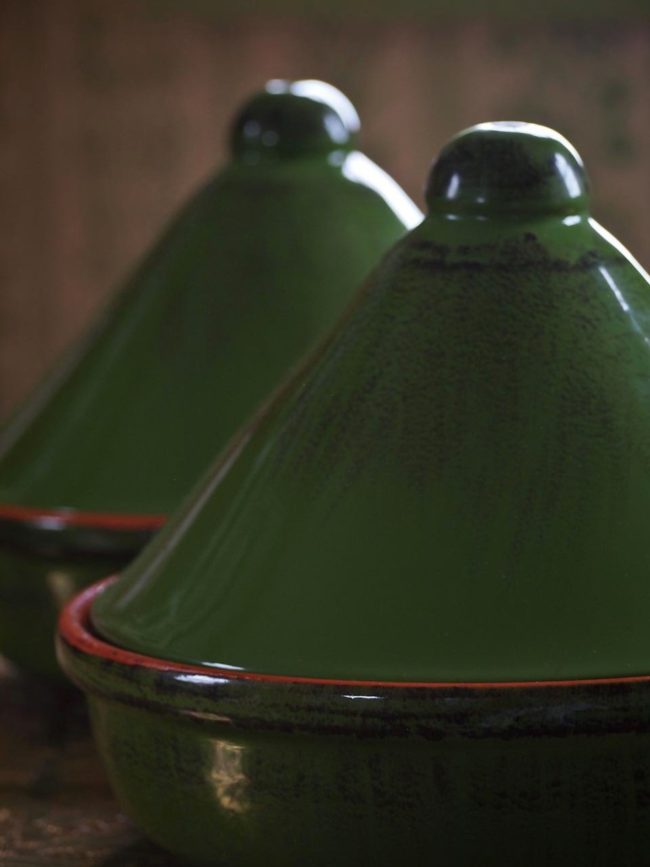 Provence is a melting pot of immigrants and nowhere is this more apparent than in Marseille where residents hail from neighboring Italy and Spain as well as Greece, Armenia, Indochina, and West and North Africa. Given that Marseille is the Mediterranean Sea's largest port (and Europe's second-largest), its cosmopolitan composition is not surprising.
Upwards of a quarter of the population of France's second largest city has roots from North Africa, especially Morocco, Tunisia, and Algeria (referred to as the Maghreb). Marseille is geographically close to these three countries—a two-hour flight to Tangier, for example, costs as little as €26 right now. Even more pertinent are France's deeply entangled colonial ties to these three countries, a major factor in contributing to the growth of Marseille's Maghreb population, about 150,000 in a city of over 800,000.
The growing influence of the Maghreb population in Marseille is most evident, from a visitor's perspective, in Marseille's gastronomy. Could it be that couscous might soon rival bouillabaisse as the city's most famous dish? That is debatable but the growing demand for good North African cuisine is not. And in Provence—unlike North Africa—there is plenty of good wine to accompany it!
So, with temperatures predicted to drop in Provence next week—and with most folks in the US feeling like we may never thaw—I recommend making a traditional Fez couscous to warm the body and pouring some Provence rosé and Rhone red to warm the soul. It's a meal that always makes me feel good.
Belle–soeur Lisa (aka, my sister-in-law) was visiting. Lisa, who lived in Paris as a child and later returned for work, has also lived in a dozen African countries as well as the United States. She and her French-Moroccan husband currently straddle the Atlantic with one home in Tangier, Morocco, and another in Washington, DC. Along the way, Lisa learned to make a mean couscous, among other specialties from North Africa.
Couscous, to avoid any confusion, refers to both the tiny granules of pasta, usually made from semolina flour (but it can also be made from other grains such as barley, corn, and millet) and to a full meal (such as the one we prepared).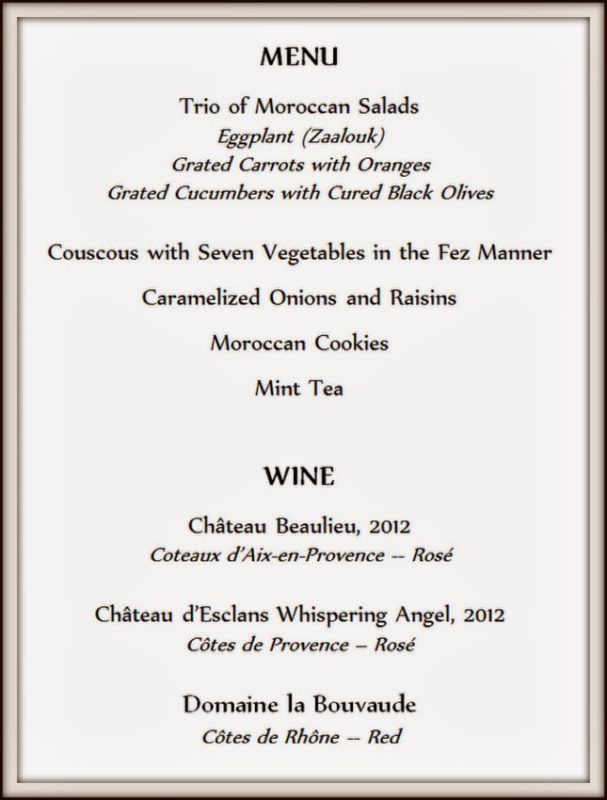 "Dinner" does not capture our meal—it was a feast. To that point, Lisa told us that, in Morocco, such a meal would typically be served for lunch—precisely because it is so big—or for dinner on a special occasion like a wedding, birth, circumcision, or funeral.
"Traditionally," she said, "this meal would be served on Friday after mosque when the whole family gets together to have lunch." (Of course, without the wine!)
But we, not being Muslim and not eating in a typical Moroccan family home, opted to commence with a tasting of two Provence rosés.
The Château Beaulieu rosé is a pleasing blend of Grenache (50%), Cinsault (20%), Cabernet Sauvignon (20%), and Syrah (10%). "Tart," was how the youngest person in our group described it, a feeling echoed by others and perhaps referred to the tannins from the Cabernet Sauvignon grapes. Others chimed in that it was "puckery" and "citrusy" but all agreed that this Coteaux d'Aix-en-Provence rosé was very pleasant. My feeling that it would go well with the first part of our meal was definitely confirmed.
Whispering Angel, the entry-level rosé produced by Château d'Esclans, is one of my favorites (as regular readers know). Grenache is the dominant grape (72%), followed by Rolle (13.1%), Syrah (7.1%), Cinsault (4.3%), and Tibouren (3.5%). It is a much paler rosé than the first one.
"Rounder taste and more complex as it changes from the sip to the swallow to the long finish," said another person.
Overall, this Côtes de Provence rosé is a much more elegant wine. It has a multi-faceted nose with lots of licorice and spice as well as some floral essences; it has layers of taste, including honey, citrus, and a real freshness; and it has as a silky mouthfeel. (It is more expensive than the first rosé with a suggested retail price of $21.99, compared to $14.99.)
À table. Because we were not prepared to wash our guests' hands with orange-scented water, we dispensed with the time-honored Moroccan tradition of eating with our hands (e.g., each person coaxing his bite of food out of his "designated" portion in the dish and directly into his mouth). The etiquette surrounding this tradition is quite strict, with the most important rule being to eat with one's right hand, using only the thumb and first two fingers. To do otherwise is to risk being seen as gluttonous. The left hand is reserved for taking the bread offered by the hostess and for passing dishes. While this custom makes for a very intimate meal, we opted—at the last minute—to follow our own tradition of knife and fork. (But, I was prepared, in part, to skip the silverware as, at Lisa's insistence, I reluctantly covered our beautiful Moroccan tablecloth with a sheet of clear plastic, a practice followed by many well-heeled Moroccan families for this meal.)
Per tradition (and etiquette), one begins with a serving from the top layer in the tagine, which consists of the couscous and vegetables. Then, it is okay to go to the next layer where the meat is—and, if you are not eating enough meat, it would not be unusual for the hostess to come by and, with her hands, reach into the bottom layer to dig out a few more pieces of meat for you! (To let a guest go home hungry, thus depriving him or her of complete satisfaction would be humiliating to the host and hostess.)
The "seven vegetables" would have kept me content all evening. Seven is said to be a lucky number in Fez, so one should have at least a little of each. Ours were a beautiful collection of pumpkin, sweet potato, carrot, cabbage, zucchini, turnip, and tomatoes—it was a pleasure to have a serving of each and, needing all the luck I can get this year, I made sure I did eat all seven.
One of my favorite parts of the couscous was a topping of sweetened onions and raisins (also Lisa's husband's favorite so, although not traditionally part of the Fez couscous, Lisa included it!).
The two broths are provided so that guests can fine tune the consistency of their couscous to their taste by adding more broth–some people like it dry and others like it wet—and they can adjust the spiciness by opting for plain broth or the one with harissa.
The salads—three distinctly different combinations of vegetables and spices, with not a lettuce leaf in sight–were fabulous. In Morocco, they are typically served at the beginning of the meal, in individual portions in multiple bowls at each place setting. We diverged from tradition and served them alongside the couscous, a good idea because far from just whetting my appetite they would have satisfied mine, leaving no room for the couscous (which I would have regretted!)
If we were in Morocco, where Islamic law generally forbids the consumption of alcohol, our meal might have been accompanied by "petit-lait" (translated as "the whey of the milk"). At our table, we continued with our rosés—the Château Beaulieu was much better when paired with food, arguably a better match than the delicate Whispering Angel—and we opened a bottle of red wine from Domaine la Bouvaude, a Côtes du Rhone. This medium-body red had just the right amount of fruitiness and spiciness to complement our couscous—remember the caramelized onion and raisin topping—and the $10 price tag made it the perfect choice for our diverse medley of flavors.
"Dessert," as is customary in North Africa, was a platter of fresh and dried fruits and nuts. Sweets are very popular in maghrébin countries, as evidenced by all the fine pastry shops (probably influenced by the presence of the French in those countries for so many years) but they are generally reserved for tea and can be eaten any time of day except at the end of a large meal. We did, however, have some Moroccan-style cookies (from a Syrian bakery).
Naturally, our meal culminated with Moroccan tea, a delicious combination of green tea, fresh spearmint leaves, and plenty of sugar, steeped in piping hot water. Tradition used to be that guests would take three cups of tea and then depart.
If you want to understand a region, look at its food. It reveals the region's neighbors, the geographic location, the hands that prepared it, and the locally available resources. For a country not even as big as our state of Texas, France has many regions—consider Alsace with its German influence, Savoie with its Swiss influences, Brittany and its coastline, Burgundy and its vineyards, and Paris as the gastronomic center of the world, attracting hands that prepare every cuisine imaginable. (I am reminded that Patricia Wells recently said that she sees a very strong Asian influence in Parisian cuisine right now.)
Provence, with so many neighbors, is a melting pot of cuisines with strong influences from Italy, Spain, and, of course, North Africa. With its long coastline, seafood is a dominant part of the cuisine in the Côte d'Azur and beyond, including Marseille. As a port, it has long been the entry point of food (and spices!) from many other countries.
It has also been the gateway for immigrants who have contributed greatly to the cuisine of Provence and indeed to that of the entire country. Did you know that it was an Italian (immigrant) who is credited with elevating French food to the cuisine for which France became renowned? (Catherine de Medici, wife of King Henry II of France, Queen consort, and mother of three kings of France is generally agreed to have brought Italy's more refined cuisine and civilized etiquette to France, way back in the early 16th century.)
The windows had steamed up around us, hiding the cold night outside, and by the time we finished our dinner, body and soul were warmed by good food, good wine, tasty tea, and the kind of animated conversations that communal meals tend to encourage.
Notes:
The cookbook we used is Moroccan Cuisineby Paula Wolfert.

Learn more about Moroccan food, in "Basics of Moroccan Food" by Paula Wolfert, in Saveur (7/07)

Learn more about Moroccan food in Paris, in "Couscous Royale" by Paula Wolfert, in Saveur (11/12)

For excellent Moroccan food in Marseille, visit Le Souk at 100, Quai du Port (33 4 91 56 10 02) and Le Fémina at 1, rue de Musée (33 4 91 54 03 56)

The North African Market in Marseille, called le Marché de Noailles or le Marché des Capucins, is located just a few blocks from Le Vieux Port.

Other TMT posts you may find interesting:

"WHERE TO GO IN 2013?" THE NEW YORK TIMES LISTS MARSEILLE AS # 2 DESTINATION

FRANCE PREPARES TO BAN THE BURQA AS CONSTRUCTION OF NATION'S BIGGEST MOSQUE IS LAUDED

By the way, to signal the start of the meal, the host says "Bismillah" (the name of Allah). I wonder if it's okay to say "Bon Appétit."