Provençal Pairings: Wine with Food
The Blonde Bombshell
by David Scott Allen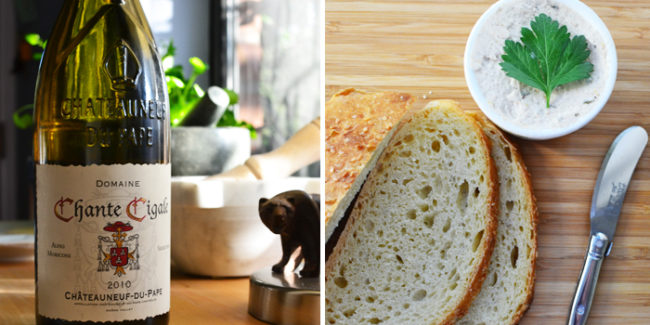 Winery: Domaine Chante Cigale
Cuvée: Châteauneuf-du-Pape
Appellation: Châteauneuf-du-Pape
Type: White
Vintage: 2010
Grape Varieties: Grenache Blanc (25%), Roussanne (25%), Clarette (25%), and Bourboulenc (25%)
Alcohol: 13.5%
Average Retail Price: U.S. $40.00, G.B £20.00, FR €23.00
Until Susan sent me this bottle, I had never even heard of a white Châteauneuf-du-Pape. She was very excited for me to try it and, in fact, asked me to move my intended March pairing to April. I asked her about the wine and one description that kept returning was "full-bodied." And full-bodied it is. The color that poured from the exquisite bottle was much richer than I expected from a French white. It is the color of honey, one of the two prominent flavors in this powerhouse of a wine. The other – actually, the dominant flavor – is pear. I hesitate to say this because I don't want you to think this wine is fruity; it is not. It is a dark, unctuous, mellifluous wine that belies its color. To me, this is the red of whites, and I served it with a rich, creamy Pâté au Thon. The textures worked perfectly, and the minerality of the wine paired beautifully with the pâté. As we continued to nibble and sip, I noted that the honey and pear both remained present, but the dominance of flavor turned to the honey. I served this at a refrigerated temperature, which was an error on my part, and I should have known better. After sitting out for 15 minutes, the flavors were much rounder, and the nose opened to reveal honeysuckle and hyacinth. I didn't like this wine, I loved it – and I love being surprised. This is a very special occasion wine.
For my recipe for the Pâté au Thon, please visit cocoaandlavender.blogspot.com.
Other Pairings: Salmon, sea bass, poultry, cream sauces, olives, cheeses. Do not be afraid to use this with a highly-seasoned dish or one with complex flavors. It can handle them.
Post and Photos by David Scott Allen