Provençal Pairings: Wine with Food
AZ Puts the Pizzazz in Rosé
by David Scott Allen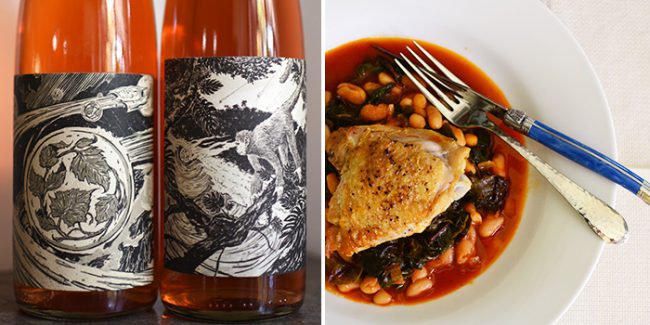 Winery: Rune Wines
Cuvée: Rune Rosé
Appellation: Cochise County, Arizona
Type: Rosé
Vintage: 2014 and 2015
Grape Varieties: primarily Grenache, with Syrah, Mourvèdre, and Petite Sirah
Alcohol: 13.9% and 13.8%, respectively
Average Retail Price: U.S. $18
There I was, minding my own business, sipping a Provence rosé at Revel in Tucson with friends celebrating their engagement. I chose the rosé, of course, and mentioned to server that I was a big rosé fan.
By coincidence, the rep from Rune Wines was in that day and, unbeknownst to me, they were tasting Rune's 2015 rosé. The server brought me a glass "just because." Apparently, while I was minding my own business, he was paying attention. I was really astonished at the nose, and how unctuous it was on my palate, and how well it paired with our cheese platter.
In a completely uncharacteristic stroke of kindness and generosity, I offered the glass around the table. Even the haters (you know, the "I only drink red wine" folk) loved it. "The red wine of rosés," someone said. I had to agree. It was so full-bodied, and full-flavored. I wanted more. Alas, the sample bottle was empty. Tant pis, said I. After all, I live in Arizona – how hard could it be to find?
Pretty hard, actually. But I am persistent, if nothing else. I called Susan almost immediately and said, "You're not going to believe this but I just had the most amazing Arizona rosé from Rune Wines." She was so surprised to hear this, not because it was Arizona, but because she was intending to tell me about Rune. She learned of the winery when she was in California for the Rhône Rangers San Francisco Celebration of the American Rhône Movement, back in June. Rune is a member of the Rhône Rangers and, aside from rosé also produces a variety of Rhône-style wines. She hadn't had the chance to try them, but made a note that when she visits us in Tucson, she and I would head down for a visit.
Through Susan, I was able to contact winemaker James Callahan to see about getting a bottle for a food pairing. He was all too happy to help out and agreed to deliver it soon. I also decided to get Susan a bottle and started searching Tucson wine stores in earnest. Doug, the chef/owner at Feast, had a bottle of the 2014 and his notes from a wine pairing dinner he had done with Rune. I grabbed it, along with his notes, and kept searching. The store that usually carries Rune Rosé was out, so I called Revel to see if they could help. Celine Getzelman, who runs Revel with her husband, Todd, was all too happy to help.
Funny coincidence. On the day that James arranged to deliver the rosé to me near my office, I also received an email from Celine saying the wine I ordered would arrive that same day. Hmmm… could it be that James was delivering my other bottle to them? As it turns out, he was sitting at the bar when I walked in, had just made the delivery, and we had a good laugh over it. James is a really nice guy and very passionate about his winemaking. I bought the bottle for Susan (which, with apologies, I have already consumed…) and was on my way.
My first pairing – which is why Susan didn't yet get a bottle – was with a friend from Rochester, New York, for whom I was making an intensely-flavored Indian meal of tamarind salmon. We didn't do this as an official pairing but I served it with the fish and it was a hit with all three of us. There was no tug-of-war between the food and wine. It was perfect.
The second pairing was official and, I decided, would be a vertical tasting as I had both the 2014 and 2015. By the way, James ages the wine a good year before releasing his rosé. His 2015 is just out while most everyone else is touting their 2016 vintage.
The meal this time was more traditional and something one might find in Provence or Tuscany. I made a braised chicken with white beans and chard – you can read about it and get the recipe at Cocoa & Lavender. Lynn and Lee, who split their time between New York City and Tucson, were here.
Four of us were tasting and somehow we ended up with five different opinions. Isn't the personal palate fascinating? Lynn and Lee preferred the 2014 at first, finding it refreshing, with berry on the nose, with a full-bodied flavor. Mark and I preferred the 2015, getting strawberry at first, and then banana once paired with food. Lynn kept her preference for the 2014, saying that she prefers the more traditional Provence rosé, but Lee changed to liking the 2015 with food. As with the Indian salmon, there was no fighting between food and wine; I would say it was a seamless pairing, as I could not tell with food ended and wine began. I preferred the 2015 throughout, and look forward to stocking up.
If I had to liken it to something familiar to the rosé aficionado, I would say it reminded me most of a Tavel not only its flavor and velvety texture, but also it's deep, rich color.
And the wine labels are something to behold! They are so creative and engaging – like the wines themselves; they are designed by Daniel Helzer, a friend of James'. "The wine labels change every year and are all part of a larger story." James shared with me. Susan and I will get the full story to share with you in the future!
With fewer than 75 cases produced, it will be hard for most readers to try these unique rosé wines. However, Rune does ship (all the information is on the website) from Arizona to many places within the U.S. Or, it might just be the perfect reason to make a fall trip to Tucson and drive down to Sonoita to meet James and try his other vintages.