Provençal Pairings: Wine with Food

Beauty and the Belle
by David Scott Allen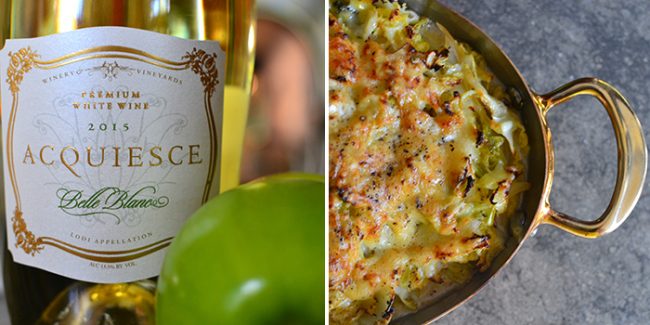 Winery: Acquiesce
Cuvée: Belle Blanc
Appellation: Lodi Mokelumne River
Type: White
Vintage: 2015
Grape Varieties: Grenache Blanc 60%, Roussanne 30%, and Viognier 10%
Alcohol: 13.5%
Average Retail Price: U.S. $26.00
A little over two years ago, I fell in love with a blonde bombshell – a white Châteauneuf-du-Pape. I was somewhat in awe of this wine, and never dreamed I would see its doppelgänger here on these shores. But, as you read on, you will find I was wrong.
Just this past October, Susan Manfull wrote an article for Provence WineZine about a wine bloggers conference she attended last August in Lodi, California, that included visit to Acquiesce Vineyards. It was then she met Susan Tipton, the co-proprietor, and the story began.
Acquiesce isn't strictly a producer of white wine, but it's close. (They produce one rosé.) Like me, Susan Tipton was quite taken with a white Châteauneuf-du-Pape she tasted and that inspired her and her husband to plant the grape varietals so that they could produce their homage to this wonderful French wine. And, thus, Belle was born. Belle Blanc. And she is a beauty!
One of the reasons the Tiptons are fond of full-bodied whites is they appreciate how well they pair with food. I am with them all the way. Which brings me to today's pairing. Over time, the two Susans got to know one another and, somehow, the subject of good food came up. I say this tongue-in-cheek, as, with people like us, good food always comes up! Susan Tipton had a recipe for a pork chops gratinée that she got from Linda, an Acquiesce wine club member; the Susans discussed how this recipe is a good partner to her Belle Blanc. I thought it sounded like a great post. One thing led to another, introductions were made online, and, before I knew it, Susan Tipton had sent me both the wine and the recipe! If you'd like to make the pork chops, head over to Cocoa & Lavender for the recipe.
Part of me wants to skip all the details and just tell you how much I loved this wine. But I know I can't do that. You need to know that it is the color of acacia honey, and the nose is incredible… a blend of white peach, pear, and apple with a touch of jasmine. I kept going back for sniff after whiff. The mouthfeel is velvety and smooth, and the palette is fruit-forward and bright. I liked it both with and without food, but definitely think of it as a "food wine." A note on the temperature; serving it too cold can affect both the nose and palette. I recommend removing it from the refrigerator 15 minutes before serving.
I didn't do a side by side tasting of Belle Blanc and the white Châteauneuf-du-Pape, so I really cannot say they are true doppelgängers. However, I did get a similar feeling when tasting each of them years apart, enough to say that this homage works for me!
It was no surprise to me that Belle Blanc won a Double Gold Medal in the American Fine Wine Competition this year. If you can get your hands on a bottle, it pairs beautifully with the chops! It will also go well with seafood, fish, poultry, dried sausages and meats – and it would be great with a fruit and cheese platter. The production at the vineyard is small, so you won't find it in your run-of-the mill wine shop. However, it can be purchased online direct from the vineyard.
As noted, I tasted the 2015. I am on tenterhooks waiting for the 2016.
All my opinions are my own.