Provençal Pairings: Wine with Food
Le Vin de Table
by David Scott Allen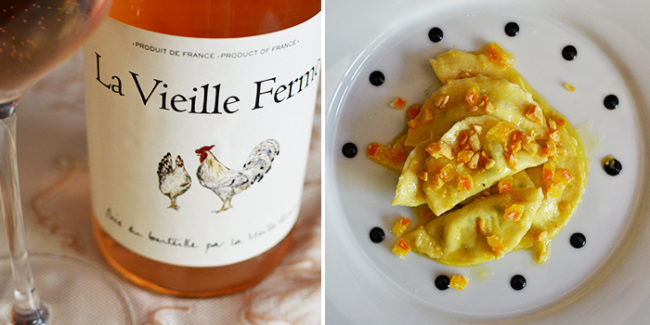 Winery: La Vieille Ferme
Cuvée: La Vieille Ferme
Appellation: Vin de France (Vin de Table)
Type: Rosé
Vintage: 2015
Grape Varieties: Cinsault, Grenache, Syrah
Alcohol content: 13%
Average Retail Price: U.S. $8
Vin de Table. Table wine. We all have our favorites. You know, the wine you drink every day. The one you buy when it's just you, or you and your family. A good, reasonably priced, and readily available table wine. Vin de Table.
Today's wine is just that. La Vieille Ferme rosé can be found in most grocery stores, big box wine stores, and even the occasional boutique wine store – always for a good price.
This is a good wine. Seriously, I would have laughed if you had told me that before I had tasted it. No, it's not Château Vignelaure, or Whispering Angel, or any of the high end rosés – but, damn, it is a good wine and a good value. Do you ever wonder how such a wine exists? Why it is so good at such a low price? Well, I have the answer – at least in this case.
The secret with this wine lies in its nom de famille. Let's see… do Château Miraval, Château de Beaucastel, or Domaine du Clos des Tourelles ring a bell? If not, I have just two words for you: Famille Perrin. Yep, the family that makes those three stellar wines is also the family that makes our little table wine, La Vieille Ferme. Who knew? That is why we do research!
I stumbled upon this accidentally when researching Château Miraval. There is a long list of the Perrin family's operations and I almost missed the last entry: La Vieille Ferme. My first thought was this: how could I have seen this wine on the market – before the current rosé craze – for decades without ever trying it? The hint should have been that it was available long before rosés were the "in thing." Well, now I have tasted it and I have a new Vin de Table rosé.
About the wine and food now… Recently, I was in Flagstaff, Arizona, and was treated to a lovely dinner by my friend Jennifer. There was a menu item that appealed to me, but I ended up with something else. Still, that dish really nagged at my taste buds so I wrote down the description and vowed to make it myself. It is a ravioli filled with goat cheese that has been infused with lavender and fennel pollen, then served in a lavender-rosemary brown butter, with Marcona almonds and candied orange peel. The recipe – yes, it's a bit fussy but worth the work – can be found on Cocoa and Lavender.
As I had just returned home from travels, and hadn't shopped much, my wine choice for this was either my red, white, or rosé Vin de Table. I opted for the rosé, thinking the pairing might be good, and it would make for a good post for you! We popped the cork (read: unscrewed the top) and poured. The color is beautiful – in the Pétale de Rosé category. Green apple and citrus dominated the nose, and I tasted strawberry and orange blossom at first sip. Being the nerd that I am, I tried my best to separate the flavors on my carefully arranged plate to see what happened with each element. Oddly, the almonds made the acid in this well-balanced wine come to the sides of my mouth (I might pair with a less unctuous almond next time). The cheese was a perfect match for the wine and it, along with the little dots of Crema Di Balsamica on the plate increased the wine's mineral feel significantly. The candied orange peel, not surprisingly, accented the orange blossom we tasted at the outset.
Reviews on this wine vary, but most agree with me: a great wine for the price. Try this wine with l'apéro, or with young goat cheeses. I think it also pairs nicely with a Salade Niçoise, or a Pissaladière.
Notes: