Provençal Pairings: Wine with Food
You Say Rolle, and I Say Vermentino…
by David Scott Allen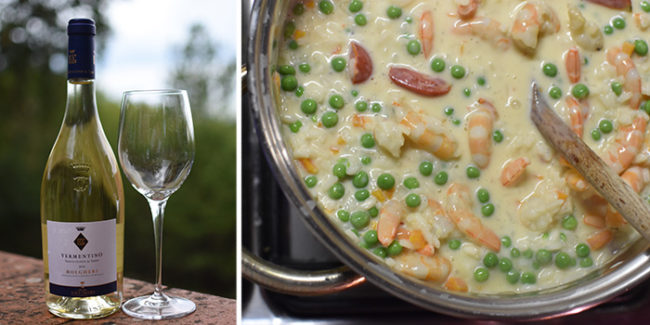 Winery: Villa Antinori, Tenuta Guado al Tasso
Cuvée: Vermentino
Appellation: Bolgheri DOC, Toscana
Type: White
Vintage: 2016
Grape Varieties: 100% Vermentino (Rolle)
Alcohol: 12.5%
Average Retail Price: France €15 – U.S. $17.00
There is no need to call the whole thing off, because we are both right; Rolle and Vermentino grapes are one and the same. The Italians make Vermentino, while those of you in Provence sip Rolle. I truly wish I had a bottle of each side-by-side to test, because I feel they are quite different. Basically, all that folderol about terroir really isn't folderol at all. (Now THAT should be a Cole Porter lyric, even though my nod to "Let's Call the Whole Thing Off" is an Ira and George Gershwin œuvre!)
Of course, I know that the discussion of terroir isn't folderol. It makes a big difference, even within a single estate. Where you grow the grape and the soil in which you grow it are what make wine making (and tasting) so fascinating.
When I mentioned to Susan that I would be in Tuscany for two weeks in September, she had the great idea that I should try some Tuscan Vermentino and write about it. I want you to know that I took this very seriously and tried at least six different Vermentino wines,… in the name of research, of course.
I chose Villa Antinori's Vermentino to write about because, of the ones I tasted, it would be the one you might be able to find for sale, whether in the U.S. or abroad. Antinori is a huge producer, and exports globally. The winery is considered one of the largest and most important wine producers in all of Italy. I also chose it because Evan Goldstein, in Daring Parings, a book given to me for my birthday by Susan, mentioned the Antinori Vermentino as among the best.
We, a small group of five family and friends, tested the wine twice while we were staying in the idyllic Tuscan hills between Radda and Castellina in Chianti. The first night we had a simple pasta with tuna, lemon, and capers. It's one of Mark's and my favorite go-to dishes when we need a quick, simple, and flavorful meal. The second pairing, inspired by Goldstein's discussion of what would pair well with Vermentino, was a risotto with shrimp and peas. We all liked the wine and thought it paired beautifully with both dishes; if you would like the recipe for the risotto, head over to Cocoa & Lavender. The pasta dish will come soon.
Clean, light, refreshing. These are words I would use to describe the entire package of this wine. The bottle and label have an understated elegance consistent with the wine within. The color is a very pale yellow which I visualize being served in the finest salons in the Palazzi of Tuscany. Upon pouring, I sensed strong pear on the nose, while the others didn't. We all got the aroma of citrus – no specific citrus, though – and pineapple. After tasting the shrimp and pea risotto, the pear became apparent to the others, and the citrus scent clarified to grapefruit on the tongue. It is a very light wine, refreshing in taste. Each of us thought it is the perfect summer sipping wine, and that it goes very well with fish and seafood.
Going back in my memory banks to a Rolle I once had, I think of Rolle as a rounder and softer wine, and perhaps a little more complex. Anyone out there want to weigh in? I would love to hear from you.
Finally, if we look at the final lines of the song written by Ira and George – "So if I go for scallops and you go for lobsters / So, all right, no contest, we'll order lobster / For we know we need each other so we / Better call the calling off off / Let's call the whole thing off" – I am pretty sure even they were talking about Vermentino and Rolle, as both wines would pair beautifully with scallops and lobsters.