Provençal Pairings: Wine with Food
Surprise Me!
by David Scott Allen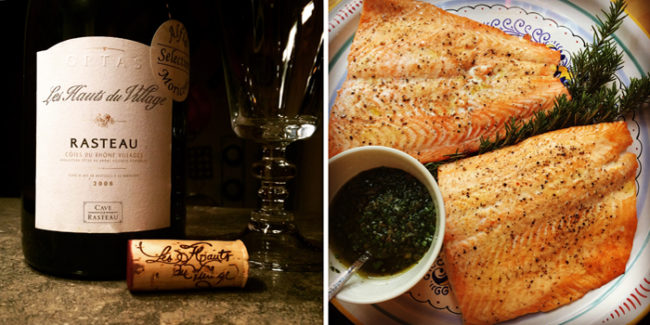 Winery: Cave de Rasteau
Cuvée: Côtes du Rhône Villages
Appellation: Rasteau Les Hauts du Village
Type: Red
Vintage: 2006
Grape Varieties: Mourvèdre (45%), Grenache (30%), and Syrah (25%)
Alcohol: 14.5%
Average Retail Price: U.S. $20.00, G.B £16.00, EUR €20.00
When you have a 2006 Côtes du Rhône in the wine rack, you don't just serve it with anything, especially if it is a Rasteau. This is a wine for certainty, not a wine you pull when you're serving a frozen dinner. (Okay, I know anyone who reads this blog is most likely not making a TV dinner, but you get my point.) If I were to think of things to serve with a Rasteau, salmon would not leap to mind. Yet, I do know that, if your guests are solely red wine drinkers, a Côtes du Rhône is a good choice for salmon. So, for today's pairing I actually surprised myself, and in a good way. I decided to put my Rasteau to a test. I knew already that it would be fine with the salmon, but what would happen when I added the salsa verde – a savory mash of anchovies, shallots, capers, red pepper, parsley, olive oil, and a healthy dash of white herbed vinegar? What then? That was my surprise. A wine that whispered black currant and blackberries when tasted with the salmon alone, transformed to fig and cherry when the salsa verde was brought into the picture. I was literally shocked. I honestly expected to report back to you that this was not a good combination. (After all, it is also good for you to know when a wine doesn't work, right?) I really liked this wine, as did my guests. This is an earthy wine, maybe even rustic – I felt I could actually taste the terroir. For my recipe for Roasted Salmon with Italian Salsa Verde, please visit cocoaandlavender.blogspot.com.
Other Pairings: Roasted chicken, rack of lamb with mustard and rosemary, pork tenderloin with fennel, seared duck breasts, and most meats/fowl served with a cream or béchamel sauce.
Post and Photos by David Scott Allen