Provençal Pairings: Wine with Food

A Grape by Any Other Name
by David Scott Allen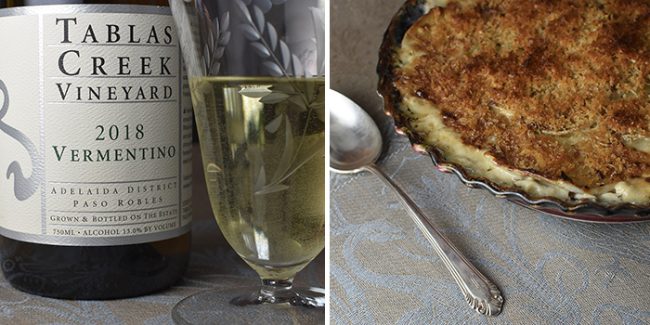 Winery: Tablas Creek Vineyard
Cuvée: Vermentino
Appellation: Paso Robles
Type: White
Vintage: 2018
Grape Varieties: 100% Vermentino (Rolle)
Alcohol: 13%
Average Retail Price: $27.00
Actually, a grape by many other names!
Vermentino is a light-colored grape that has been determined to have its literal roots in Liguria, on the Tyrrhenian Sea in the northwest of Italy. Wines produced from Vermentino are most often found in this same region of Italy (also in Tuscany and Sardinia) and in the South of France (especially Côtes de Provence) using the moniker Rolle. I had my first Vermentino in the Cinque Terre (Liguria) back in 1992!
But, as alluded to in my opening sentence, it can be found in many areas of the Mediterranean and Eastern Europe by a slew of other names: Agostenga, Brustiano, Carbes, Carbesso, Favorita, Formentino, Garbesso, Grosse Clarette, Malvasia Grossa, Piccabon, Pigata, Rossese, Sibirkovski, Uva Sapaiola, Valentin, Varresana bianca, and Verlantin.
Italy boasts the highest acreage of Vermentino vines (more than 8,000 acres) with France having just a little less. Third — and distant — in the lineup is the United States with only slightly more than 100 acres, all of which were cultivated from the nurseries of Tablas Creek Vineyard. And today's wine — a 2018 Vermentino — is, indeed, from Tablas Creek; I paired it with a creamy, unctuous dish of potatoes, cheese, and shiitake mushrooms. For the recipe, please visit Cocoa & Lavender.
Thanks to Tablas Creek, Vermentino has been stateside since 1993, and was first used in some of their white blends. They use the Italian name based on a technicality; the grape was first registered with the Bureau of Alcohol, Firearms, and Tobacco by another winery as Vermentino, and the BATF no longer allows for multiple names for the same grape. (Note: some doubly-named grapes have been grandfathered.)
Since I tend to think of American white wines as more full bodied, I forged on with my pairing assuming I was going to have a full-bodied, creamy wine. And, lucky me, I was not disappointed.
On the nose, I discerned notes of green apple, tart apricot, and citrus. Yet, when I poured myself a glass and tasted it, I found honey, and pear along with orange zest and honeysuckle, and even a wisp of smoke and a touch of salinity. It has a wonderful mouthfeel — somewhere between satin and velvet — and the finish is beautiful.
And, with all that going on, it paired perfectly with the creamy potato, cheese, and mushroom dish. There was no fighting with the slightly tangy goat Brie or the garlicky shiitake mushrooms. It was pure consonance of flavors in my mouth.
I look forward to getting even more vintages of the Tablas Creek Vermentino. And, in fact, I'd be interested in their other wines — sounds like road trip in my future!