Provençal Pairings: Wine with Food

As Summer Fades…
by David Scott Allen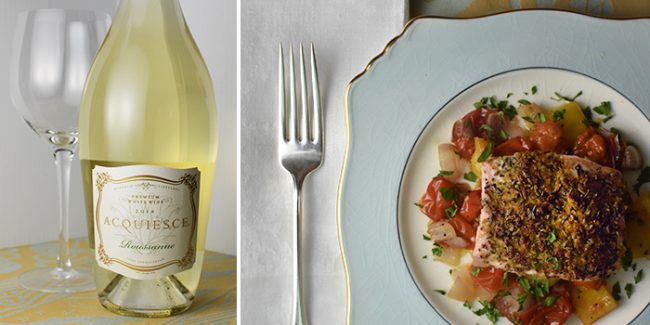 Winery: Acquiesce
Cuvée: Roussanne
Appellation: Lodi Mokelumne River
Type: White
Vintage: 2018
Grape Varieties: Roussanne 100%
Alcohol: 13%
Average Retail Price: U.S. $32.00
The construct of time is odd these days. Having been indoors (for the most part) since early March, it has been difficult to conceptualize the change of seasons. Calendars don't seem to make a difference, and clocks and watches don't really mean much now, either. The thermostat is at a constant and perfect 76°F; is it summer? Winter? I just don't know. For me, though, one way to track the seasons is through food and wine.
As 2019 was an exceptional year for rosé wines from Provence, I knew that I wanted to feature them during our summer months of June, July, and August. The rosés kept me seasonally anchored throughout the summer and, although summer has not officially ended, I always see the first day of school as a gateway into autumn. Am I to be set asea again in the nebulous season-less year of 2020?
How can I mark the passage of time now, if not with the help of that beautiful pink pour? I turn to food, of course. The vegetables in the market stalls are changing, which shifts the food on our plates, and—sometimes—the wine that fills our glasses. I could continue with rosé but maybe it's time for a change, yet something still summery.
Using some of the beautiful late-summer vegetables from the market, I created a wonderful recipe for Provençal Salmon with Roasted Vegetables, and paired it with an extraordinary single varietal white wine. For the recipe, please visit Cocoa & Lavender.
As for the wine, vintner Susan Tipton is no stranger to readers of the Provence WineZine. Susan Manfull has written several articles featuring the wines she produces at Acquiesce Winery. If you missed it, click here for a good article to help you catch up. I wrote a wine and food pairing for Acquiesce Winery's Belle Blanc, which is, to this day, one of my favorite wines in the United States. The truth is, that every wine I have had from Acquiesce has been exceptional. I have paired the 2018 Bourboulenc with my Maple-Lime Glazed Scallops, the 2018 Clairette Blanche with my Fish and Fennel Chowder, the 2016 Grenache Blanc with Fish Tacos, and, of course, when I paired the 2015 Belle Blanc with Susan Tipton's recipe for Côtelettes de Porc Gratinées.
Acquiesce Winery's 2018 Roussanne was a really nice match for my salmon. It is a beautiful light straw color with a clean, bright nose with notes of citrus and apple. On the palate, I tasted apple and pear, and a touch of honeysuckle. It is full-bodied with a terrific mouthfeel and nice mineral finish, which is perfect for salmon. Like many of Acquiesce's other wines, the Roussanne is versatile—and very much a wine for food. It is delicate enough to pair with light fish dishes and salads, but also strong enough to match with salmon, seafood, or a nice charcuterie platter.
The aesthetics of presentation are very important to me as a visual artist and amateur culinary artist. (I am no trained chef, for sure.) The presentation of Acquiesce Winery's wines is stunning— the bottles are beautiful and the label so elegant. I admit that I am shallow enough to buy some wines that are beautifully presented without knowing much about the contents of the bottle. These are wines that attract me visually—and I would definitely buy them for their physical beauty. I am so happy to report that the wines inside are as beautiful as the bottles and the labels.
A SPECIAL NOTE: Read this exciting announcement from The Susans (Tipton and Manfull): Acquiesce Winery has donated a very generous number of cases of their Gold Medal winning 2018 Picpoul Blanc to benefit the Alex Manfull Memorial Fund, which is dedicated to funding research and education efforts about PANDAS (Pediatric Autoimmune Neuropsychiatric Disorders Associated with Streptococcal Infections). Proceeds from the sale of this wine will go to the À Table project, an effort organized by the Manfulls to raise awareness about PANDAS as well as funds to support research. Shipping is just $15 for up to 11 bottles and free for a case! You will definitely want to get on board with this! Visit: www.acquiescevineyards.com/wine/2018-picpoul-blanc-a-table/