Provençal Pairings: Wine with Food

At Home with the Provence WineZine
by David Scott Allen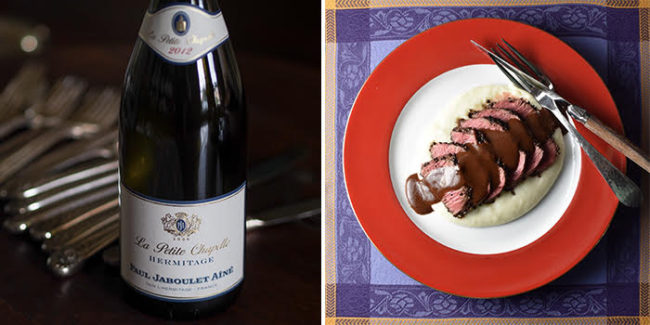 Winery: Paul Jaboulet-Aîné
Cuvée: Hermitage La Petite Chapelle
Appellation: Northern Rhône Valley
Type: Red
Vintage: 2012
Grape Varieties: 100% Syrah
Alcohol: 13.5%
Average Retail Price: United States $77, France €53
It all started with our trip to visit Susan and Towny in Portsmouth, NH, over the 4th of July. As you might imagine, food and wine are plentiful in their home, and this holiday week was no exception. Most meals were planned well in advance, the results of several fun and excited pre-trip phone conversations. But we left the meal for the 4th open to inspiration—there are so many wonderful food resources within minutes of their home, and I knew I wanted to make something special.
On the first day of our visit, we were treated to a very special introduction. Their friend Michael took us to meet a Enna Grazier, owner of Enna Chocolate in nearby Epping, NH. Enna was very generous with her time and gave us the full tour—from bean to bar. We took in the aromas of her cacao beans, munched on cacao nibs, and tasted all the bars she had in stock. She taught us how to taste chocolate with the same reverence with which we taste wine. I promised her I'd create a recipe using her chocolate. While I know she was thinking it would be a dessert, I was thinking of using her 100% cacao bar from Honduras beans to make a savory dish. I created "Steak au Chocolat" — you can find the recipe on Cocoa & Lavender.
Admittedly, I had nothing to do with the wine pairing other than create the dish. Knowing what I was making, Susan and Towny went into their cellar and reappeared with a 2012 Syrah – Hermitage La Petite Chapelle from Paul Jaboulet-Aîné. (Note: this cuvée has been renamed in more recent vintages and can be found as La Maison Bleue.) I will start by saying that the pairing could not have been more perfect.
This 100% Syrah wine is refined, classy, and elegant. It has a deep, purplish hue and, on the nose, we sensed the forest floor – dark, earthy, and full of promise. It is very well structured with nice body and mouthfeel. The tannins, while prominent upon first pour, mellowed though the meal. Its luscious dark black fruits (blackberry and black cherry) were underscored by a delightful peppery note. It was seamless from nose to long finish.
This is truly one of the finest red wines I have encountered in my life. And, while the price point is a bit on the high end, it is certainly not at the top. And La Petite Chapelle drinks much better and more enjoyably than many of the more expensive wines I have had. Price doesn't always equate with quality — something good for us to remember.
While I have not been able to find a source with a bottle of this vintage available for purchase, new vintages (La Maison Bleue) are available, and I highly recommend you snag a few bottles and hold onto them for 5-10 years. I imagine the suspense will kill you!