Provençal Pairings: Wine with Food

Big Boy
by David Scott Allen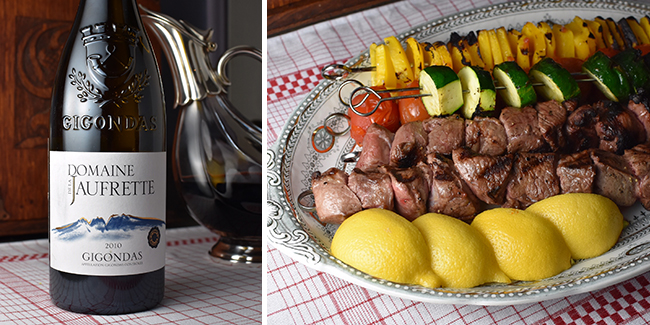 Winery: Domaine de la Jaufrette
Cuvée: Gigondas
Appellation: Gigondas
Type: Red
Vintage: 2010
Grape Varieties: Grenache, Syrah, Mourvèdre
Alcohol: 15%
Average Retail Price: U.S. $24.00
I recently had a comment regarding the high alcohol percentage (14.5%) of a white wine, and how the reader felt that more and more wines were being produced with increased alcohol content. My response was that, for me, it was all about balance. That particular wine was beautifully balanced and I never once was aware of the alcohol.
However, for today's wine, I found the opposite. I was gobsmacked by the lack of balance and incredibly high alcohol sensation in the nose, on the palate, and all the way through to the finish. To say it was unpleasant might be going too far, but it definitely could have been better.
In reading about this wine online, some critics (in 2017) said not to hold onto this 2010 Gigondas from Domaine de la Jaufrette, hinting that it wasn't aging well. Overtones of rubber and acetone were noted. Perhaps I didn't smell them then but, in retrospect, those notes made a lot of sense to me. That review was in 2017 and, now, almost three years later we found ourselves drinking it.
An odd coincidence: Susan and Towny recently opened a bottle of the same wine at their home in New Hampshire; it was even the same year, and while they noted high alcohol on the finish, they raved about the wine. We were together for the second bottle and they couldn't wait to see what I thought. But we were all surprised (and disappointed).
How can two bottles from the same vintage and same producer be so different from one another? What were the differences? I decanted our bottle (note the photo) and Susan was pretty sure they did not. That goes against what I would have thought… decanting would reduce the perception of strong alcohol (decanting doesn't reduce the alcohol) and make it seem more balanced, not less. Too much exposure to air can reduce the fruit flavors making alcohol seem dominant but I don't think that was the case here. What was it? Storage? Travel? Food? Temperature? I have no idea…
But rather than dwelling on its faults, here is the good. It has an incredibly earthy bouquet — like the forest floor — and a silky, smooth mouthfeel. We got notes of dark red fruits, black cherry, cinnamon (spice), leather, and tobacco. It did pair really well with my simple lamb kebabs; you can get the recipe on Cocoa & Lavender.
So what do I suggest? Although 2010 is one of the best vintages in the Southern Rhône, I might have more confidence in a more recent vintage of the Gigondas from this producer. If you know this wine, I'd love to know about your experience.