Provençal Pairings: Wine with Food

Chilling With Friends
by David Scott Allen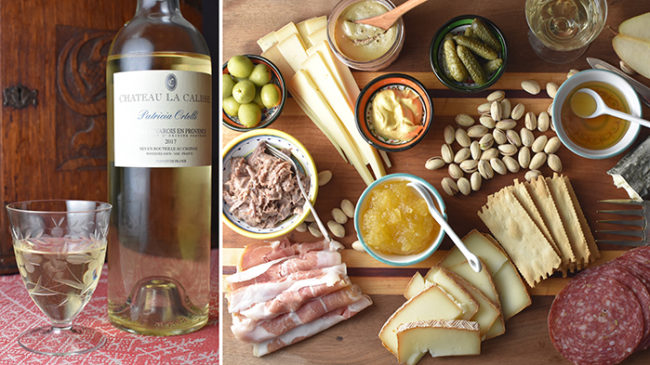 Winery: Château la Calisse
Cuvée: Patricia Ortelli
Appellation: Coteaux Varois en Provence
Type: White
Vintage: 2017
Grape Varieties: 70% Rolle and 30% Grenache blanc
Alcohol: 14.5%
Average Retail Price: U.S. $35.00
It was the eve of a minor surgical procedure that was to keep me off my feet for four to six weeks. What was I to do? Naturally, I invited friends over for meal-worthy charcuterie board to chill, try out some wine … and to keep my mind off the knife. What would you have done?
While there is no one "recipe" for putting together a charcuterie board, I invite you to visit Cocoa & Lavender to see what I did. It might give you some ideas, and you might have some to share with me! What would you add to a charcuterie board that I omitted?
The wine of the evening was a 2017 Patricia Ortelli Blanc from Château la Calisse. It was highly recommended to me as the perfect wine to accompany a charcuterie board, although I honestly didn't expect it (a white wine) to hold up to some of the more intense items on the board. In the end, it paired really well with every single morsel on the board — from the venison rillettes, to the chicken liver mousse with cornichons and Dijon mustard, to the DOP Fontina, and the P'tite Basque with Cren (apple-horseradish jam). In fact, the latter was probably the best pairing!
The hue of the wine is that of pale straw with a tinge of apple green. Considering it's light color, it is very full-bodied and comes in at 14.5% alcohol. This didn't stand out to me on tasting, as it was well-balanced, but others noted it after their first sip or two.
It has a resinous bouquet with floral notes — exotic flora the likes of jasmine and mimosa. The first taste was a bit flinty but it opened up nicely to present flavors of white peach, pear, and honey, finishing gently with refreshing citrus and ginger notes.
While the appearance of the wine might be one of innocence, it does not fool around. This is a full-bodied classic ready to greet almost any pairing task at hand.