Provençal Pairings: Wine with Food

Clubbing
by David Scott Allen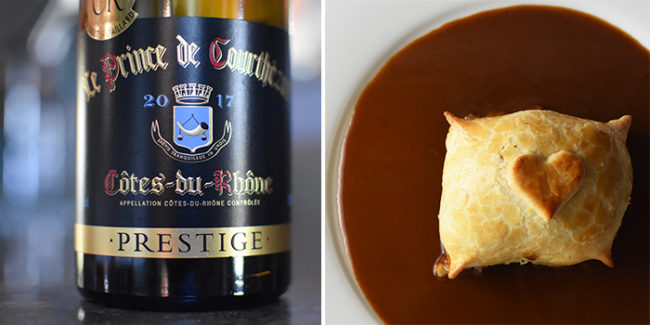 Winery: Le Prince de Courthézon
Cuvée: Prestige
Appellation: Côtes du Rhône
Type: Red
Vintage: 2017
Grape Varieties: 80% Grenache, 15% Syrah, 5% Mourvèdre
Alcohol: 14.5
Average Retail Price: U.S. $18
I'm not one to join country clubs. And I definitely don't frequent night clubs. However, when wine is concerned, joining clubs has its benefits, especially when one (me, for example) lives in a bit of a wine desert.
Yes, Arizona has all the national chains, and decent wine is readily available in supermarkets, pharmacies, and — yes — even gas stations. Tucson even has a couple of really nice boutique wine shops. But they are tiny and their selection — especially when looking for European wines — is limited. And the choice at any of the above is narrowed even further by what is available to them through their regional distributors.
All this to say that I joined the The Wall Street Journal Wine Club to access some off-the-beaten-track wines. No, I am not advocating that you join, nor is this post about the club. It's about the fact that every quarter I get a really nice selection of surprise red wines. And often they include some very nice Côtes du Rhône wines.
This time around, I got two bottles of 2017 Le Prince de Courthézon Prestige, which was perfect timing for the November post. My food pairing for this month is a Pork Tenderloin en Croûte with Porcini Demiglace — a riff on Bœuf Wellington. For the recipe, head over to Cocoa & Lavender.
In my research, I found that this wine was made in the only cooperative cellar in Châteauneuf-du-Pape, and the fact that it gets its grapes from neighboring vineyards outside the famed appellation is the only reason this wine is not considered a Châteauneuf-du-Pape. This oft-gold medal winning wine is the work of the young and very talented Thierry Ferlay. In effect, this is a Châteauneuf-du-Pape at Côtes du Rhône prices.
I find CdR wines really great partners with pork. The boldness and spiciness of the wine works really well with the "other white meat." And, more to a timely point, it will pair extremely well with your Thanksgiving turkey. (You're welcome.) Seriously, if I have to sit through one more bottle of Beaujolais Nouveau because someone, somewhere wrote that it was the perfect pairing for turkey, I will scream. (That is my extremely personal, opinionated, and cranky rant — sorry!)
When planning the meal for this particular CdR, I created the recipe (re-created, actually, as it's first iteration appeared on my table some 20 years ago…) with the wine's flavor profile in mind. I needed a wine that would not overshadow the meat, one that would cut through the butter of the pastry, have the earthiness to compliment the porcini, and be spicy enough to go with the rosemary-scented apricot mousse inside.
The color is a deep, garnet red, and the nose was subtle with dark macerated red and black fruits, and an overtone of lavender. It is fruit-forward and gently peppery with hints of caramel and winter spices — cinnamon and clove with a long finish. I really liked the wine and felt it was an excellent pairing with the pork, mousse, and demiglace.