Provençal Pairings: Wine with Food

Heeding the Signs
by David Scott Allen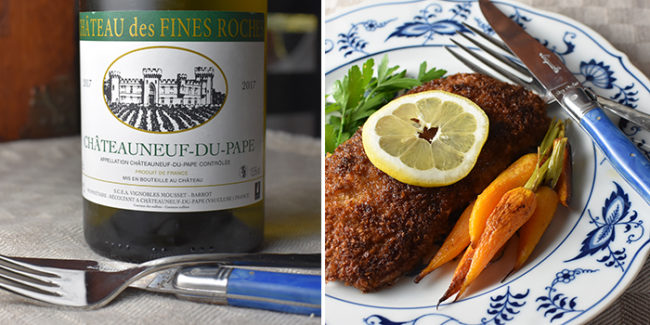 Winery: Château des Fines Roches
Cuvée: Châteauneuf-du-Pape Blanc
Appellation: Châteauneuf-du-Pape, Southern Rhône
Type: White
Vintage: 2017
Grape Varieties: Grenache Blanc 50%, Bourboulenc 20%, Clairette 20%, Roussanne 10%
Alcohol: 13.5%
Average Retail Price: France €25
When I was trying to think what I should make to pair with today's wine – an un-oaked Châteauneuf-du-Pape Blanc from Château des Fines Roches – I looked at a list of suggested foods and nothing felt right. Pork. Chicken. Seafood. Blah.
When I think of Châteauneuf-du-Pape, I – like many people – think red wine. It was definitely my parents' favorite wine, and they served it for all our holiday meals. But I would venture to say that they never encountered a Châteauneuf-du-Pape Blanc in all their years. Still, this got me to thinking about my mother, wondering what she might have served with this wonderful white wine from the Southern Rhône region.
I got out the cookbook of her recipes I made and started thumbing through the pork, chicken, and seafood sections. I was still lacking inspiration when the book fell from my lap (had I been bored into a slumber?), and I reached to grab it. My thumb got caught right in the middle of the beef section… on the Veal Cordon Bleu recipe. I'm not the kind to believe in signs, but I think that was a sign. Thanks, Mom.
Veal Cordon Bleu. The perfect French dish for this quintessential French wine. Like many of my friends, I assumed it was a dish from the famed eponymous cooking school. Or at least from Julia Child. But, no. I learned (with a little help from Wikipedia) that the dish is Swiss, from the town of Brig. Go figure. But, guess what? Brig is on the Rhône River. Châteauneuf-du-Pape is on the Rhône River. Coincidence? No, it was a sign. Seriously, I could not have made that up.
What I am making up is a story that the chef from Brig floated himself down the Rhône to Châteauneuf-du-Pape to get a bottle of this CDP Blanc to go with his Veal Cordon Bleu (which is really just a glorified schnitzel). But who cares if it isn't true? As we always say when watching unrealistic love stories, "Don't let the facts spoil a good story." To get the recipe (which, if I do say so myself, is amazing), head over to Cocoa & Lavender.
We opened the wine, which I almost forgot because I was so busy sautéing the veal, and took a whiff… pear and honeysuckle were present and enticing. The mouthfeel was velvety and smooth, with a very pleasant minerality. The taste was bright and full of pear, peach, and citrus – more on the clementine end of the citrus spectrum. The finish was long and brought honey to mind.
When paired with the food, the taste of the wine remained as it was – there were no dramatic shifts or changes. It drank well while we ate well. It was a sign… that I (Mom) chose the right pairing. We loved the wine – both on its own and with the Cordon Bleu.
I am not an aficionado of Châteauneuf-du-Pape Blanc wines. This was only my third. My first was just over four years ago for the PWZ (paired with a buttery Pâté au Thon) and my second while traveling for work. I have truly enjoyed all three but this one was different from the others in its bright citrus notes; the others a bit more dark and brooding. Both styles are wonderful and give one the ability to pair with a variety of foods, including the quotidian pork, chicken, and seafood.