Provençal Pairings: Wine with Food

Praemonitus, Praemunitus
by David Scott Allen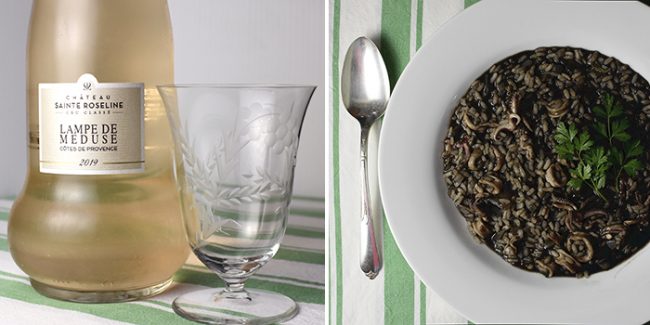 Winery: Château Sainte Roseline
Cuvée: Lampe de Méduse Cru Classé
Appellation: Côtes de Provence
Type: Rosé
Vintage: 2019
Grape Varieties: 40% Grenache, 35% Cinsault, 15% Mourvèdre, 10% Tibouren
Alcohol: 13.5%
Average Retail Price: France €14.00, U.S. $19.00
Praemonitus, praemunitus. How is your Latin? Not so good? Don't worry — neither is mine. But this 15th century Latin proverb, when translated, will be very familiar. "To be forewarned is to be forearmed." A little insider knowledge can make a big difference, as it helps us to be prepared.
This was definitely the case with the Château Sainte Rosaline 2019 Lampe de Méduse Cru Classé rosé that I paired with a beautiful squid ink risotto (Risotto al Nero di Seppia). You can find the recipe on Cocoa & Lavender this week.
If I hadn't had a "wink and a nod" from Susan & Towny, I would never have known what to expect, nor where to begin in choosing the perfect meal for pairing. They had the Lampe de Méduse first at a wine tasting with several friends, all but one of whom were not fans when first tasting the wine. That one person, Win, convinced them to wait until they had it with their seafood soup before casting aspersions; he knew what he was talking about — that this wine would pair beautifully with seafood. I took that insider knowledge and ran with it.
Unlike some culinary celebrities who used insider information inappropriately and went to prison, I used mine for the greater good and, instead of prison, went to culinary heaven, as the pairing was pretty perfect.
Lampe de Méduse is an incredibly beautiful, pale, salmon pink. When trying to photograph it, I had to use a white background, as any other color in the background made it look like a white wine. When poured, the nose was one I have found in quite a few Provence rosés — banana taffy. Normally, I would have expected the taste to be one of a quintessential rosé — red fruits and slightly floral. But, with my insider info tucked away, I knew to expect something completely different… and I was not surprised — or disappointed — to taste something unique.
Without food, I was most struck by where my mouth reacted to the wine's unusual quality. Our mouths are filled with taste buds — on the tip of our tongues, in the back, on the sides, and under the tongue. It's kind of fun to describe food and wine in terms of where you taste and/or feel it in your mouth. It turns out that Lampe de Méduse really tickled my foliate papillae, or foliate taste buds. These particular taste receptors are on the sides of one's tongue toward the back, and are our biggest receptor for bitter and sour elements (the three others being salty, sweet, and umami). And this sour/bitter aspect is what really presented when tasting the wine without food. Don't get ahead of me — sour and bitter aren't necessarily bad things. In fact, there are quite a few foods and wine that require these qualities to give balance in a pairing. Like today.
While I would not want to serve this wine with a cream sauce, it really needs an unctuous meal to create balance for both food and wine. I'm not a scientist — and I never played one on the stage or screen — but my take on the situation is that the briny, salty aspects of this risotto, made with olive oil, squid ink, tomatoes, chiles, and lemon (yes, additional acid), created the perfect environment for the wine to come into its own.
It had a wonderful mouthfeel — silky and seductive. A mineral quality came forward and there was no longer the tartness we tasted at first. It took on the briny quality of the squid ink, and just tasted so good with the risotto. The finish, while not particularly long, was very pleasant.
Before finishing, I can't not mention the beautiful bottle — this unique shape is used for the Château Sainte Roseline Cru Classé selection of rosé, white, and red wines which have been their mainstay since 1950.
I am now completely curious about the other wines they produce… stay tuned! If I can source them, I will be writing about them.