Provençal Pairings: Wine with Food

Revisiting an Old Friend
by David Scott Allen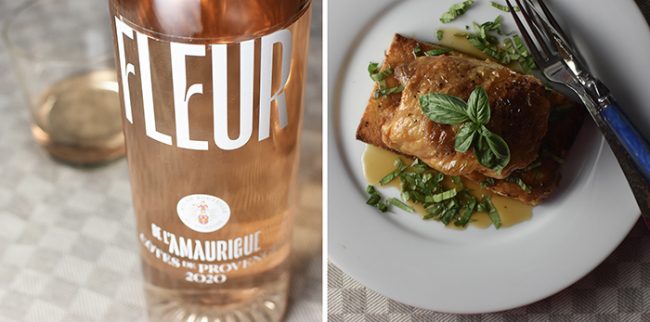 Winery: Domaine de l'Amaurigue
Cuvée: Fleur de l'Amaurigue
Appellation: Côtes de Provence
Type: Rosé
Vintage: 2020
Grape Varieties: 60% Grenache, 40% Cinsault
Alcohol: 12.5%
Average Retail Price: France €10.00, U.S. $23.00
This week's pairing is pretty unusual… but trust me, in the end, it makes perfect sense. The anchovy sauce used in my recipe for Roasted Chicken with Colatura di Alici is Italian; it is a descendant of the ancient Roman garum. Coincidentally, garum was produced by the Gauls and exported from the southernmost tip of France, an area we know as Provence. Not too far from that Gaulois outpost is Domaine de l'Amaurigue, the winery where today's wine is made. Even though the ingredient is Italian, history tells us it was used in Provence and that led me to believe it is a perfect pairing for this rosé. You can find the recipe for the chicken on Cocoa & Lavender.
It is so nice to taste this vintage of Fleur de l'Amaurigue. You may remember that I wrote about the 2017 vintage of the wine just over three years ago, pairing it with a dish that featured tinned Italian tuna and anchovies. It's nice to revisit a wine every so often to see how the vintages may change and yet maintain a consistency in quality and flavor.
Comparing the two vintages, there are many similarities: the blend of Grenache and Cinsault is the same, the color in both is a pale salmon pink, and some of the same floral notes and flavor profile are the same. Yet the 2020 Fleur is a bit lower in alcohol and comes off much more citrusy than its predecessor in which strawberry flavors dominated.
Not to say that the 2020 vintage was lacking in berry notes on the nose and palate. They were certainly there, but the stronger aromas and flavors were of grapefruit, tangerine, and Meyer lemon, with a touch of apricot on the finish. With my first taste, it was very bright and refreshing — even a bit tart. But, with food, and especially the intense umami flavors brought by the Colatura di Alici sauce, it rounded out beautifully and became a soft and smooth companion to the chicken. I also think this wine benefits from not being served too cold. The nose and flavors develop significantly when brought out about 20 minutes before serving.
Incidentally, also new with this vintage is a bold new bottle design. Immediately noticeable is the lovely fluted punt which adds an elegance befitting to the contents. Like many bottle designs these days, Domaine de l'Amaurigue has gone away from paper labels and is using a clear label reminiscent of the applied ceramic labeling technique used in the premiere cuvée, Le Grand de l'Amaurigue. This approach allows much more creativity when considering labeling, but also — and I think especially for a rosé — allows the beauty of the wine to really shine.
This is a truly delightful summer wine, and one that is becoming more readily available in the U.S. I highly recommend it, and look forward to future vintages.