Provençal Pairings: Wine with Food

The Governor
by David Scott Allen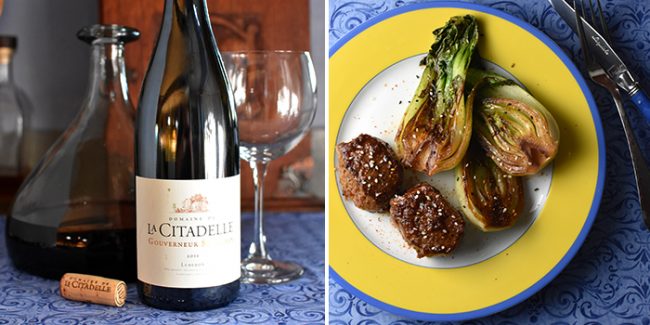 Winery: Domaine de la Citadelle
Cuvée: Gouverneur Saint-Auban Rouge
Appellation: Côtes du Luberon
Type: Red
Vintage: 2011
Grape Varieties: Syrah, Grenache, Mourvèdre
Alcohol: 14%
Average Retail Price: $35
Big. Bold. Luscious.
Those are the first three words I used to describe my first taste of Gourverneur Saint-Auban Rouge from Domaine de la Citadelle. We had it last week paired with Seared Lamb Medallions with a Tamari-Ginger Glaze. To see the recipe, visit Cocoa & Lavender.
Okay, I got a bit ahead of myself. Back to opening the bottle…
We decanted the wine several hours before our meal, and I could not wait to get to the tasting. Upon opening there was a resinous quality and a touch of manure. After breathing for a while, it converted to earthy aromas, the spicy scent of ferns in the forest.
Aside from big, bold, and luscious, the first taste was of spice — cloves and mace: sweet, yet savory. There is a lot of dark fruit here – plum and blackberry, and an underling note of quince, giving it almost a sense of honey. When people describe wines as "jammy," I usually think of American Zinfandel, and I generally dislike the use of the word. But here I feel I need use it — no other word comes to mind.
The mouthfeel — this is where luscious came in. It just felt so good in my mouth: thick and chewy and comforting. It is incredibly well-balanced, with the perfect acidity for the meal. The tannins are present but not overwhelming. The finish on this wine is long and luxurious, and includes notes of licorice and a very pleasant smokiness.
I will finish by wishing there was a case of this wine in my cellar. (Okay, I live in the desert — we don't have cellars/basements.) But I wish this for my dark, cool closet… More recent vintages are available and I will start my search now.
I really liked this wine a lot, and it is an excellent choice for your Pascal lamb, or any roasted meat or game. It can handle a good amount of spice, too.