Provençal Pairings: Wine with Food

The Luck of the Draw
by David Scott Allen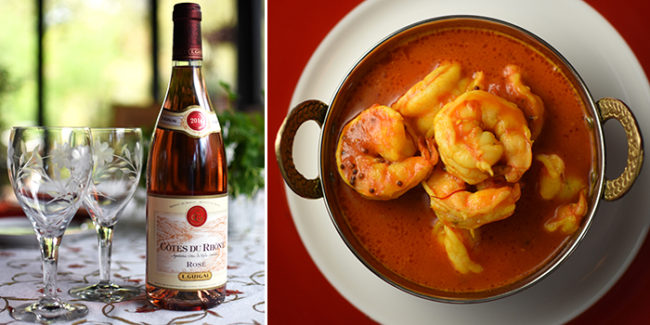 Winery: E. Guigal
Cuvée: Côtes du Rhône Rosé – Château d'Ampuis
Appellation: Côtes du Rhône
Type: Rosé
Vintage: 2016
Grape Varieties: 70% Grenache, 20% Cinsault, 10% Syrah
Alcohol: 13.5%
Average Retail Price: France €10, U.S. $15.00
I'm a typical Virgo. I am very particular about things – from the color of my socks, to the route I drive to and from work. I would say that I am deliberate, especially when it comes to food and wine. I don't do potlucks; I don't believe there should be any "luck" in a meal, or with its accompanying beverages.
However, this one particular Sunday, I was making a new recipe for a fragrant Indian Shrimp Curry with Coconut and Saffron; the recipe, as always, can be found on Cocoa & Lavender. I wanted to pair it with a full-bodied white and reached into my wine rack and pulled what I thought would be a Chardonnay. Halfway back to the kitchen, I looked at the bottle and, wouldn't you know it, it was a Côtes du Rhône Rosé. "Hmmm…," I thought… "why not?" It's lovely, deep coral color – think Tavel – would look so beautiful on the table with the shrimp.
I got this bottle of E. Guigal Rosé when the 2016 vintage was just out. Unlike some earlier vintages, the blend is predominantly Grenache with Cinsault and Syrah, with no Mourvèdre, whereas the earlier vintages have a blend of grapes that was more evenly spread (although the Mourvèdre was in the 5% range). One other difference over time is that the alcohol content has been reduced to a more typical 13.5%.
From my research, I know that well-structured wines, such as this, do well with some aging, so I left it in storage for almost a year before its accidental début this past week. I could have (should have?) left it there for another year or two.
I chilled it on ice for a good hour while I prepped and photographed the dish, then uncorked it for a taste. On the nose I detected apple, Meyer lemon, and the resinous quality I so love in a good Rosé. The predominant flavor on the palate was that of sweet-tart red fruit with a healthy dose of pink grapefruit, which helped create a beautiful balance and structure in this wine.
It paired beautifully with the curry – which I recommend serving without a sweet chutney. (The chutney does nothing for either the curry or the wine.) With the shrimp, the resinous quality was brought forward (I was waiting for it!), with nice minerality and a velvety mouthfeel. It was brimming with the essence of sweet June strawberries.
I really like the wine, and the fact that it stood up to a very complicated and flavor-forward Indian dish makes it all the more appealing.
Yes, this time it was the luck of the draw. Dumb luck. Next time, however, it won't be luck when I choose this wine – it will be a smart choice.