Provençal Pairings: Wine with Food

Tucked Away
by David Scott Allen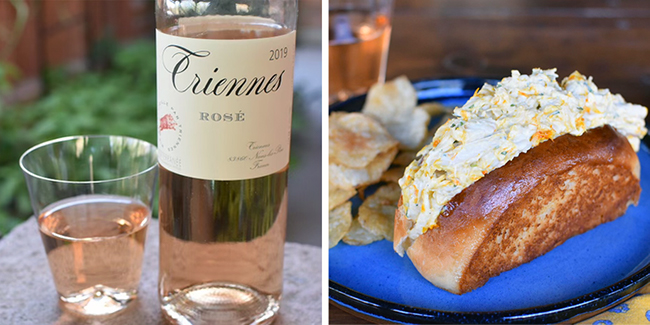 Winery: La Domaine de Triennes
Cuvée: Triennes
Appellation: IGP Mediterranée
Type: Rosé
Vintage: 2019
Grape Varieties: Primarily Cinsault with Grenache, Syrah, and Merlot
Alcohol: 13%
Average Retail Price: U.S. $17-22, France €9
When I was trying to decide what wine and food to pair this month, I did my usual perusal of the wine rack, though I didn't find anything that seemed right for summer. I came across a few reds to consider, but my heart was holding out for a rosé. Nothing at the wine store did anything for me, either — there was nothing from Provence that I hadn't already paired.
I was kind of lost, and decided to call Susan to get her thoughts. As I sat on the sofa chatting with her, I spied a bottle of wine in the television cabinet… a place we stored wine during the pandemic when the wine rack was overflowing. (Please don't judge…) I thought we had emptied this ad hoc storage place, but no. I walked over to the cabinet and pulled out the last bottle.
I'm not usually a lucky guy but, that day, the stars were with me. It was a 2019 bottle of Triennes rosé! Susan and I had discussed Triennes ages ago, but I thought Mark and I had consumed every drop we had. Thus, my problem was solved and this tucked away bottle had come to the rescue.
In addition to being in the mood for rosé, I was also in the mood for seafood. Truth be told, a lobster roll on a bright summer's day with a good rosé sounded perfect, but lobster has been scarce here lately. So I decided to go with crab, and created a really flavorful lemon, tarragon and saffron Crab Roll, lobster roll-style. Please head over to Cocoa & Lavender for the recipe.
Triennes rosé — which seems pretty easily found in the United States — is a beautiful light salmon pink. It has a fresh bouquet with aromas of grapefruit and apricot. On the palate, I found it wonderfully floral with flavors of jasmine, peach, strawberry, and vanilla. While the crab brought out the strawberry, each element of the wine was present. The tarragon brings out a bit of anise in the wine. Reviews of the 2019 Triennes rosé are excellent — if you can get some, I highly recommend it. But I know from reviews of other vintages that this wine is a perennial favorite, and I can see why.
The moral of this story? Always check your television cabinet for wine. No, wait… I think the moral is that if you hide wines someplace in your home, keep track of them!