TAKING THE SLOW ROUTE ALONG THE RHÔNE FROM LYON TO LOURMARIN – PART TWO
by Susan Manfull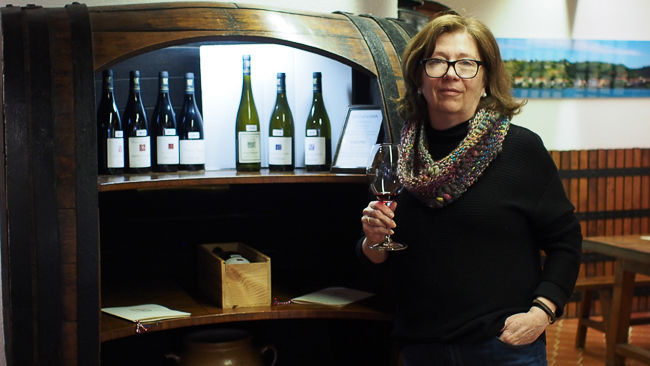 We recently opened a bottle of Les Terrasses de L'Empire (2017), a classic Condrieu from Domaine Georges Vernay. The familiar aromas of fragrant white peaches and mangoes, intertwined with ephemeral notes of minerality, wafted across the table and caressed my senses. In a heartbeat, I was transported back to Condrieu where I left off in the first of my three-part series entitled "Taking the Slow Road Along the Rhône from Lyon to Lourmarin."
In Part One, I retraced our path from Lyon to Condrieu, with a stop in the town of Tupin-et-Semons where we visited Domaine de Corps de Loup and thoroughly enjoyed wines from Côte-Rôtie, Condrieu, and Saint-Joseph. A little further south, in the town of Condrieu, we had a great visit with Xavier Gerard, proprietor and winemaker of Domaine Gerard, where wine from the aforementioned three appellations is also produced. We were eager to try Gerard's Condrieu as we had already tried his IGP Collines Rhodaniennes 100% Viognier wine (2012), produced from vines just outside the appellation of Condrieu, and liked it very much. We had included it in a tasting of seven Viogniers a couple years earlier. We were not disappointed with the latest vintages!
If you read Part One, you know I covet Condrieu's Viognier. As I suggest in the title of the article about our Viognier tasting, "There's Viognier and Then There's Condrieu."
As I continue the story of our drive south through the Northern Rhône Valley, suffice to say that when we awoke the second morning to a beautiful but chilly day, we were looking out on the Rhône River, anticipating a drive to the Hermitage appellation, and I realized I had not yet had my fill of Condrieu. I wanted to go to the place where it all started…or, rather, where it was all saved from obscurity.
Domaine Georges Vernay
Georges Vernay (1926 – 2017) is so synonymous with Viognier that he is still known in the wine world as "Monsieur Viognier." It was his unwavering belief in Viognier grapes grown on the steep south-facing slopes in Condrieu that he is most renown for. When neighbors were pulling up Viognier vines in favor of other varieties that were not as fickle or as fragile, he recognized that prize-worthy wine could be produced – if the grapes came from vines planted in the right soil, on slopes facing the right direction, that were harvested at just the right time, and mindfully vinified – and he acted to save the vines in Condrieu and, in fact, around the world.
According to Jancis Robinson, in The Oxford Companion to Wine, Viognier has probably been planted in this area of the northern Rhône Valley for 2000 years or so. It may have originated in present-day Croatia and it was likely brought to the Rhône by the Romans; it may even take its name from the nearby city to the north, Vienne, where there was a large Roman settlement (the remains of which can still be seen today). Not to be confused, "Condrieu" comes from French phrase, "coin de ruisseau," which means "corner of the stream." The appellation is indeed on a winding 15-kilometer (9-mile) part of the Rhône River.
In about 1937, Francis Vernay planted a hectare of vines on the Coteau du Vernon, facing south, to accompany his other crops grown at the bottom of the slope. According to Matt Walls, in a 2019 Decanter article, he liked the wine he made from these vines so much that he bottled it himself and peddled it to restaurants in the area, an uncommon practice at the time.
In 1940, Condrieu, comprising about 170 hectares, was awarded appellation status but it would not be until after World War II that the name would grace the label; "Viognier" was a placeholder until 1945. Just a few years later, there were just 6 hectares left – thought to be about the only commercially-planted Viognier vines left in the world — and a handful of properties responsible for its survival. When Georges took over from his father in 1953, the Vernay farm had just one hectare and Georges, having made the decision to focus on winemaking, replaced the other fruits and vegetables with vines and cleared another hectare of forest to build terraces and plant more vines.
Georges Vernay, nowadays called both brilliant and visionary, had to have tremendous faith in this grape variety that others around the world had abandoned. By the mid-80s, the appellation had seven hectares; in 1990, in part due to the expansion of the appellation, the number grew to 60 hectares and, today, there are about 184 hectares in the appellation. Vernay was president of the Condrieu Grower's Association from 1965 to 1995.
Given the small number of hectares in the Condrieu appellation, which now covers seven small towns, including its namesake – Limony, Chavanay, Malleval, Saint-Michel-sur-Rhône, Saint-Pierre-de-Boeuf, and Verin – and the challenges that growing Viognier presents, especially on the steep slopes where the variety is happiest, one gains some insight into why the prices are relatively high compared to Viogniers from other regions. But, one sip explains why it commands the steep prices.
Renowned for its beguiling aromatic nose of scents like that from tropical fruit, white peaches, pears, apple blossoms, or almonds with notes of salinity woven in, the taste of a fine, dry Condrieu is as intoxicating as its nose foretells. There is a freshness that transcends the individual flavors of minerality and delicate fruits, a range of fullness in the mouth, and a persistence in the finish that is amazingly appealing. Condrieu is the pinnacle of Viognier.
Since 1996, Domaine Georges Vernay has been in the very capable hands of his daughter Christine Vernay and her husband Paul Amsellem. As the winemaker, Christine has continued in the tradition of her father – maintaining the same meticulous standards in the vineyard and in the cellar — and has received numerous awards, including being named, "The Man of the Year," in the 2012 edition of Guide Des Meilleurs Vins de France. She did do one thing differently, though: While preserving the legendary quality of their Condrieu, she homed in on Syrah, raising it to a level of fame that, in 2012, earned her the title, "La Reine de Côte-Rôtie." The senior Vernay was witness to his daughter's successes; he died in May of 2017.
Today, the vines cover about 22 hectares of property, all of which is farmed organically. The vines are evenly divided between Viognier and Syrah.
The very thought of visiting the hallowed grounds of chez Vernay – in jeans, looking a little disheveled after our picnic overlooking the "coin de ruisseau" of the Rhône, and arriving without an appointment – was intimidating. You may recall from Part One, we were on vacation and, well, we would just have to explain, a task relegated to my husband Towny who is fluent in French. Madame Severine Vouret, who looked up from her work at the tasting bar, did not assuage my feelings but, soon, we were laughing, and she called Amsellem to join us. Several hours later, we left with lots of wine, two maps of the region, and the lingering thrill of satisfying conversation.
Our conversation ran the gamut from the source of the distinctive salinity to Christine's entry into winemaking, interspersed with some laughs. Even President Trump slid into the conversation when the very public squabble between French President Macron and our fearless leader emerged: Amsellem noted, with some bewilderment, that he had never met anyone who voted for him.
We began our tasting with Les Terrasses de L'Empire (2017), a classic Vernay Condrieu with a beautifully balanced, medium body, very fragrant nose, notable freshness and minerality, and long finish. At home, we recently opened the same cuvée to enjoy with duck breasts in a light sauce of honey, ginger, and lavender. It was a divine pairing: the faint notes of white peach, mango, and freshly picked green apple, intertwined with lovely minerality, worked flawlessly with the duck.
Les Chaillées d'Enfer (2017) Condrieu is made from a single parcel of vines planted in 1957. As the name implies, the parcel is among the dry-stone walls (chaillées), high, facing south, and extremely hot (à l'enfer," meaning "in hell). The aromatic nose and well-known tropical flavors on the palate were easily discerned as well as a very pleasant saltiness. The saltiness, Vouret explained, stems from the age of the vines and the terroir. Biotite, a type of granite, may be particularly responsible for this salinity in the best wines in this appellation. This characteristic (rather than acidity) probably underlies the freshness one typically finds in these wines. Full body and very well balanced. Exceptionally pleasing.
Coteau du Vernon (2017) Condrieu is made from the first parcel of vines planted by the first generation Vernay, Christine's grandfather, who planted them in 1937. Vouret told us that they are the highest Viognier vines in the world. They are just 60 meters or so apart from the second tier Condrieu, Les Chaillées d'Enfer, but a wine of significantly more substance. It might be perfect.
Clearly, Christine Vernay mastered the fine art of making Condrieu. But, in a fascinating twist in her winemaking story, she also makes stellar Syrah. In fact, Vouret explained that people sometimes come in and say, "Oh, she makes a white wine, too!" (Imagine!)
Vouret tells the story something like this: In 1996, when Christine Vernay took the reins from her father, there were very few women in wine making. It was a field replete with the usual gender-specific obstacles, but made worse by being the daughter of the beloved Georges Vernay, who, by this time, had been elevated to such a lofty status in the eyes of vignerons that no mere mortal of either gender could fill his boots. Especially, a language teacher from Paris.
"Pour vivre heureux, vivons cachés" is a popular French expression that roughly translates to "to live happily, one must live hidden." Vouret used it to describe Christine's approach to her new role. She continued to maintain the same quality and tradition in making the Condrieu and, at the same time, she quietly worked to establish her own reputation with her Syrah production.
Vouret relayed another story, further illustrating the tenacity of Christine Vernay and perhaps her determination to establish herself. Apparently 2008 was a very bad year and expectations throughout the appellation were very low, causing some winemakers to basically take the year off. But, according to Vouret, Christine, perhaps still wanting to prove herself or perhaps wanting to challenge herself, made 1500 bottles. The wine was so good that all agreed this was a winemaker to watch.
The first red wine we tasted was Blonde du Seigneur, Côte-Rôtie (2016), an assemblage of three different parcels of vines (about 40 years old) from the Côte Blonde, one of two main areas that comprise this appellation which, in English, means "roasted slope." This slope is known for its known for its clear granite and schist and the other main area, named Côte Brune, known for its darker schist filled with iron. A dash of Viognier (5%) is co-fermented with the Syrah, followed by 18 months in oak (25% new oak).
Blonde du Seigneur is a quietly confident Côte-Rôtie with a fabulous bouquet, a silky mouth with a nice balance of fruit and pepper. The finish is delightfully long. I understand how Christine was able to find her place with wines like this one.
Maison Rouge (2016) is 100% Syrah from one parcel on Côte Blonde that spend two years in oak (about one-third in new oak). The nose was peppery and licorice. My notes tell me that I could feel the age of the vines – about 70 years old – probably in the depth of its dark fruit flavors and pleasantly distinctive tannins. It is a big wine, easily loveable, with great finesse. I could understand why Vouret said that Christine's wines can be enjoyed now or years from now.
We took home quite a few bottles with us and we will see how long we can wait.
Domaine Paul Jaboulet Aîné
Did I mention we had a mission on our slow drive along the Rhône River? An important one: to bring back a white Hermitage for a dear friend who loves this particular wine. It is a real challenge to find outside of metropolitan areas in the United States. Less than 30% of production is dedicated to white wine in this small (140-hectare, 340-acre) Northern Rhône appellation. The white wines can be made of Marsanne, Roussanne, or a blend of both (but typically Marsanne dominates the blend or comprises the total).
We continued south to Tournon-sur-Rhône and crossed over the Rhône to Tain l'Hermitage on the left side. M. Chapoutier and Cave de Tain l'Hermitage are responsible for about half of the vineyards in Hermitage. Paul Jaboulet Aîné, JL Chave, and Delas Frères are responsible for about one third of the vineyards.
We would love to have stopped at M. Chapoutier, the largest producer in Hermitage, a proponent of organic and biodynamic farming, and maker of a particularly good Vin de Paille (sweet wine, made from dried grapes); Cave de Tain, considered to be one of France's top wine co-operatives and advocate of sustainable agriculture, including programs to recycle (e.g., the collection and recycling of corks and plastic caps); and the renowned family-owned JL Chave where the most coveted white Hermitage hails from.
But we only had time for one stop, and we chose Domaine Paul Jaboulet Aîné, once the most famous of the lot. It is internationally renowned for its Syrah, especially its 1961 Hermitage La Chapelle which is "classed as one of the 12 mythical wines of the 20th century." The average price of that bottle today, according to Wine Searcher, is $16,423. Gérard Jaboulet, whose father produced the legendary bottle, took over in 1969; described as a huge personality, he suddenly died, at 55 years old, in 1997 and it is said that the family was not able to retain its footing for a variety of reasons. In 2006, the family sold the property to the Frey family, owners of Château La Lagune and significant shareholders in the Château de Corton André property in Burgundy and Billecart-Salmon in Champagne. Under the exceptionally talented Caroline Frey, the winery is regaining its position among the very top wineries in the region and adopting organic and biodynamic principle in their growing and winemaking.
Paul Jaboulet Aîné has a small tasting room (and bistro) on Place du Taurobole in Tain-l'Hermitage. We popped in there (on our white Hermitage mission) but, not surprisingly, got a little side-tracked.
We began, naturally, with the target of our mission. Le Chevalier de Sterimberg (2015) got its name from the Knight for whom the hill of Hermitage was also named. This Marsanne-Roussanne blend, owing to the limestone slopes from which the grapes came, has lots of minerality and brings to mind words like "clean, pristine, and elegant." The nose is a fragrant, reminiscent of the white peaches in Provence. It is partially fermented in egg-shaped casks which, according to the label, contributes to its persistent length. My notes read "beautiful color" and "fantastic" in caps.
La Maison Bleue (2015) is the new label for La Petit Chapelle and is made from a blend of several plots across the property, that, depending on the quality of each parcel in a given vintage, may be a similar selection of plots to those of La Chapelle, the premium cuvée. Each plot is harvested, vinified, and aged separately; the richest batches go into La Chapelle. La Maison Bleue has a wide array of detectable flavors, including dark red fruit, black olives, dark chocolate, and ephemeral notes of violet. It is well structured with soft tannins. In sum, an approachable and very pleasant Syrah that can definitely be enjoyed now.
At home, a few months later when David Scott Allen and his husband Mark Sammons were visiting, we opened a 2012 bottle of La Petit Chapelle to pair with a "Steak au Chocolat," a meal created by David and inspired by a trip to Enna Chocolate in Epping, New Hampshire. This wine was stunning, the steak was fabulous, and the pairing was pure symbiosis. (Click here to read more about this pairing.)
La Chapelle (2016), the legendary flagship wine, is a truly exceptional Syrah. Perfectly balanced (even with 14.5% alcohol) with silky tannins, layered with flavors of very dark red fruit, earthiness, spices, dark chocolate, tobacco, and, given its complex personality, a very surprising approachable nature.
We ended up eating in the bistro, too. I can't recall what we had – probably too busy replaying our tastings in Northern Rhône – but we toasted to accomplishing our mission of finding a white Hermitage worthy of the long trip home to Portsmouth.
This trip continues to be a reconnaissance mission. We bypassed many of our favorite domaines (as well as the Valrhona Chocolate Factory and Shop) and I can't wait to return! In the meantime, we will continue traveling south to Châteauneuf-du-Pape, followed by a brief stop in Cairanne.
Notes:
Domaine George Vernay
1 Rue Nationale,
69420 Condrieu, France
+33 4 74 56 81 81
domaine-georges-vernay.fr
VINEUM Paul Jaboulet Aîné
25 Place du Taurobole,
26600 Tain-l'Hermitage, France
+33 4 75 09 26 20
vineum.blogspot.com/