Provençal Pairings: Wine with Food
Tasting Tavel
by David Scott Allen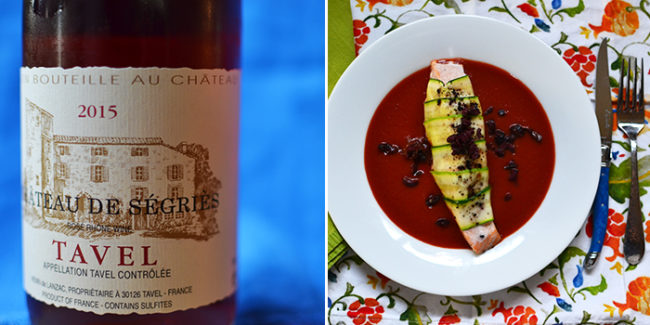 Winery: Château de Ségriès
Cuvée: Tavel
Appellation: Tavel (Rhône)
Type: Rosé
Vintage: 2015
Grape Varieties: 50% Grenache, 30% Cinsault, 10% Clairette, 10% Syrah
Alcohol content: 14.5%
Average Retail Price: U.S. $18, France €12.50
Four years ago, almost to the day, I was at a dinner party for which each of the eight guests was asked to bring a rosé to include in a blind tasting. The wines came from all around the world, and no one wine was duplicated. One of the wines presented was a Tavel; its dark hue was unfamiliar to us and assumptions of sugar content and fruitiness were raised but, in the end, people really liked it.
Flash forward to August 2016. I needed a wine for a complex meal and described my menu to one of my wine gurus. His recommendation? A Tavel. As I trust him with my life (and wine is life), I got a bottle from Château de Ségriès and, as it fits within the parameters of the PWZ tasting region, I chose it for today's wine and food pairing.
After purchasing the wine, my fears of four years ago resurfaced: it's dark pink color might mean it was sweet, like some of the other darker rosés I have tried from other countries, including the U.S. Once again, my fears were completely unfounded. While its mineral-intense nose included abundant wild strawberry, raspberry, and citrus notes, the bold flavor kept its minerality and wild strawberry without ever being fruity or sweet. Noting the high alcohol content – which also made me think it might be sweet – I find this a perfect wine to accompany food, and full-flavored dishes at that.
My guru said, "Think if it as a light red." While I can see what he meant, I wouldn't use that as a descriptor. Tavel is as unique in flavor as it is in its regional viticulture. The appellation of Tavel makes ONLY rosé wines. I found this quote in an earlier post on Provence WineZine: "It should be mentioned that not far away, in the Rhône Valley, just a smidgen past the line that divides Provence from the Languedoc-Roussillon region, folks in Tavel had been focused on rosés for centuries. Anything but a byproduct, they honed their rosé vinification as long ago as the early 13th century. At that time, it was the main wine in the cellar of the Papal Palace as well as the favorite wine of Kings Philippe le Bel (1268 – 1314) and Louis XIV (1638 -1715), earning it the title "Rosé of Kings." It was the first rosé to receive Appellation d'Origine Contrôlée (AOC) status (in 1936) and Tavel still, by definition, only refers to rosé."
Now, back to the table… What did I make for dinner? I roasted salmon fillets that were stuffed with Provençal-herbed goat cheese, wrapped in thin strips of zucchini, drizzled with lemon-infused oil, and sprinkled with crushed pepperberries. The wrapped fillets were served on a spicy and buttery tomato sauce, topped with chopped kalamata olives. After creating this monster, I wondered about the wine pairing. Pairing for salmon is one thing, but the olives might beg a different wine, and the buttery tomato sauce yet another. From this description, you can see why I needed a little help from my guru – there are a lot of flavors going on here! The recipe can be found on Cocoa & Lavender.
This meal was one of our "dinner and a movie" nights we like to share with OFB – Our Friend Barbara. Tasting the Tavel with the salmon brought out a buttery quality to the wine in response to the butter in the tomato sauce. All three taste testers also felt that there were times when we couldn't delineate between the wine and food; there was even a sip in which we actually tasted black olive. It was as if the wine and food had become one. The combination was so good that we actually stopped the movie several times to discuss how well this paired. All in all, it is – by sheer accident – one of my favorite pairings to date.
I recommend serving this Tavel as an apéritif, as it goes well with cheeses and fruit. Also, it is perfect for a mixed grill, as its boldness easily accommodates all variety of meats, fowl, and seafood. Considering its region, rustic soups and hearty stews also pair well. In the mid-price range, this is a great value for its quality.