"WHO'S AFRAID OF PETER MAYLE?"
by Susan Manfull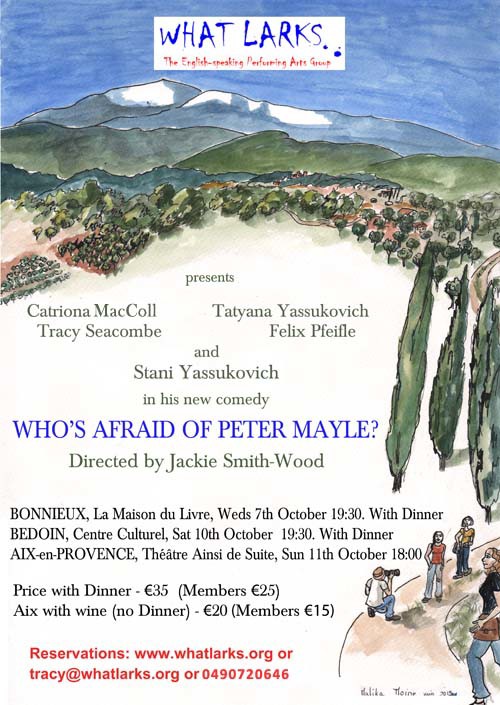 We—or rather those of us of a certain age—grew up asking ourselves "who's afraid of the big bad wolf" and later, as adults, were compelled to ask the same question about Virginia Woolf. I've never had the occasion to pose the question about Peter Mayle, internationally known English author of a long list of wildly popular books about Provence, most notably A Year In Provence, and recipient of many honors, including the prestigious Chevalier de la Légion d'Honneur (Knight of the Legion of Honor)….Who would?
Frank Churchill wrote the lyrics to "Who's Afraid of the Big Bad Wolf," a song that was made popular by Walt Disney in the 1933 cartoon, "The Three Little Pigs," and was the inspiration for the title of Albert Albee's landmark play Who's Afraid of Virginia Woolf?
"Who's Afraid of Peter Mayle?" is the curious title of a play about to debut this week in Bonnieux, Bedoin, and Aix-en-Provence, and it is the impetus for more pondering about the meaning of this question. It also prompted me to find out more about the playwright behind Who's Afraid of Peter Mayle? Who is Stanislas "Stani" Yassukovich?
I had the pleasure of interviewing Yassukovich recently and, as is often the case in this part of Provence, I concluded the interview, realizing that I am yet again fascinated with so many of the people who are drawn to live in the charming Provençal villages perched on hilltops, clinging to the sides of steep hills, and nestled into the nooks and crannies of this strikingly beautiful area known as the Luberon.
Yassukovich and his wife Dinnie who is originally from Rhodesia (renamed Zimbabwe), live full time in Oppède. He knew the Luberon from his childhood when he and his parents—his French mother and Russian father—would travel from Paris, where he was born, to the Côtes d'Azur via the Luberon "in the days before the autoroute." He and his wife spent many holidays in the Luberon, especially enjoying Oppède-le-Vieux, before choosing to move from their home in the Cotswolds to Bonnieux and then to Oppède as part of a "downsizing" effort.
"We have a relatively large community of English-speaking residents from Britain, America, and Scandinavia," Yassukovich told me. It turns out that many of these folks hail from the theatre and film industry. There are professional playwrights, screen writers, directors, producers, and actors as well as an impressive number of theatre buffs to fill the seats.
"What Larks" is an English-speaking Performing Arts Group that, according to their website, came about "as a result of a sort of wager."
From one side came, "I bet there's an English-Speaking audience living in the Vaucluse, who'd support a new theatre group dedicated to its entertainment…" "Bet there isn't" came the response from the other camp….So the only way to prove the point one way or the other is by getting on with it rather than gambling in the dark." That was ten years ago.
The name "What Larks" comes from a line in Great Expectations: "What Larks we'll have, Pip," Joe Gargery said. In other words, "What fun we'll have!"
"I somehow got roped into this group," Yassukovich said facetiously and added, with both gratification and pride in his voice, "We put on productions and I've been involved with nearly all of them…. I am virtually the only amateur involved."
Christopher Neame, film and television producer, playwright, screenwriter, and author—with a list of credits as long as the tall man's arm—was instrumental in starting the theatre group. He retired in Bedoin, a village near Mont Ventoux. He was the third generation of celebrated theatre, television, and film greats, and he fathered at least one child who continued in the same field—his son is the producer of the immensely popular British television series, Downton Abbey. Sadly, Neame died in June 2011 at the age of 68.
Yassukovich met Neame shortly after What Larks began. Yassukovich, after moving to Bonnieux, had begun his own "little theatre company." After a production of Noel Coward's Blithe Spirit at Yassukovich's theatre, he was introduced to Neame. As Yassukovich recalls the encounter, he asked Neame if he knew Blithe Spirit.
"After a very theatrical pause," Yassukovich said, "Neame proceeded to answer by saying that he was familiar with it, as his godfather wrote it and his father filmed it."
"It has been particularly fun to work with such professionals as those involved with What Larks"
Yassukovich closed his theatre group and joined forces with Neame shortly after that meeting. As Yassukovich told this story, it struck me that, for this octogenarian, these new ventures in Provence would be the culmination of a life-long interest in theatre, one that laid relatively dormant as he pursued his remarkable career in international finance.
"I was probably a frustrated theatrical type most of my life," Yassukovich laughingly confessed. His first starring role was in Joe Raposo's Hasty Pudding musical entitled On the Rocks. Raposo completed his studies at Harvard and went on to write music, most famously for Sesame Street, and Yassukovich finished up at Harvard and went on to serve in the United States Marine Corp, followed by an impressive career in finance on Wall Street and in Zurich and London.
With the exception of serving on the board of the World National Theatre in London, the curtains were closed on Yassukovich's stage (although his biography in the What Larks program suggests that his fifty-year career in investment banking might have entailed some acting!). Yassukovich said that he really lived his passion for theatre vicariously through his daughter, Tatyana Yassukovich, now a professional actress and, in fact, part of the cast in her father's play this week.
"It was a very amusing experience when I first found myself on stage with my daughter," Yassukovich reflected. He and his daughter will be on stage again for this production.
Who's Afraid of Peter Mayle? is Yassukovich's first full play. He wrote a one-act play for his daughter (entitled Before The Curtain Goes Up) but this is his first venture into a full-length work. Written a couple of years ago, Yassukovich chuckled that "it is now finally seeing the light of day."
"It's a nice, frothy lighthearted piece that I think will amuse our audience," Yassukovich said, adding that it is "very audience-specific."
Yes, indeed, the story does seem to be tailored to tickle the funny bones of the typical audience of ex-pats in Provence—buying real estate, dealing with the Byzantine bureaucracies still inherent in everyday French life, and reveling in the dalliances of village life.
Two English women, newly porced, decide to buy a house together in Provence. One woman "sacked her husband because he was a philanderer" and "the other woman was left by her husband for another woman." Once in Provence they befriend the local agent immobilier and her retired fashion photographer husband as they search for a house and get to know the village notaire—practically impossible not to during the lengthy process of buying a house in Provence—who regales them (and the audience) with rich anecdotes of local life.
Having purchased several properties in Provence and lived in Lourmarin (on the south side of the Luberon) my husband and I have a wealth of stories ourselves about life in Provence. Knowing Yassukovich had also purchased and sold property in Provence, I asked him if his play was based on his own experiences. He was adamant that he and his wife "didn't have any of the experiences I describe" and that the story is "in no way autobiographical." These statements expressly denying any association with the story, of course, piqued my curiosity about the play even more.
I was still wondering about the curious title, too. Yassukovich told me that he gave the play "a bit of a joke title."
"[It's] obviously a take on Albert Albee's Who's Afraid of Virginia Woolf?, a play that had absolutely nothing to do with Virginia Woolf and this one has absolutely nothing to do with Peter Mayle!"
Albee never really revealed the meaning of his title although he acknowledged somewhere along the line that it may have something to do with false pretenses. Who's afraid to live without their pretenses? Their illusions? What would happen if the big bad wolf huffed and puffed and blew them away? Albee and Woolf both struggled with these issues in their respective upper class upbringings.
What the devil does this have to do with Monsieur Mayle? People have flocked to Provence, under the illusion that their lives will be filled with the same colorful characters, excellent food and rosé, and memorable adventures that fill the pages of Mayle's popular books. Who among them (us?) harbors the fear that Mayle's stories—and our own lives in Provence—may be filled with more fiction than reality. Perhaps at least the two recently porced English ladies. Perhaps a few folks in the audience.
Then again, maybe it is just a bit of a joke title. It is a comedy after all.
Stani Yassukovich hopes that Peter Mayle, who lives in Vaugines (on the south side of the Luberon, not far from Lourmarin where the Mayles lived until recently) will be flattered to be in the literary company of Virginia Woolf. I do, too.
Who's Afraid of Peter Mayle? promises to be a terrific show. I wonder if the Mayles will attend.
Notes:
For more information and reservations, please visit www.whatlarks.org or tracy@whatlarks.org or call 04 90 72 06 46. Tickets are going quickly.
It seems that Provence has set the stage (pun intended) for Stani to engage in many creative endeavors. He has just written a book, Two Lives: A Social and Financial Memoir, which is both an autobiography focusing on his role in the international capital market (and I hope a little on his theatre work) and a biography of his father who escaped the Bolsheviks and went on to create a very successful career on Wall Street and in Europe. The release is imminent by Austin Macauley Publishers.