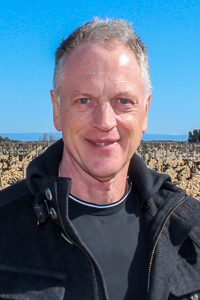 NEIL ALLANBY
The Discreet Sommelier
I am The Discreet Sommelier, a wine educator and writer, now living in Melbourne, Australia. Born and raised in Tasmania, I have always been passionate about wine – my father was distributor for Penfolds and I grew up drinking Bin 28.
From 1996, I spent 12 years living in France mostly in the Rhone Valley, where I studied at, and graduated from the Université du Vin in Suze-la-Rousse. Living in a small town in the Rhone Valley ensured the thrill of my lifetime living the life of a wine aficionado. It also ensured the ability to travel widely to all the major wine growing regions of France and most of Europe. In addition I graduated WSET Level 4 Diploma studied in Macon-Davayé, Bourgogne, and have completed several short courses in Bordeaux. I have recently fallen in love with Provence rosé, such an easy thing to do.
In October 2018 I was appointed Rhone Valley Vineyard wine ambassador, currently the only such ambassador in Australia. I am currently a wine merchant for Dan Murphys, Australia's largest wine retailer.
My firm belief is that the purpose of wine is to bring pleasure to everyone and my goal is to cut through the snobbery of wine.
More details can be found at www.thediscreetsommelier.com and on Instagram @thediscreetsommelier
---
I have been cooking since I was a child at my Mother's knee. I decorated cookies for Christmas during my elementary years. I made elaborate French meals with my nerdy high school friends (Matisse pool party, anyone?). I baked throughout college, surprising friends with whimsical cakes for their birthdays. Once out of college, I cooked to survive while working as a performing symphonic musician. I still cook as often as I can, preferring creative time in the kitchen to sitting in a restaurant. Currently, I produce the weekly blog, Cocoa & Lavender, which keeps me culinarily inspired – by the food, the writing, and the photography.
While cooking has been a lifetime passion, wine pairing came later, born of experiences both good and bad. One thing I know about wine pairing: what works well for one person can make both the food and wine taste bad to another. Wine tasting (and pairing) is personal. There are no rights or wrongs; if you like it, it is good.
I hope you enjoy my thoughts each month. If you have any questions, please feel free to contact me at cocoaandlavender@gmail.com.
---
I am a writer whose characters make wine, love wine, and live wine. Research for my forthcoming novel–the story of a Provençal winemaking family during the second World War–has afforded me glorious pleasures: meetings with ambitious French vignerons, travel up and down France in bouncy Renaults, overnights in shuttered châteaux, and many hours as a student of wine with a glass to my lips. In this role, I not only enjoy my own relationship with wine but I also indulge in the life of the French winemaking family that inhabits the pages of my novel. I am pleased that some of my experiences in the world of le vin français will find a home in Provence WineZine.
In addition to writing, I am a yoga teacher and communications consultant. My husband and I have three children and live in Illinois.
My writings can also be found on my blog L'Occasion. If you have any questions, please feel free to contact me at quefaire44@gmail.com and follow me on twitter (@jillbarth) and instagram (@jillbarth).
---
In a business career spanning 50+ years there are a great many souvenirs that keep one satisfyingly reflective, and at the same time, with a glass of wine in hand, wondering what lies ahead. For me the future will be well met if it continues to engage me in the world of wine, which I first entered while working in Manhattan in the late 1960s. By the end of that decade, Johnny Walker Red was out of my life, and red wine was in.
Though it never became a career for me, my expanding level of wine knowledge added an arrow into my marketing quiver that gained me a level of respect among those who shared my vinous interest and, as they were often clients I was seeking to engage in my day job sales efforts, this passion often acted to bring me closer to decision makers by instilling that element of trust so essential in the selling process. Before long it seemed I was following parallel paths, business and wine advice, the later pro bono, but often as gratifying as the main road of commerce.
Today the klieg lights of international sales exposure have been turned off, but that other path continues to lure me on, thanks to well stocked cellars in the US and France that need my loving care.
Jerry is President of Winemaven Enterprises in Mystic, Connecticut. If you have any questions, please feel free to contact Jerry at MavenClark@yahoo.com
---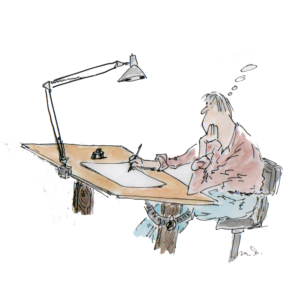 MIKE DATER

I grew up for the most part in Stamford, Connecticut, and got as much as one semester of college completed before going into the Air Force's Aviation Cadet program. Following my USAF stint, mostly skiing at Sun Valley (I was based at Mountain Home AFB, in Idaho) in the mid-fifties, I returned to school, graduating from the University of Colorado. Parlaying my pilot training in the USAF, I spent an eternity or so flying as an airline pilot for several small airlines and finally getting into the bigs flying both for Pan American World Airways, and, due to a fluke, transferring to United Airlines, where I ended up.
During my flying years I took painting, drawing and cartooning lessons here and there, freelancing – when time permitted – as a cartoonist, illustrator, or political cartoonist, mostly acquiring heaps of rejections slips. My first more or less permanent gig as a political cartoonist was for the weekly Lakeville (CT) Journal in the late eighties and early nineties, and then after moving to the seacoast area of New Hampshire drawing for the fortnightly New Hampshire Gazette, from 1999 until the present, where I still, in pen-and-ink, vent my ire at the nutty world we live in.
Two mentors to whom I owe much for my alleged cartooning and painting skills (such as they are) are two New Yorker stalwarts, Mort Gerberg (cartooning), and the late Arthur Getz (painting and drawing). Both fine talents and wonderful teachers.
---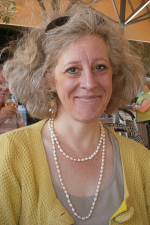 ELIZABETH GABAY MW

With a degree in history and a Master of Wine, and many years working in the commercial wine world and writing about modern wine regions, my main interests rest with a combination of history and wine.
I love the cultural history behind the styles of wine we drink today, the evolution of traditions. Living in the south east of France I have researched the history of the traditional Provençal wine bottle, the history of wine in the Alpes Maritimes, the evolution of rosé and more…
Indeed, rosé has become increasingly important as it has grown in popularity. I have written and lectured about rosé wines and am currently working on a book on rosés from around the world (for publication in 2017).
I have been in the wine trade since 1986, starting with the wines of south eastern France. Provençal wine was quite different at the time, with many vineyards making old-fashioned, 'rustic' wines, and I have enjoyed seeing at first hand how they have developed over the past 30 years.
I became a Master of Wine in 1998 and moved to south-eastern France in 2002, and now, based between Provence and Liguria, continue to explore and work in Provence. I also work extensively with the wines of Hungary. I am also interested in other Mediterranean wine regions and indigenous varieties.
I have judged at Decanter's annual World Wine Awards, and at many other competitions, including Hungary's VinAgora, the Mondial de Rosé, the VinoBalkanika , the Guide de Vins de Provence and for magazine panel tastings for Decanter and Drinks Business
I have written for a number of years the Provence section for winetravelguides.com; edited and updated the Provence section for Oz Clarke's annual Pocket Wine Book, review the Provence vintage chart for the International Wine and Food Society and have edited and updated the Provence section of Jancis Robinson's World Atlas of Wine 2013 edition.
I have given numerous masterclasses with the Institute of Masters of Wine, VinCE, Prowein, RoVinHuD (Romania), Franc & Franc conference in Villány, Vinisud, and Rivini amongst others. I am the Provence specialist for the Wine Scholar Guild (formerly the French Wine Society), guiding tours around the region and giving regular webinars on the wines of Provence.
I write articles on wine topics including Provence, Hungary and northern Italy, for magazines and websites in Britain, Europe and America. (List of articles)
I have written and researched the history of the wines in the Alpes Maritimes and have presented a paper for an historical wine conference in Italy.
My other main interest is the history of the drink punch, for which I have created a separate website punchstory.com. I am researching and writing (hopefully for a book on this), have presented papers at conferences and given presentations at museums.
---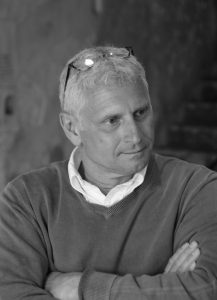 WILLIAM "TOWNY" MANFULL
Born in Washington, D. C., William "Towny" Manfull grew up overseas, in Vietnam, Belgium, England, Mexico, Singapore, Central African Republic, and Liberia. His passion for photography began in junior high school while living in Liberia. There, he developed a keen eye for capturing the personality of the people in Monrovia, where his father served as the U.S. Ambassador. In his final year of high school, Manfull faced a difficult life decision for a young person – pursue an education in an infinitely practical area like engineering or in the field where his true passion lay, photography? He opted for the latter, but because the photography program at Rochester Institute of Technology was full during his freshman year, he enrolled as a printing major intending to change majors to photography, but he never did. Towny went on to develop a successful career in printing for over 20 years (until the decline of the industry). Today, he has forged a career in media technology. A constant backdrop has always been his passion for photography which, with PWZ, has moved to the forefront.
Towny is fluent in French. With parents who lived in Paris in the '50s, it's not surprising that they instilled a love for France in their children and a belief in the importance of speaking French.
Towny had traveled widely in France before falling in love with Provence. With such striking beauty and legendary lighting, it is a photographer's dream come true. The wine and food are a significant draw, too!
Towny lives in Portsmouth, New Hampshire with his wife Susan, founder and publisher of PWZ.
---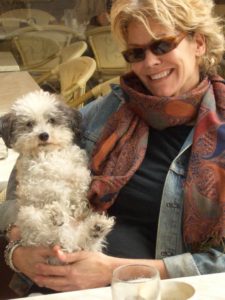 PAMELA O'NEILL
My love of wine started at a young age when my sisters and I created quite respectable meritage cuvées from our parents' dinner party leftovers. Perhaps I suffered from EOWE (Early Onset Wine Enthusiast).
This interest was re-awakened when I first met Susan many (many) years ago in California where I had chosen to pursue graduate studies in psychology. Having winged my way across the country from New York, knowing not a soul, I was happy to meet someone who shared my interest in psychology, backgammon, and wine. Soon we were hosting wine tastings (Just Say No to White Zin), cementing our lifelong friendship and partnership in crime (and wine). We would meet again on the east coast when I returned to New York to work as a clinical psychologist and Susan began graduate school in New England.
I eventually changed careers, moved to Manhattan where I worked for an international ad agency, later for several national magazines, still later in film production and photography, and then in the travel industry where I created private itineraries that included, not surprisingly, France's wine regions. All along, I nurtured my interest in wine by taking oenology classes and regularly attending wine events.
One day, an opportunity to move to Provence fell in my lap. So, in 2002, my poodle d'Agneau and I hopped on a flight headed for France to begin life anew. We landed in Provence on my birthday (age undisclosed), and were met at Aéroport Marignane by Susan Manfull and her family who, as luck or destiny would have it, were living in Lourmarin at the time.
Still in Provence, my current passion for wine is centered in the heart of this region, in the lovely village of Cotignac where d'Agneau and I live. When not stalking the local vineyards, acting as the on-the-spot snoop and photographer for Provence WineZine, hobnobbing with the Cotignac International Wine Association, I can be found lounging in the sunshine at a village café with d'Agneau where, in the spirit of research, I happily sip whatever rosé is being served.
---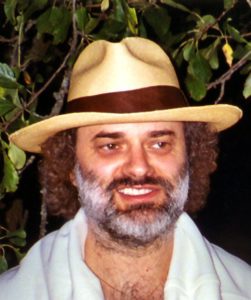 PIERRE SCHOTT
To be truthful, I don't enjoy writing about wine too much–I prefer to be drinking it! Born in Strasbourg and a restaurateur for 21 years in Alsace, I look more salt than pepper! I arrived in Provence 16 years ago and committed myself to all my passions: writing, photography, dealing in antique wines, bookselling, owning a photo gallery and, more recently, working in œnotourisme (wine tourism) in the Luberon…all pursued with a sense of humor. Pierre lives in Manosque in the Alpes-de-Haute-Provence département of Provence, with his wife Muriel.
---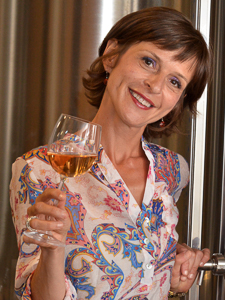 VIKTORIJA TODOROVSKA
Viktorija is a food and wine writer, sommelier and cookbook author currently living in Nice, France. She fearlessly roams the regions of the Mediterranean Basin and seeks out tasty foods and wines, talking with equal passion to professional winemakers and grandmas making pasta by hand.
Viktorija is an accredited Sommelier (International Sommelier Guide), French Wine Scholar (French Wine Academy), and Certified Specialist of Wine (Society of Wine Educators).
Viktorija has written several books on the wines and foods of Italian and French regions. Her latest book, Provence Food and Wine: The Art of Living introduces readers to dry, aromatic, and fruity rosé and offers delicious recipe pairings. Viktorija is also the author of several iBooks, the latest one being dedicated to the city of Nice and its fascinating cuisine.
When she is not sipping wine and tasting the delicacies of Nice and its surroundings, Viktorija can be found traveling the Mediterranean, soaking up new knowledge and discovering interesting foods and wines and the stories of the people who make them.