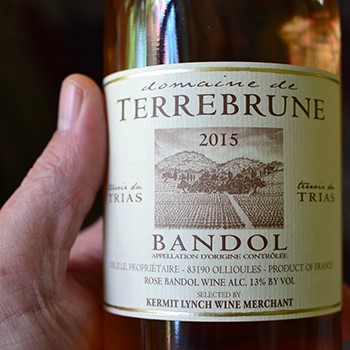 Notes
This Bandol rosé from Domaine de Terrebrune is a rich pink, tinged with gold – it is beautiful to look at. The nose is quite acidic, and lemony, even a bit of stainless steel. I was quite relieved, though, that upon tasting it, it was soft and silky, and bore no resemblance to the aromas I sensed. Instead, it tasted of bright strawberry and nectarine, and a touch of resin.
We served the wine to our guests with goat cheese – both with the herbs and pepper, although each brought out something different in the wine. The strawberry was much more dominant with the herbs, while the nectarine and a touch of white peach prevailed with the pepper-crusted cheese.
Later, when everyone was gone, there was still some Bandol left and I decided to test it with a burger. This, however, was not such as good pairing – the acidity I sensed on the nose was now on my palate, and I have come to the conclusion that this particular Bandol does better with light meals – salads, simple fresh cheese, and white fish.
Wine Details
| | |
| --- | --- |
| Region | Provence |
| Appellation | Bandol |
| Producer | Domaine de Terrebrune |
| Cuvée | Bandol Rosé |
| Vintage | 2015 |
| Color | Rosé |
| Varietal | Grenache, Cinsault, Mourvedre |
| Country | France |
| Pairs with | Salads, simple fresh cheese, and white fish |
| Website | http://www.vin-bandol-terrebrune.fr/ |
| Available in USA? | Yes |
| Average Bottle Price | $ 32.00 |
| Date of Notes | 07/01/2017 |
| Notes by | David A |
| Organic Status | Organic |
| Alcohol by Volume (ABV) | 13% |
Reviews