MEET ME AT LES DEUX GARÇONS: A SEQUEL TO "MIDNIGHT IN PARIS"?
Should Woody Allen and Owen Wilson decide to follow Picasso to the South of France, surely Les Deux Garçons would feature prominently. Like Les Deux Magots, the famous café hang-out of Gertrude Stein's Lost Generation in 1920s, Les Deux Garçons has long been a magnet for artists and writers in Aix-en-Provence.
Les Deux Garçons' roots reach back to 1792, but 53 cours Mirabeau had a long history before it became a café. The 17th century mansion is first mentioned in the historic accounts of Aix (that I read) as being the 1660s home of Francois de Gantès, lawyer in the court of the King Louis XIV. Most accounts thereafter refer to the building as Hôtel de Gantès (
hôtel,
referring to the French usage of the term for a sumptuous townhouse).  The
property exchanged hands a number of times before a Monsieur Guion purchased it in the mid-18th century and sought to create a meeting place for the aristocrats of Aix-en-Provence, one modeled after the English clubs that were popular in France at that time. He transformed the ground floor into this club and it soon became the site of volatile arguments between supporters of the old regime and local revolutionaries until it was closed in 1790.  In 1792, it was re-opened as a café called Café Julien and in 1840, when two waiters purchased it, the café was christened "Les Deux Garçons."  Today, "Les 2G," as the legendary meeting place is sometimes called, is really more a
brasserie
than a café.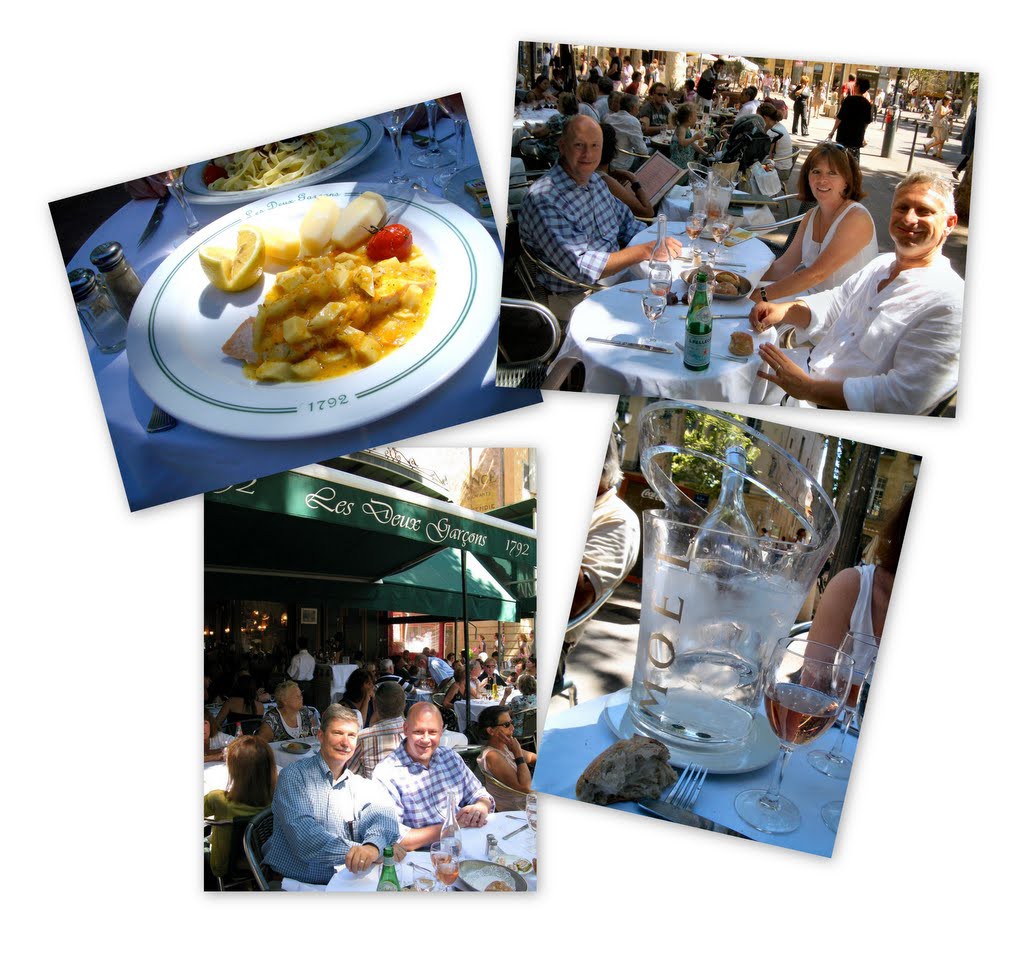 The building itself was recently renovated and opened in July 2011 as an upscale hotel—not surprisingly called Hôtel Gantès (
hôtel,
 referring to the contemporary usage of the term as a place for paid accommodation).   T
he main entrance is around the corner from Les Deux Garçons on rue Fabrot and is, shall we say, discrete in the chic sense. It is not the Hôtel Le Bristol where Gil, played by Owen Wilson, and his fiancée stayed in "Midnight in Paris," but it would be more than adequate accommodation for the South of France sequel I am imagining.
Famous patrons of Les Deux Garçons have included Aix's own Paul Cézanne and his childhood friend, writer Émile Zola. Pablo Picasso as well as Henri Matisse who also appears in "Midnight in Paris" were both heavily influenced by Post-Impressionist artist Cezanne and both artists spent their last years in the South of France.
Picasso is known to have visited Les Deux Garçons in the mid-20th century. In 1958, he bought his Château de Vauvenargues just outside of Aix, at the base of Mont Sainte-Victoire, the mountain made famous by his beloved Cézanne. Picasso presumably thought he would stay there for the remaining years of his life and had several hundred pieces of art shipped there; but he and wife Jacqueline only lived in Château de Vauvenargues for a couple of years (and then moved further south to the sunnier Côte d'Azure, an area his wife apparently preferred ). Picasso is buried on the property which is still owned by the Picasso family and is occasionally open to the public.
Other famous patrons who may inspire Allen to consider Les Deux Garçons as the setting for his sequel include Henri Bosco, Edith Piaf, and Jean-Paul Sartre. Okay, it's not Hemingway, Dali, and the Fitzgeralds, but I think Owen Wilson could strike up some interesting conversations with these folks, too. Perhaps Picasso could introduce him to another mistress…Was Dora Maar still around or had Françoise Gilot replaced her? (An interesting piece of trivia is that, upon their break-up, Picasso gave Dora a beautiful house in Ménerbes, which we saw this past summer.)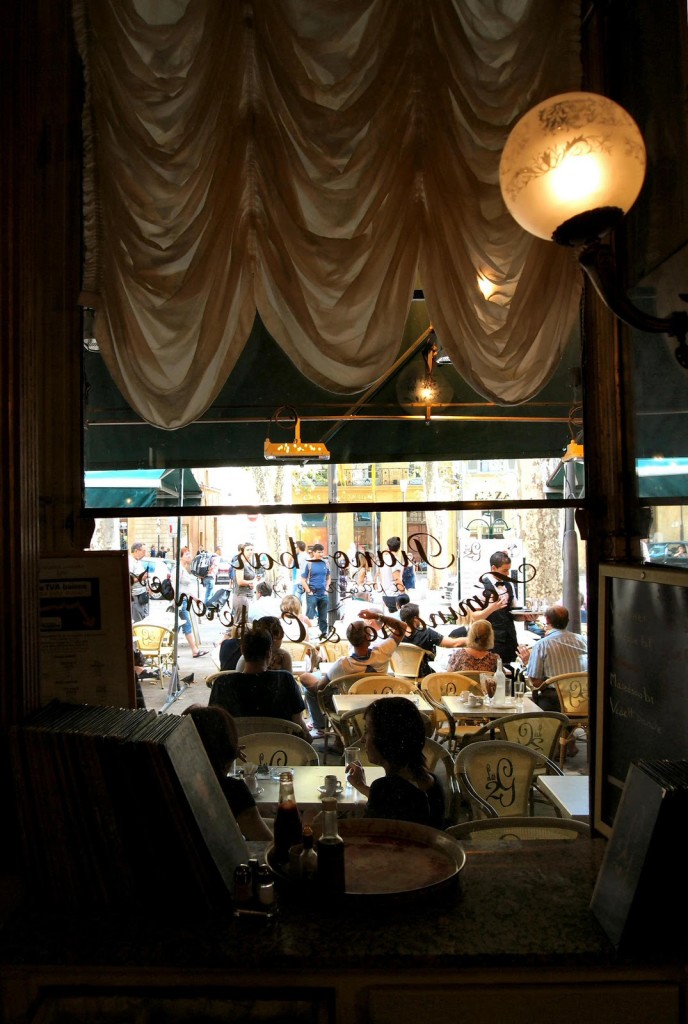 I can picture a 1920's car pulling up to Gil as he sits alongside one of the dozens of fountains in Aix, maybe my favorite fountain at the Place des Quatre Dauphins. Located in the heart of the Mazarin quarter, this baroque style fountain of four dolphins, water spewing forth from their mouths and flippers appearing to hold in place the obelisk in the center, has been admired since 1667. It's midnight when Gil jumps in the car and the driver turns toward the beautiful plane tree lined cours Mirabeau. The wide boulevard, built in the 17th century on the ancient ramparts and now the center of all activity in Aix, is quiet. The shops, boutiques, cafes and banks that line 21st century cours Mirabeau are gone. In their place are the stately homes of the early 1700s and a few cafes, including Les Deux Garçons. Aix-en-Provence, often called the "Paris of the South," has much of the same beautiful architecture that Paris prizes and it is an integral part of the city's appeal. Even without the midnight rendezvous with the vintage car, one is easily transported in time!

Today, the terrace tables are filled with locals who want to see and be seen, tourists, and university students who can afford the pricey drinks and meals. (And, although Woody Allen may not be interested, Hugh Grant and George Clooney stopped by not too long ago.)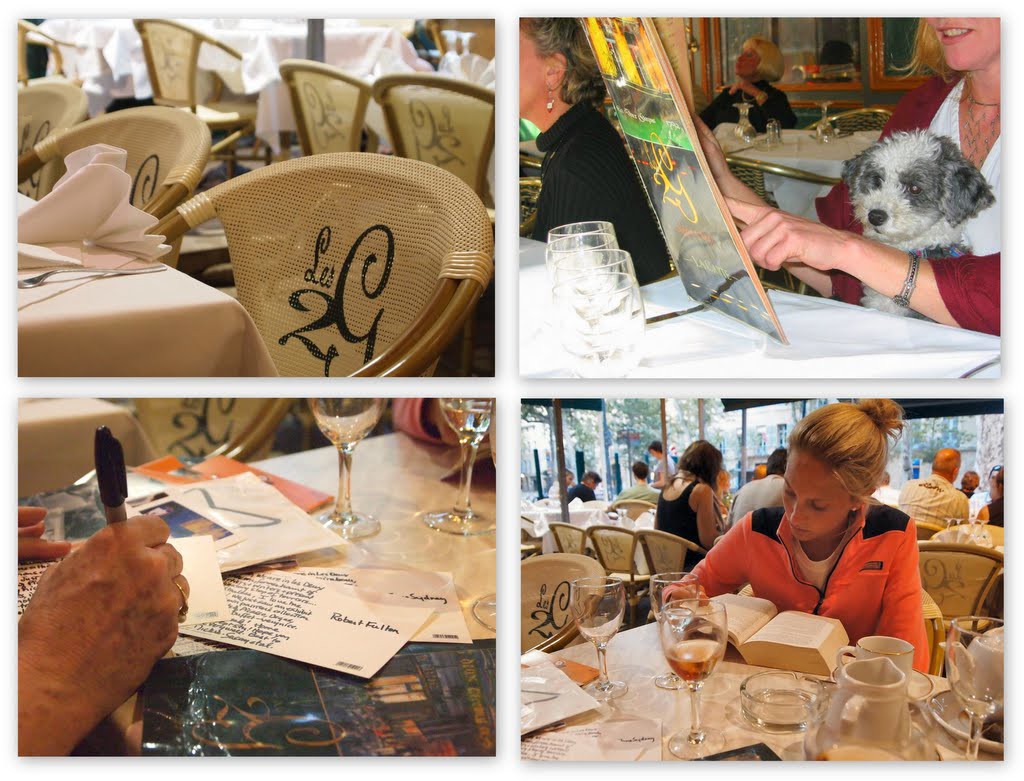 Our family has made Les Deux Garçons a meeting place since our very first night in Provence.  That evening was the occasion of a fast-moving but powerful electrical storm that caught us as we walked to dinner.  I recall running to the restaurant, my daughter's tiny hand holding tightly on to my own, and arriving looking more like a family of drowned rats than the excited threesome we were. But, we were warmly welcomed by the waiters—all men and all dressed in the black and white garb of an Old World elegance seldom found today.  We were immediately enthralled by the beauty of the original 1790ish "gilt-and-muraled" interior that I had read about in Fodor's Tourist Guide. Long before Woody Allen's "Midnight" movie, we felt transported back in time. The meal that followed—I can't recall now what we had aside from crème brulée and profiteroles for dessert—was delicious and reasonably priced (in contrast to what the tour books had said).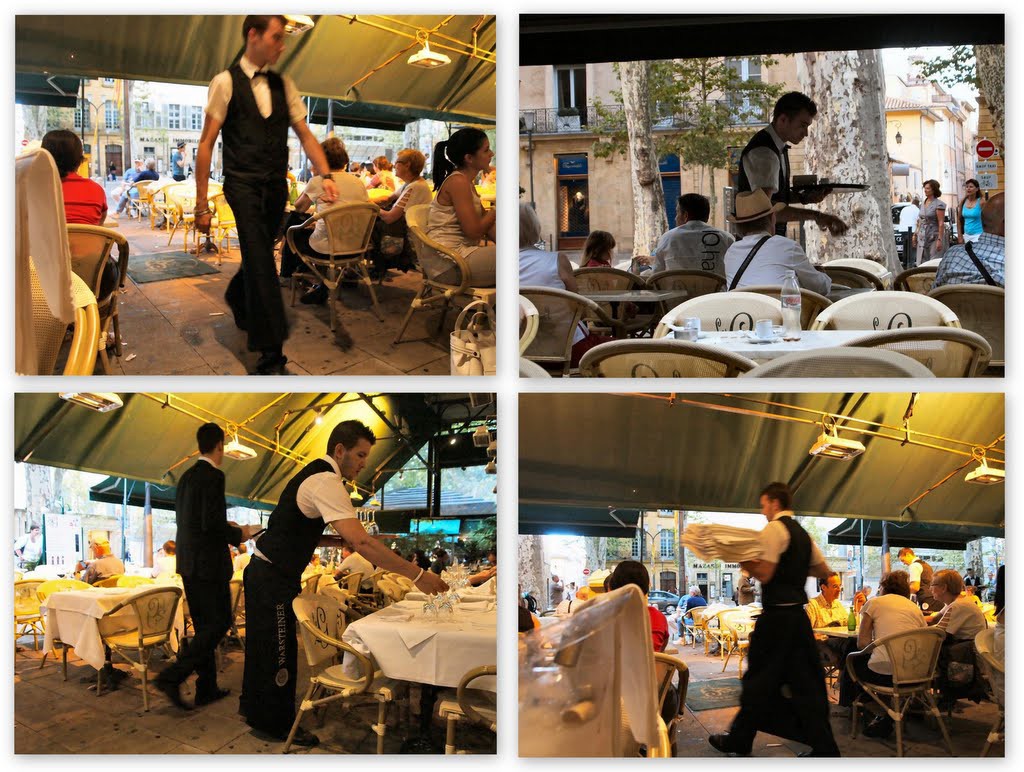 Grab a table on the terrace, where we have returned countless times now, for breakfast, lunch, or a beverage. Anytime of day is fine; but, if you are not eating, choose a table that is not covered in white linen.

For breakfast, I recommend their special which includes a tea or café—I order a grande crème—with croissants, bread, and juice for a very reasonable price.  Omlettes (delicious, Towny tells me) may be added to the breakfast special for a nominal fee.  A light lunch or dinner may be ordered on the terrace; but, for the finer cuisine, move indoors.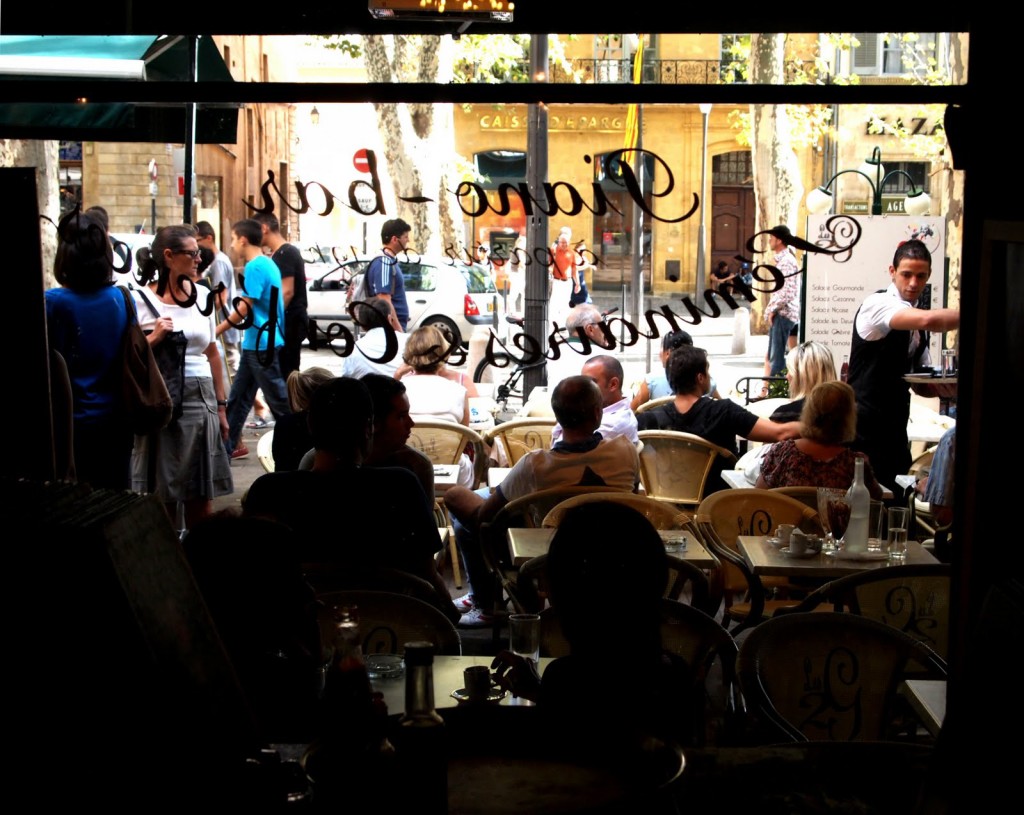 The clear advantage of the table on the terrace is that one has a bird's eye view of Aixois life as it parades by on cours Mirabeau.  One sees business men in perfectly tailored suits and women dressed to the nines; hipsters dressed in black and covered with tattoos and spikes; and absolutely everything in between.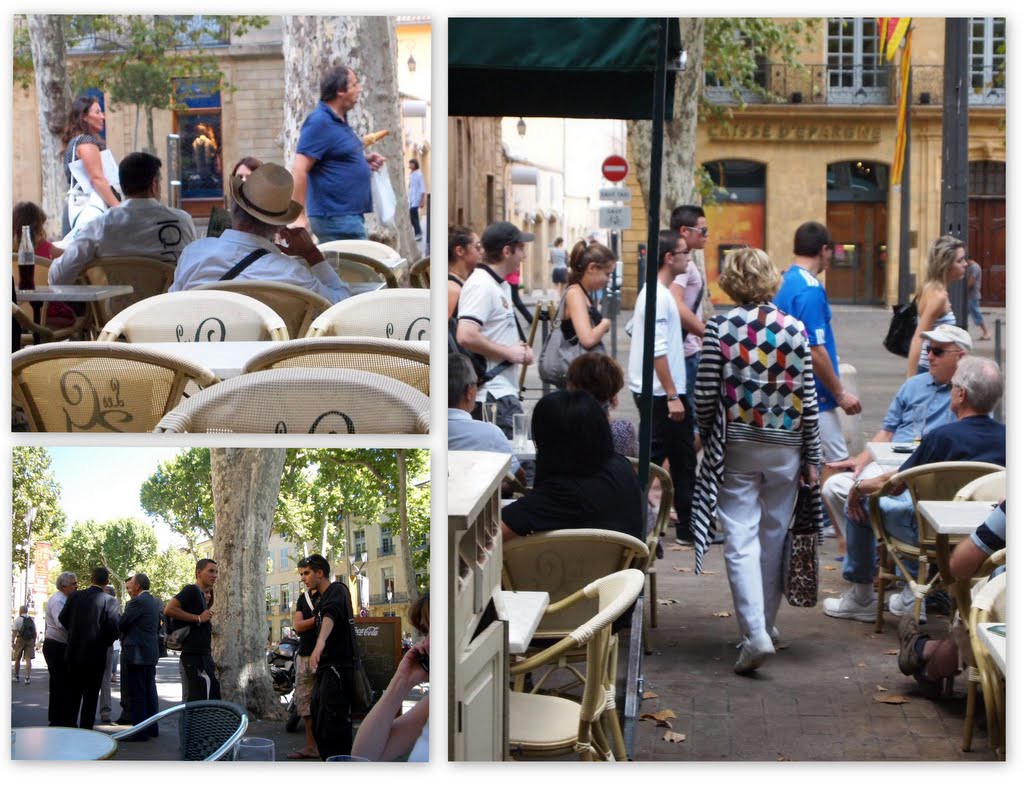 And, the passersby are certainly watching the patrons, too, as evidenced by a funny experience my friend Pam and I recently had at our favorite haunt.  It was an uncharacteristically chilly October morning and we—Pam, her faithful canine companion D'Agneau and I–were one of two occupied tables outdoors.  We three sat on one side, with our backs to the glass, under the wide canopy and we people-watched as we sipped our grande crèmes.  Every 20 minutes a new gaggle of what we suspected were Americans would stop in front of Les Deux Garçons  and the guide, who held a sign high enough to reach the plane trees, would stop and proceed to recite the names of all the celebrities who had ever graced the terrace of this famous café.  One group spent an inordinate amount of time in front of us and suddenly I realized that we were the subject of the guide's talk.  Just as I voiced my suspicions to Pam, they turned their cameras toward us, and leaned in to focus.  A chorus of snapping shutters was followed by awkward smiles and nods of thanks and then the paparazzi were on their way. I had the distinct impression that the guide was talking about D'Agneau, something about the French taking their dogs everywhere; my impressions were confirmed when, a little later, we bumped into the same tour guide who, while petting D'Agneau, asked if we had just been in Les Deux Garçons.  When I answered in a heavily anglicized French, she was taken aback and began laughing.  She called over the members of her tour group—Americans—and we all laughed as she explained that she had used us as an example of how the French take their dogs everywhere, including restaurants!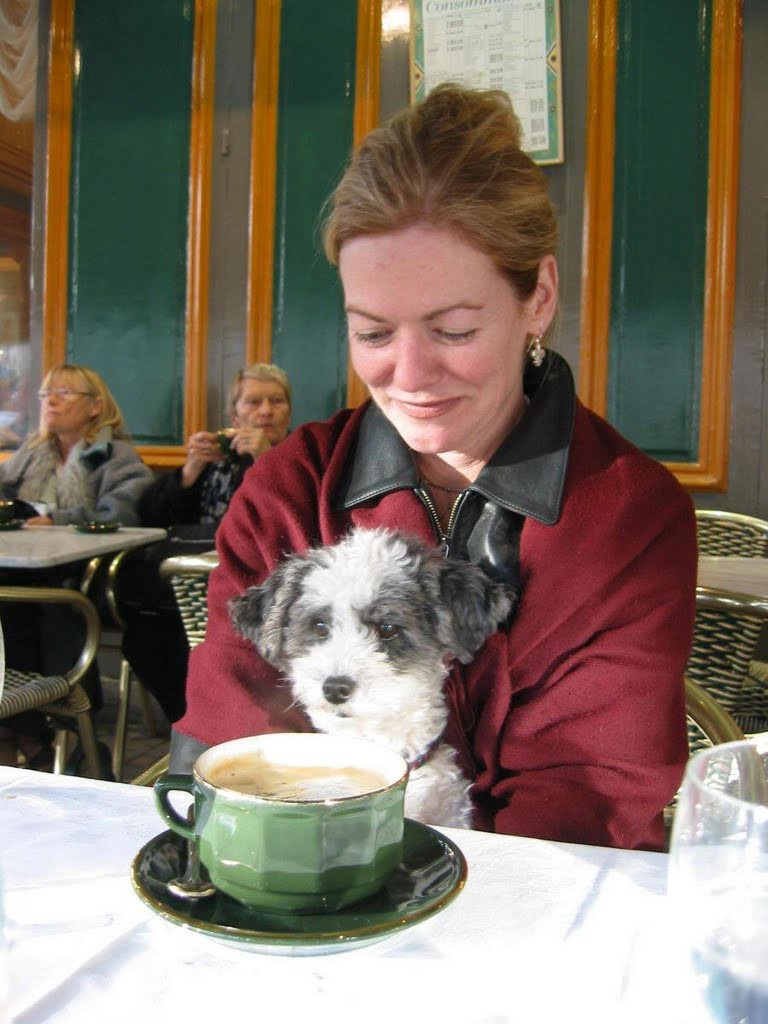 Later that week, Pam and I met my daughter's very close friend Emily for a most memorable three course meal—inside, on the tables with the white linen and silver—at Les Deux Garçons.  Emily who is studying at the university in Aix—and traveling around the continent—was able to eke out some time for lunch with us.  It was so much fun to hear about her adventures–and to hear her speak some French!—and to learn about how smitten she is with Aix.  Who wouldn't be?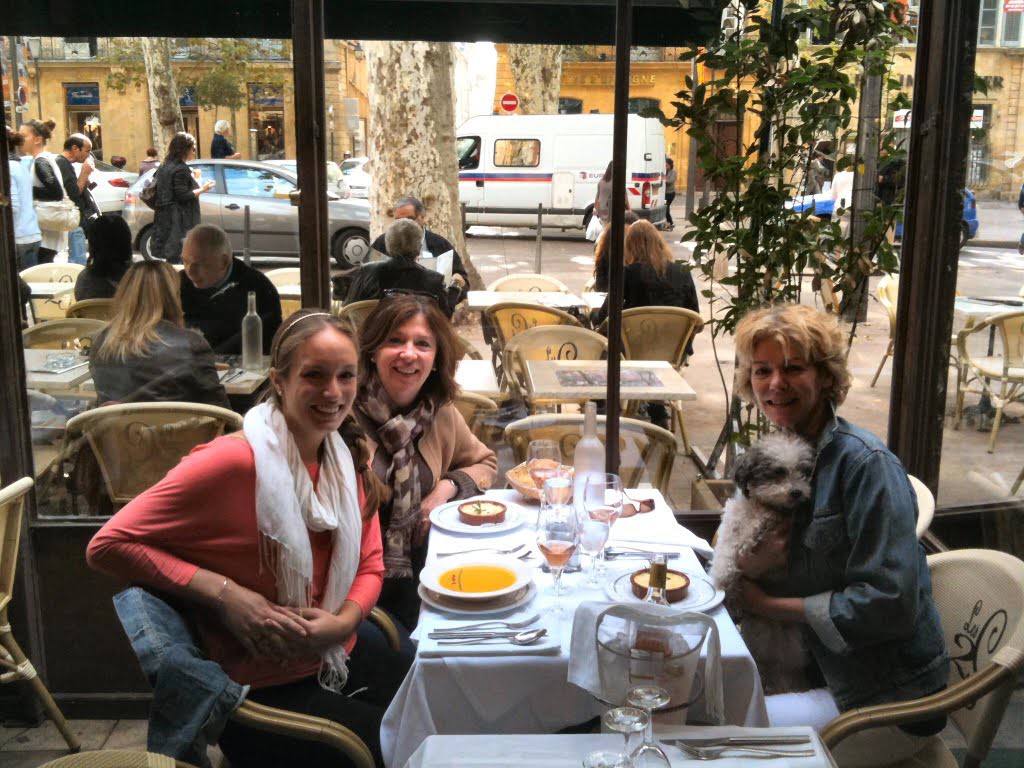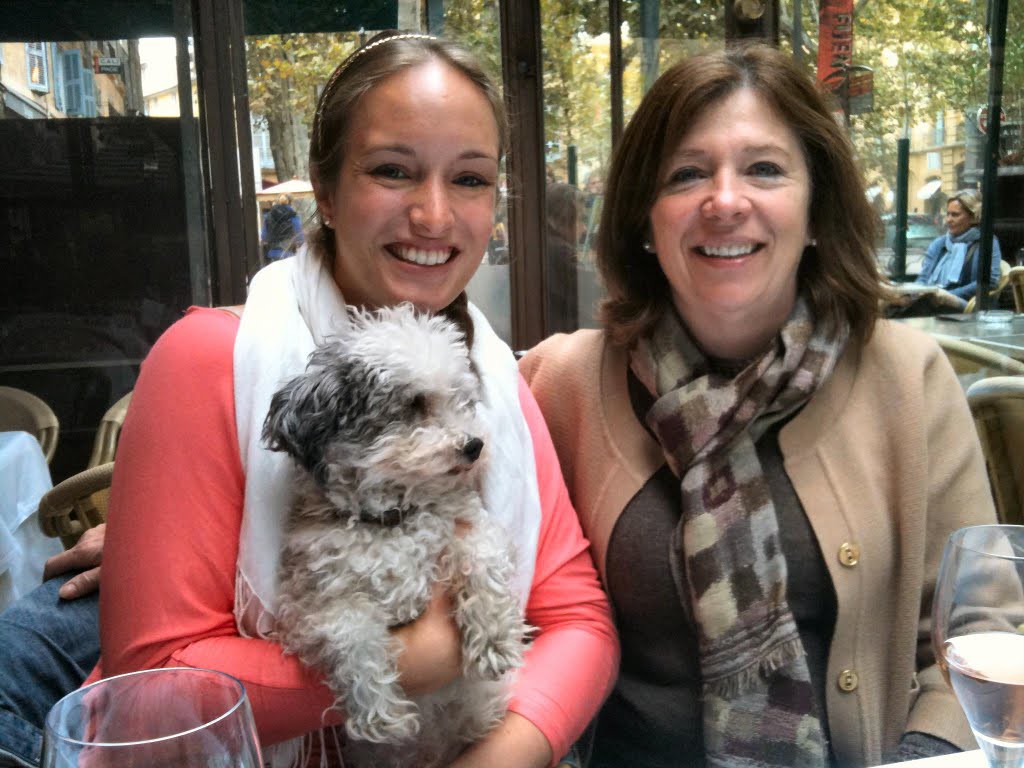 Ah, to be young and lucky enough to live in Aix.  I think Aix, like Hemingway's Paris, would stay with you for the rest of your life, too.  I hope that Woody Allen and Owen Wilson will follow Picasso to Aix and, if they do, I'm confident they will meet at Les Deux Garçons!