AMOUR'S JEAN-LOUIS TRINTIGNANT HAILS FROM PROVENCE… AND OTHER AMOUR TIDBITS TO DROP AT TONIGHT'S OSCAR PARTY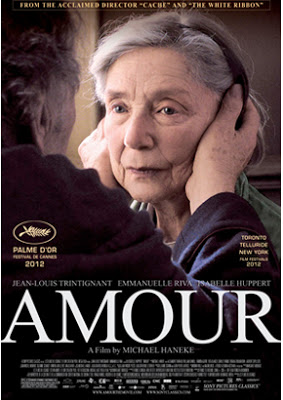 Amour has captured the hearts of movie-buffs, critics, and those that bestow those coveted awards every year. The Austrian film—I know, you thought it was French!—swept France's César Awards this past Friday evening: Best Film, Best Actress, Best Actor, Best Director, and Best Original Screenplay. It also received the Palme d'Or award at Cannes this past spring.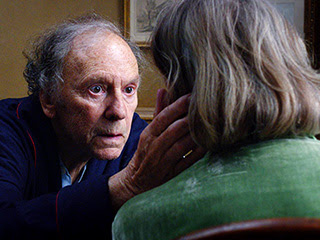 At tonight's Academy Awards, this wonderful movie is in contention for five Oscars: Best Picture, Best Actress in a Leading Role, Best Director, Best Foreign Language Film, and Best Original Screenplay. Sadly, Jean-Louis Trintignant was not nominated for Best Actor.
Amour is not a movie for everyone. It is an emotionally-raw, starkly honest, and intensely intimate film about the love between two octogenarian music teachers who have been married so long that they know one another other as well as they know themselves. Their devotion is tested by the downward spiral of Anne (played by Emmanuelle Riva) following a debilitating stroke and subsequent unsuccessful surgery. Her husband Georges (played by Mr. Trintignant) takes on the painfully difficult task of caring for her. As Georges' vibrant wife devolves into a spirit-less shell before his eyes, we watch how he struggles to cope. It feels intrusive to sit in the audience.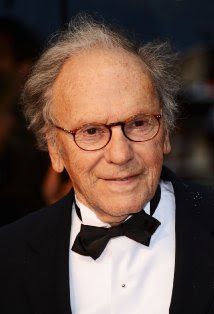 The French-language film is subtitled but the dialogue is not complicated. With just a little knowledge of French, the subtitles are not necessary.One does not need to be an astute reader to surmise that I am a big fan of this movie. I don't expect it to win Best Picture and, based on history, I would not expect… a Best Director win, but wins in Best Actress in a Leading Role and Best Foreign Language Film are very likely. I have seen all the movies in which the nominees for Best Actresses starred and I am definitely rooting for Ms. Riva for Best Actress in a Leading Role. As for Best Original Screen Play, Amour also seems to be a strong contender.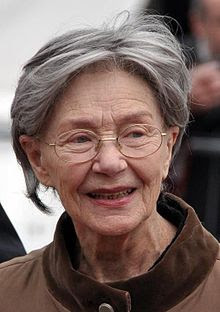 Until the envelopes are opened—you never know when you might be stumped for conversation while, say, waiting for drinks at an Oscars Party—I thought you might enjoy a few tidbits of information about Amour.
Only three other movies have been nominated for both Best Picture and Best Foreign Language Film in the same year: Z (1969), Life in Beautiful (1998), and Crouching Tiger, Hidden Dragon (2000). None captured Best Picture but all won Best Foreign Language Film awards.
Only nine foreign language movies have ever been nominated for Best Picture.
The Artist, last year's Best Picture winner, was produced in France but was a "silent" film except for one sentence which was in English. Another recent Best Picture winner, Slumdog Millionaire (2008), was just partly in Hindi (and the rest in English).
No foreign-born director has ever captured the title of Best Director for a non-English film. (Many foreign-born directors have won Oscars for English-language films.)
Seldom does the Academy bestow awards upon foreign actors or actresses. Notable exceptions include Marion Cotillard for La Vie en Rose (2007) and Roberto Benigni for Life is Beautiful (1998).
Amour was written specifically for Mr. Trintignant, who had been absent from the screen for fourteen years.
Mr. Trintignant was the "man" in the classic art film A Man and A Woman (1966), the first foreign film I remember seeing. (And, who can forget the music?)
Mr. Trintignant was born in the small town of Piolenc, just outside Orange in the Vaucluse Department of Provence. (Piolenc's other claim to fame is its garlic production.)
Her newest film, Tu Honoreras Ta Mère et Ta Mère, a French film shot on location in Greece, opened in France last week.
Ms. Riva is the oldest actress ever nominated to receive the Academy's Award for Best Actress in a Leading Role. (If she wins, she would replace Christopher Plummer as the oldest actress or actor to receive an Oscar.)
Today—February 24th—is Ms. Riva's 86th birthday. Bonne Anniversaire, Ms. Riva! I sure hope you have Oscar in hand while you blow out your candles!