ESCAPE PARIS TO PROVENCE ON THE TGV
by Susan Manfull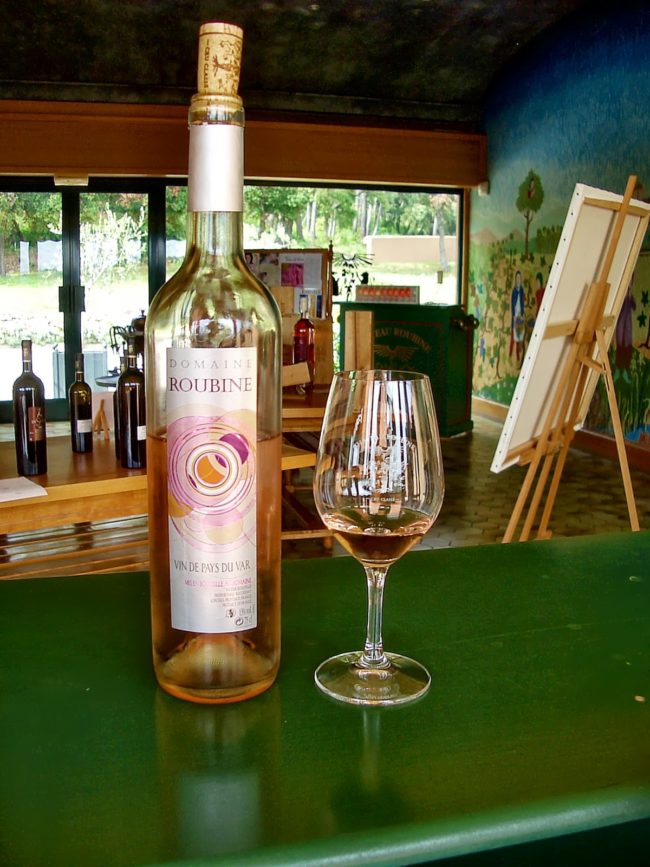 Perhaps you'd like to escape the sticky heat of Paris this August by traveling to Provence. You can do so in just a little over three hours in the quiet comfort aboard the high-speed train– le Train a Grande Vitesse, or TGV, as the French call it. (Conversely, you can add a quick Paris TGV trip to your Provence agenda….although we don't recommend doing so in August!)
Powered by electric motors, the French TGV was originally conceived in the 1960s right after Japan launched its foray into high-speed trains. Today's TGV from Paris to Provence runs at about 320 kilometers an hour, and gets there in three-and-a-half hours or so, depending on the train. That's more than twice the speed of regular trains, and it's much faster than driving.
"The TGV is a very civilized way to travel," says one American habitué. "It's more relaxing after an overnight flight when you're tired and jetlagged. It's nice to be able to sit in comfort and watch the countryside without having to arrive early for your connection or to buckle up. To avoid dining car costs and have a better meal, you can prepare a picnic ahead of time, and even bring a bottle of wine—liquids are not contraband on the train! At the airport, you can also find places to buy wine, bread, and cheese. And you can take your dog, too!"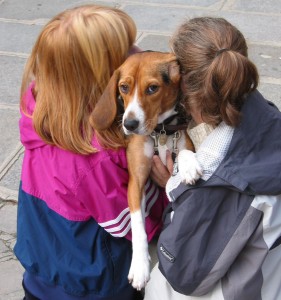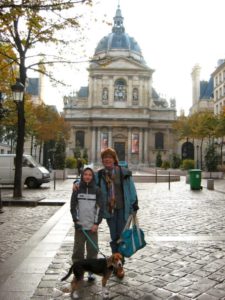 When we were in Lourmarin for six months in 2003, we had many guests pop down to Provence from Paris for a weekend visit. And, we often took the TGV to Paris for long autumn weekends. We would pack a basket with a dinner of assorted cheeses, pâtés and salamis, maybe a tomato salad with Herbes de Provence, some fruit, and the obligatory baguette; grab our overnight bags; put the leash on our dog, Pal; and dash off to the station, about 45 minutes from our home. And, then, as if by magic, the stresses of the harried traveler would melt away as we snuggled into our comfortable seats, popped the cork of a nice bottle of Gigondas and enjoyed our meal, all the while watching the glorious landscape pass by. Just as we finished our dinner, we would be pulling into the Gare de Lyon in Paris.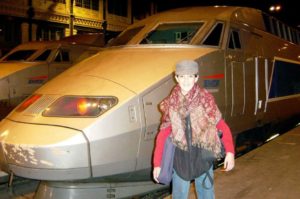 Travelers to Provence sometimes find it cheaper to fly to Paris Charles de Gaulle airport and, then, just hop on the TGV. This is because discount fares are frequently offered to Paris rather than to the South of France and adding the airline connection to Marseille, for example, becomes more expensive than boarding the train. It can also simply be more convenient to take the TGV than to fly a second leg from Paris to Marseille: the TGV terminal is central to all major carriers, which often makes for an easier connection. Sometimes, the connections from overnight flights originating in the States may simply work better with the TGV schedule. It is definitely our preferred method of travel!
From the States, TGV tickets can be purchased in basically three ways: through the U.S. TGV website,
http://www.raileurope.com/
; through the French TGV website at SNCF.fr
http://www.voyages-sncf.com/
; or through a travel agent. (We would not recommend the fourth option of waiting until you arrive at the station!) We have endeavored to highlight some of the pros and cons of each way, although we do not profess to be authorities on this subject and urge you to consult these sites yourself (or hire a travel agent!).

The U.S. website offers the obvious benefit of having instructions in English, a distinct advantage for those of us not entirely fluent in French. If you intend to purchase a multi-destination rail pass, use the U.S. site. If you would like paper tickets (because your connection time is short or you want to avoid talking to a French ticket agent), use the U.S. site. On this site, you have the option of having the tickets mailed to you for a fee up to $36 per ticket, depending on how far out you are purchasing them. Even a traveler with foresight can be charged an $18 processing fee for each ticket purchased and mailed.
An advantage to using the French site is that you are extended a more liberal policy of exchanging or refunding your tickets at the train station on the basic TGV ticket. For basic TGV tickets that are purchased on the French site, the policy is: Free exchange and reimbursement up to the day before travel; a 10 euro fee for exchanges or reimbursements on the day of travel (before departure); and non-refundable after departure. The policy on the U.S. site is confusing to us, but it reads that "the fare is 100% exchangeable and refundable up to 3 days before train date of departure"; after that, it states that it is non-exchangeable and non-refundable. The site also states, "All refunds must be performed by the office that issued the tickets." However, there is a reference that tickets can be exchanged in France for a fee (the amount not disclosed) prior to the travel date. Refunds and Exchanges are subject to a 7% administrative fee per ticket.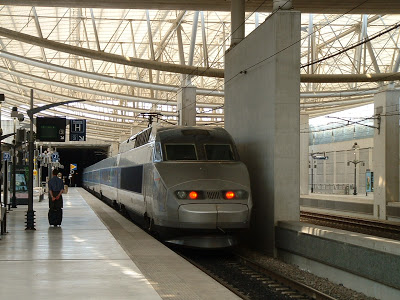 On the French site, you may opt for the TGV Pro fare (about 20 euros more), which then enables you to receive a full refund (without a fee) up to 2 hours after your departure. This is a must-have option if you are booking a tight connection between your flight arrival time and your TGV departure time. It appears that the U.S. site now offers an option similar to the TGV Pro fare that is available by purchasing the "Freedom" fare.
It appears to us that for basic TGV tickets, the French site still offers some advantages because exchanges/refunds will be made up to departure time (as compared to three days before departure). We recommend, however, that you purchase the TGV Pro fare or the "Freedom" fare rather than the basic TGV ticket. Several of our clients, who have missed their connection due to late flights, will attest to wisdom of this advice (after having purchased new tickets in the train station).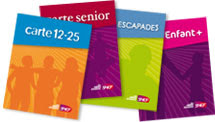 Another advantage to booking on the French site is that it offers an array of special fares for seniors, children, students, families travelling together and a host of savings programs and passes. For example, fares for seniors over age 60 can cost up to 25% to 50% less than the regular one-way fare with the purchase of Carte Senior. The Carte Senior will only cost 56 euros and is valid for one year. The same goes for tickets purchased with special cards for frequent travelers. Some of these savings are not available from the U.S. Most of these special cards can be purchased at the train station before your departure; you will have to fill out a form at the ticket counter and bring an extra passport photo as well as your passport for identification. The savings can be considerable, but be sure you allow enough time at the station for the card to be processed.
We have always purchased our tickets through the French site to take advantage of the special fares and the more liberal exchange/refund policy and, when we have had to make changes, the procedure has been relatively straightforward at the train station. (Of course, two members of our family are fluent in French, so navigating the French site is not difficult.)
The cost of TGV tickets, like all train tickets, varies tremendously depending on the departure time, the season, and the number of stops, among other (quite random) factors. In general, first class seats can run as much as 50% more than second class seats. The cost of a first class ticket from Paris to Aix ranges from 70 to 148 euros. While the seats themselves are generally the same, the difference is that first class gives you reserved seats, while second class seats are on a first come first serve basis. So if you're a family travelling together, that could be a reason for an upgrade. Also, during peak travel times, you may find a first-class seat, when second class seats are already taken.
We mentioned that we have taken our dog, Pal, with us on the TGV. (She loves the ride!) Taking a pet can cost anywhere from around 5 euros for small pets carried in a basket to half the cost of a full-fare second class ticket ( SNCF webpage for travelling with a pet ).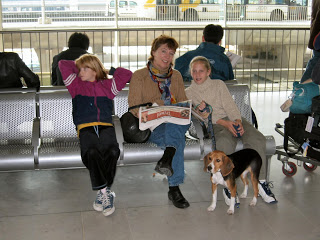 If you reserved your TGV tickets online – regardless of which website you chose – you will need to pick them up at the train station. (If you had your tickets mailed to you, this information will not pertain to you…because you have your tickets!). Your confirmation number (provided in your email) will allow you to pick them up at the station in France. Our experience heretofore has shown that the automated TGV kiosks only work with European credit cards (with a special embedded chip), so travelers using American credit cards have had to go to the TGV ticket counter to pick up their tickets. It appears that this requirement may have been changed as the RailEurope site now states that tickets may be picked up at the kiosk with only your confirmation number (without inserting your credit card). We have not tested this yet so we recommend that you bring not only your confirmation number (in your email), but also the same credit card you used to pay for the tickets online. Do make sure to allow enough time for a trip to the ticket counter, if necessary.
Once you have your tickets (regardless of how you got them!), be sure to validate them at a special machine alongside the track, or you risk a stern lecture from a conductor. The "machine a composter" stands prominently at trackside and looks similar to a time clock in the workplace. Insert each ticket and the time will be stamped on your ticket.
The closest TGV stops to La Bonbonnière, our Lourmarin rental apartment in Provence, are in Aix-en-Provence 45 minutes away, and Avignon 55 minutes away. If you buy a TGV ticket to Aix-en-Provence and you intend to rent a car, be sure to specify that you want to pick it up at the TGV train station, because Aix also has a regular train station in the center of the city, 25 minutes from the TGV station. We always use AutoEurope for our rentals as it is more economical to rent from the US and the voucher they provide saves time at check-in.
Some TGV trains are direct to Provence; others make a few stops and may even require a train change in Lyon. Either way, stops are few and quick and the trains run fairly regularly.
If all of this information is overwhelming—you just want to get to Provence—call your travel agent. Sometimes, that option can be the easiest of all.
In August, it's a good idea to book tickets in advance, as it is peak French summer vacation time and you could be competing for seats with hordes of Parisians escaping the city. But, just think, in just a few hours, you will have traded the urban grit of Paris for the lavender fields, farms, and pale mountains of southern France. Somewhere in Provence, there's a pastis waiting for you!