HOW THE AMERICAN DENTAL ASSOCIATION PAYS FOR MY PROVENCE VACATION
by Susan Manfull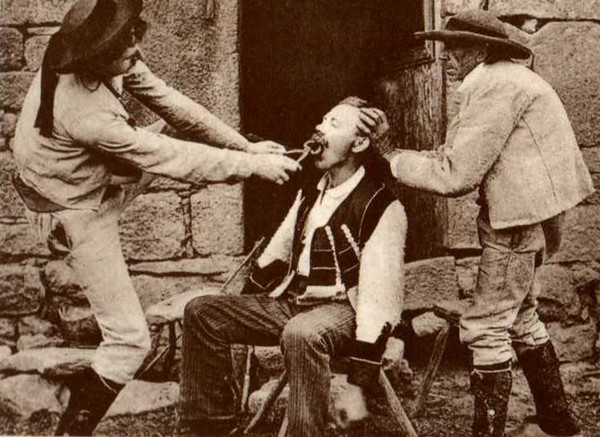 January is when many vacationers begin to hone their plans for their trips abroad. If you are reading this blog, chances are you are going to be visiting Provence. Have you thought about including a stop at the dentist's office? No, I didn't think so. But read on.
In the fall of 2013, an abscessed tooth took me to my family dentist in Connecticut. Upon close inspection, including the standard x-ray, I was dispatched to an endodontist for a root canal. During that examination, preceded by additional x-rays, the specialist charged with saving my tooth discovered that it had a very fine hairline crack, necessitating its immediate removal. An implant was recommended rather than a bridge connection, and I concurred.
The implant procedure, in turn, would require making a bone marrow graft, from a human donor, to build up the jawbone for the implant. This would need to be done immediately in order to have the implant finished in a timely fashion. While I sat in the chair and listened to all of the procedures that were planned on my behalf, I told the specialist that, being retired, I no longer have dental insurance, to which he replied that it wouldn't much matter anyway, given the typical high deductibles for reasonably priced plans.
So then came the $64 (I wish) question. What would this cost me? For his services, the endodontist said, it would be $5,000 or so. Then there was my own dentist (who was to supply and install the titanium screw holding the crown) which he estimated would require another $1,500-$2,000. Before I could reply, he stepped out of his office for a minute and his assistant volunteered that had her 80-year-old grandmother learned that an implant would cost her $7,000 she would surely say to pull the offending tooth.
It was the first moment I smiled since alighting into that plush contour chair. When the endodontist returned, I said I was ready to have him remove the tooth and do the bone graft, but that his services might not be needed after that. When he furrowed his brow I explained that I had a dentist friend in France who I would consult before proceeding further. The bill for this initial visit was $1,325. His services were indeed not needed after that.
In June of 2014, while on vacation in France, I began my endodontic work related to that missing tooth. Then, the implant itself was done a year later, this past June, while also on vacation in France. Because we have family in Lyon, always our first stop on vacation, it was easy enough to find good dentists and endodontists. We would continue on to Provence once I wrapped up my dental work for the trip.
You may be thinking that your definition of "vacation" does not include sitting in a dentist's chair. Moreover, leaving home for your dental work may be disconcerting to you. For me, my vacation in Provence always takes me "home." I am reminded of my youth in Twinsburg, Ohio, a sleepy Cleveland suburb in the Factory Belt of Northeastern Ohio. It was the 1950s, a time when we knew our entire class intimately—all twenty or so classmates that, minus a few, eventually graduated together—and summer vacations consisted of daily farm chores followed by a mile-and-a-half bicycle ride to the town square where there would likely be a pick-up game of softball in progress. Tall glasses of lemonade were the highlight of a long, hot summer day. It never seemed boring, though I shudder to imagine what my urban-raised children would say.
I recall one fall, possibly in eighth grade, when we returned to school and found we had a new English teacher, who was also new to Twinsburg. She gave us what undoubtedly seemed to her to be a logical writing assignment, "What I Did This Summer." Her plan was to have us share stories of the family vacations she envisioned we took, away from town. Her plans went awry, however, when she discovered, I think, that there was nothing of note to be read. Nobody ever went away in the summer.
For the past twenty years, I've been able to recapture those early days when life moved slowly, punctuated by simple pleasures. With no farm chores to occupy my mornings—the vineyard across from the house is tended by others–I can fill my time with reading, writing postcards, and trips to local markets. Pétanque has replaced softball, and rosé blots out any thoughts of lemonade.
Thomas Wolfe notwithstanding, I have learned that for an all too short, yet meaningful, period each year, I can indeed go home again. True, it comes at a high cost, given air travel, auto rental, vacation home, and related expenses. Retirement advisors might frown. But since the summer of 2014, happily, our fiscal concerns have been greatly diminished, thanks to the American Dental Association. (You, too, may overcome any reluctance to visit the dentist while on your vacation in Provence.)
As luck would have it, another abscess developed in April of this past year, and that second tooth was removed in Lyon, again this past June, while on vacation. A temporary tooth fills the gap now, until we return to France in June 2016 for the implant. On vacation, of course.
While in Provence last summer, my wife and I made the acquaintance of a dentist in Le Tholonet, east of Aix-en-Provence, closer to the Luberon than Lyon. He had worked for a time in New York and was curious the costs of implant procedures in the U.S. these days. I told him my story, then casually asked his price. My prospective new best friend dentist replied €2,500. Total. The only notable difference between French and Stateside implant procedures is that French dentists believe that a bone marrow graft is rarely needed and, if required, the preferred source is bovine, not human. They also recommend at least a six-month waiting period, after removing the tooth and before adding the implant (which works well with my vacation plans).
A quick back-of-the-envelope cost comparison suggests that two weeks in Provence costs about $4,000, including air fare for one, car rental, house rental (double occupancy), food and wine (friends included from time to time). Add to that a French implant cost at $2,800. It appears that, all told, I beat my Connecticut implant bill by $200.
If U.S. malpractice insurance continues to sky-rocket, and more dentists go upscale in the design and décor of their physical facilities, chasing after the vaunted Wells Fargo award, "Dental Office of the Year Award" (don't even get me started on that one), then I expect to see that difference quadruple in coming years in favor of French dentistry. Until my niece finishes dental school, the dentist's office will likely be a regular stop on our French vacations. Who knows, I may even be able to add an annual winter trip to Chamonix into this mix.