Provençal Pairings: Wine with Food
Babette's Blunder? Or mine?
by David Scott Allen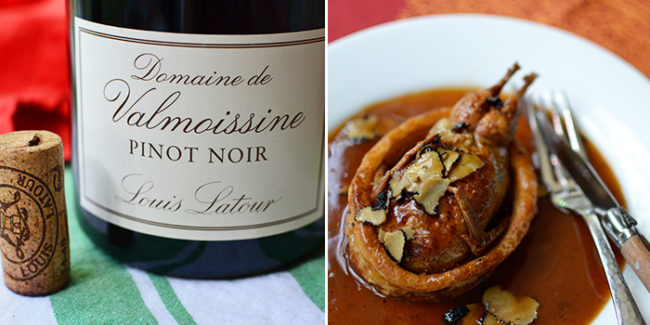 Winery: Maison Louis Latour
Cuvée: Domaine de Valmoissine
Appellation: IGP Var
Type: Red
Vintage: 2012
Grape Varieties: Pinot noir (100%)
Alcohol: 13.0%
Average Retail Price: U.S. $13.00, France €12.50, Great Britain £8.85
In the 1987 film Babette's Feast, our protagonist serves her quail dish (Cailles en Sarcophages – the recipe can be found on Cocoa & Lavender) with a Pinot noir. Specifically, it is an 1845 Louis Latour Clos Vougeot. I decided to do the same, but found a more recent Pinot noir vintage from the Verdon, in the Var: a 2012 Louis Latour Domaine de Valmoissine. Honestly, this seemed like a great idea to me.
After the tasting, I had to ask myself, "What was Babette thinking?"
Backing up… We opened the bottle several hours before serving; dinner was served and the wine was poured. To me, the color was more that of garnet – not ruby, as the vintner's website states. On the nose we were delighted with the cherry and cherry pipe-tobacco. We anticipated the first taste of this well-heeled wine. Slightly tannic and light on the tongue, our first sip produced subtle notes of red currant, citrus, rum, and spices – namely cloves and mace. We loved it.
Then we tasted the quail. We sipped again. What made Babette think to serve such a light, seemingly-acidic wine with this dish? Was Pinot noir such a different wine in the late 19th century? Was it deeper, bolder, and richer then? Suddenly the quail ingredients all added up for me: a stuffing of foie gras and truffle, the birds wrapped in buttery pastry, a Madeira sauce. This was not a combination for a light wine such as Pinot noir. To me, it seemed as though the Madeira particularly made the wine seem acidic. This dish begs for something deep, round, and intense, perhaps even a hint of sweetness.
I should have known better. I know to pair foie gras with a Sauternes. I know game dishes are best served with bold wines. I know that Madeira is sweet, almost syrupy. I should never have watched that clip of the movie…
After all was said and done (meaning eaten and drunk), I went back and looked at the clip again. And I looked up the Clos Vougeot again. Still produced, it is a wine from the Burgundy region (the epicenter of Pinot noir); its terroir is so different from that of the Var. Also, Babette's Clos Vougeot was and still is fermented in oak barrels, and our Domaine de Valmoissine in steel. Aging in oak would provide hints of vanilla and honey, perhaps making for a better pairing with this dish. That is a big difference, offering me yet another opportunity to learn from my pairings. Pay attention to the all details; all Pinot noir wines (nay, all wines) are not the same. A list of qualities to keep in mind: terroir, aging (oak or steel), grapes, and vintage.
In the end, this not-so-perfect pairing was my doing, not Babette's. In good news, the Domaines de Valmoissine Pinot noir is a lovely, light and fruity wine, that will pair beautifully with salmon, simple roasted meats or chicken, or dishes served in cream sauces, where a bit of acidity balances well with the cream and fat content. It would also make a lovely summer sipping wine.
Note: I also made the dessert from Babette's Feast for Christmas dinner: a baba au rhum. In addition to the pairing notes above, there is a side wine pairing that was unintentional. I served the remainder of the Muscat de Beaumes de Venise with the baba, and it was an excellent pairing!