CLOS DE L'OURS: A CONVERSATION WITH CO-OWNER MICHEL BROTONS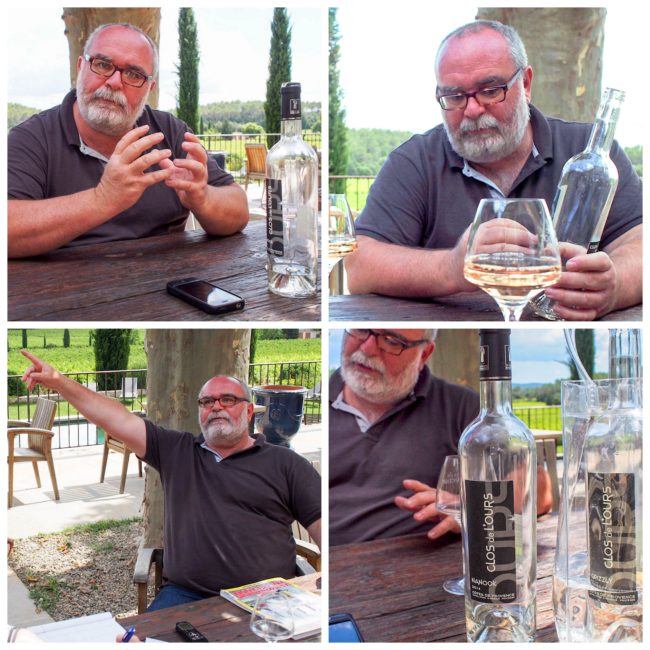 Barely three years old, this winery was recently included in "Les domaines incontournable en Provence" in La Revue du la Vin de France.
"I'm not always sympathique," Michele Brotons, co-owner of Clos de l'Ours told me during a visit to this domaine this past summer.
"Polite conversation bores me," Brotons added to further justify why family and friends have long called him "l'Ours," which translates into "the bear" in English.
So firmly ingrained in the persona of Monsieur Brotons, reinforced no doubt by his rather burly physique and teddy bear face, it was only natural that l'Ours would feature prominently in the naming of a venture so personally important to him and wife Fabienne. Never mind that the Anglo Saxon market would need a French lesson to remember the name of the domaine.
"It is our identity," Brotons said, acknowledging they hadn't considered the commercial impact of the name. Although given the quality of the wines this vineyard is already producing, remembering the vineyard's name might not be a problem after all.
Clos de l'Ours was brought to life just a few years ago, in 2012. Located just south of the Provençal village of Cotignac in the Var, in the northern tier of the appellation Côtes de Provence, this gorgeous property with 13 hectares (32 acres) of vines, a lovely mas, and a charming guest house is the culmination of Brotons' life-long dream. Fortunately Fabienne shared this dream—or at least wholeheartedly supported it—as she is clearly an integral part of this indefatigable duo.
"When I was 25, my dream was to be a vigneron," Brotons said. "I wanted to have a vineyard."
In 2006, having launched their two children, the Brotons sold their jewelry business in Marseille as part of their plan to realize this dream.
"I was 48, I sold my little, little company and the family house to buy a vineyard," Brotons continued. "We sold all we had and then we went to the bank." That was in 2006 and two years later they began their search for the right vineyard.
In 2009, the Brotons found the vineyard they now own, but it would take three years for the transaction to be consummated.
"We waited for this one," Brotons told me. "We didn't visit another vineyard during the three years." Although during this time, Brotons said he was very fortunate to have had several guests—from two of the region's most venerable vineyards—visit the property to weigh in on its potential and, to these men, Monsieur Brotons will be forever grateful. (More on these men to come but suffice to say here that their input was instrumental in the Brotons' decision to be patient.)
In 2012, the Brotons took possession, christened the vineyard Clos de l'Ours, renovated the mas and the guest house—which opened in spring of 2014 as part of the "Châteaux and Hotels Collection—and had their first harvest. It must have been a busy year, but with a drive fueled by heart and passion, Michel and Fabienne Brotons realized their dream. The accolades and awards have been pouring in since then.
"We are very lucky," Brotons continued, in a distinctly self-effacing manner (hardly reminiscent of his namesake, I might add). "We knew it was a good vineyard, but it is very much more than we thought."
"Our luck is in the ground and the vines and with our œnologue and teacher," Brotons said, sentiments that would be echoed throughout our interview.
Daniel Abrial, renowned winemaker from the Bandol appellation, has overseen for winemaking at Clos de l'Ours since its inception and, in fact, was one of the early visitors to the property who endorsed the purchase. Both œnologue and teacher, Brotons credits Abrial, unequivocally, with the success of his wines.
"We are so lucky to have Daniel Abrial," he said. "If the wine is good, it is because of him," he added. "This man is so incredible for us."
With a pedigree that includes the most important vineyards in Bandol (e.g., Domaine Tempier, La Bastide Blanche, and Domaine de la Tour du Bon), it is not surprising Abrial is bringing forth the full potential of Brotons' property. Daniel Ravier, Director of Tempier, who also visited the Cotignac property early on and appreciated its latent qualities, highly recommended Abrial.
"We just told Daniel Abrial what kind of wine we wanted…we wanted to taste the ground and the vines in the glass," Brotons said, chuckling, "Like Bandol." Brotons said Abrial agreed.
A good œnologist has a special affinity with the terroir and the vines, and the scientific know-how to realize the synergistic potential of the grapes that eventually find their way into the wine and your glass, even if you will not be pouring it into that glass for many years to come. This astute œnologist quickly understood how to bring the best out of the grapes for the Clos de l'Ours Grizzly rosé. Guide Hachette des Vins gave the Brotons' first vintage (2012) one star (out of three); the second vintage (2013) two stars; and the third vintage (2014) one star.
"We were good students," Brotons said. "We learned because we listened to Abrial."
Son Fabien, who joined the family business in 2013, has also been learning alongside Abrial, about all matter related to winemaking, from the vineyard to the cave and he now manages the cave and oversees vinification.
The Brotons family, with the support of Abrial, did not follow the current trends in Provence regarding the proportion of production to be allotted for each color of wine. In the heart of rosé country, in the midst of the rosé revolution, devoting 40% of production to red and white may be a bit unusual. However, Abrial, whose experience would suggest an in-depth understanding of the types of terroir that will produce memorable red wines, believes that the vineyard will ultimately be well-known because of its red wines. Brotons concurs and, after tasting the two top-tier red wines—Grizzly Rouge (2013) and Ursus Rouge (2012)—I do, too.
My husband and I joined the Brotons and another couple for a casual pizza dinner—actually more of a cover for tasting the wines—and we were treated to the two reds (as well as the rosé and the white). We gathered around one of the tables that sits under the plane trees, overlooking a tranquil swimming pool, and a verdant sea of vines, dotted with cypress trees here and there. I am always astonished at how long the summer days linger in Provence and on this reposeful June evening, it was well after 9 p.m. before the day gave way to night.
The domain's rosé, the first of the three colors to garner awards for the inchoate winery, is just delightful. I first tried (and loved) this (2014) bright, pale pink rosé at the "Provence in the City" tasting in New York last March. Called the Grizzly rosé, a name that belies its elegance but plays to English-speaking folks who might begin to associate the domain with bears or ours, it is a blend of Syrah, Grenache, Carignan, Cinsault, Mourvèdre, and Rolle and is very enjoyable. A fresh nose of just the right amount of fruit with hints of citrus that continues on the palate, adding subtle flavors of white flowers and making a surprisingly complex rosé. Very well balanced. The finish is long. As Brotons said, "Swallow and all these good tastes are still there."
Taking skills from their last career as jewelers—such as diligent attention to detail—the Brotons, like Abrial, insist on meticulous attention to all aspects of wine making. For example, as in the other top rosé-producing domains, all harvests are done early in the morning by hand (no machines) and the grapes are "carefully, carefully" transported in 30-kilogram boxes to avoid broken skins. The grapes are pressed "very slowly and not too much" in order to extract maximum flavor while maintaining the quintessential pale color for which Provence is famous. Fermented in stainless steel tanks with temperature regulation and matured on fine lees. The final product is a bargain at €12.00 (about $13.00) in France.
"A lot of little details equal quality," said Brotons, adding, "It is easy to make rosé but hard to make good rosé."
My husband and I—along with a few friends—tasted this wine again last fall and confirmed our initial very favorable impressions. I like this rosé very much and included it on my list of favorite 2014 rosés ($15 to $25).
The white wine, in keeping with the bear theme, is called Nanook, the Inuit name for "Polar Bear" and, in that culture, Nanook is considered the master of bears. This wine is certainly a master of Rolle (50%) and Clairette (50%). Rolle, called Vermentino in other parts of the world, and Clairette are grape varietals that have been long and widely grown in Provence. This domain's vines are about 30 to 40 years old. Rolle appears to be enjoying an upswing in interest these days while Clairette appears to be losing favor with winemakers in Provence. However, Brotons, in contrast, sees his "little square of Clairette" as his "little treasure".
"The white was a great surprise," Brotons explains. "We had barrels to put the wine in but it was so good—so minerally—that we didn't use the barrels." (Fermentation was in stainless steel.)
The Nanook Blanc (2014) has, as one person said, its own personality. It is a light gold color with tinges of green.  It is elegant, fresh, and, for €13, quite intriguing. It has a fragrant nose that suggests floral aromas; lots of citrus on the palate layered on a strong mineral mouth feel; and a distinct finish of citrus and honey. Well balanced with 13% alcohol. Food rounds out this wine. At home, we enjoyed it with a little smoked salmon.
For the 2015 vintage, Brotons said that they are experimenting with wood. The bulk of the juice went into stainless steel but a small amount was saved for various types of oak.
The Grizzly Rouge (2013) is a blend of Syrah (35%), Grenache (30%), and Mourvèdre (35%) from old vines (average age is 45 years and, according to Brotons, some are as old as 65 years) with low yields. With grapes that are highly concentrated, coupled with a long maceration and aging in oak barrels on fine lees for 12 months, this elegant wine has several layers of flavor.
The wine is a quite dark Garnet color, has a medium body, and enough structure to effectively support its 14% alcohol. The long maceration and fermentation are in stainless steel followed by 12 months in oak. Black fruit, hints of licorice, and definite spicy aromas dominate the nose and palate. The finish is very pleasing. I agree with Brotons that the wine is still on the young side and that a few years in the cellar would soften the tannins to perfection. The Grizzly went perfectly with the pizza although I think a juicy burger or leg of lamb would be divine. The €18 price tag is particularly pleasing to the pocket book.
The (2012) Ursus (which means bear in Latin) is a much bigger wine than the Grizzly. This full-bodied, well-balanced and structured, dark red blend of 90% Syrah (from what Brotons considers the best vines on the property) and 10% Mourvèdre is a complex and intense wine that begs for a big hunk of meat to tame it. There is a very aromatic nose with a palate reminiscent of black fruit and vanilla, hints of earthiness and maybe olives that carry through on the long finish. It has been likened to the Hermitage and Côte-Rôtie wines of the Northern Rhône Valley. This wine will undoubtedly benefit from more time in the cellar but, with decanting and the right food, it promises to be immensely enjoyable even now.
This wine is only made when the quality of the grapes warrant it. They did not produce a 2014 vintage, for example, due to the excessive rains of that year. The production is small—around 1000 bottles for 2012 vintage—and the price tag is significant at €39, although I have to confess that I regret not picking up some for our cellar. Brotons anticipates as many as 3,000 bottles from the 2015 vintage (which, he says, has all the earmarks of a really good year!).
These reds are going places. Already, La Revue du la Vin de France included the Grizzly among only eight other red wines in Côtes de Provence that are said to be "incontournable". That is, not to be ignored. Hachette, the wine guide that has bestowed stars on every vintage of the Grizzly Rosé, gave the Grizzly Red 2014 one star. Betanne et Desseauve, in their 2016 review of their extensive tasting of painstakingly selected French wines, gave Ursus (2012) a score of 15 out of 20 and the editor's "Coup de Coeur."
As many as seven Michelin-starred restaurants include Clos de l'Ours wines, especially the reds, on their wine lists. We found Ursus on the wine list at Alain Ducasse's Hostellerie de l'Abbaye de la Celle last summer, for example. Now, even more gastronomic restaurants list Brotons' wines. For example, you can enjoy Clos de l'Ours wines at Arpege (3 stars) in Paris and Les Crayeres (2 stars) in Reims.
Finally, an early vote of confidence in this vineyard's potential came from Eloi Dürrbach of Trévallon, a man who unquestionably knows about red wine in Provence. Renowned internationally for his red wine and considered by many to produce the best red wine in Provence, his endorsement of the value of this vineyard was particularly important to Brotons.  Ever cautious not to drop names, Brotons was initially reluctant to allow me to include any reference to Dürrbach's visit but agreed only if I could effectively portray how truly grateful he is to Dürrbach for his encouragement. Clearly, Brotons is indeed extremely grateful and feels very fortunate to have made the acquaintance of such an exceptional winemaker. I wonder what Dürrbach would say about the red wine Brotons has produced thus far.
"We are not well known," Brotons told us. "Few people speak about us…but [we have had] a good beginning," he smiled.
"In Provence, there are some vineyards that make very, very good red wines…and maybe we will be with these vineyards [someday]," Brotons said, as he looked out on the vineyard that was once just a dream. "The grounds and vines are very good to do something good for red."
Brotons fulfilled his dream not far from where he grew up just north of Marseille and not far where he and Fabienne raised their children in Cassis. This is a close family. Son Fabien's decision to join the business is very pleasing to Madame et Monsieur Brotons. Interestingly, Fabien is about the same age that the elder Brotons was when he first dreamed of owning a vineyard. Daughter Emilie currently works in a winery in Australia and one can't help but wonder whether she will eventually return to Provence to contribute to Clos de l'Ours operations.
One of my greatest pleasures in writing articles for Provence WineZine is to have the opportunity to meet people who are so impassioned by doing what they are doing. What is it about making wine? Michel Brotons' self-described ours-like personality was nowhere to be seen in the 24 hours my husband I spent at Clos de l'Ours. Perhaps wine brings out the best in people.
Looking ahead to the 2015 vintage and what to expect, in a recent telephone conversation with Brotons, he said that despite a complicated harvest—a hot summer with little rain and everything ripening quickly and simultaneously—he is excited about the 2015 vintage. It looks like another good year for the white and the 2015 rosé will be much like the previous year's but with more finesse. It sounds like an especially good year for the reds. Production will be increased because grapes previously reserved for rosé were diverted to red.
"Our winemaker tells us that we don't have to dream [any more]," Brotons summed up, shrugging his shoulders and smiling unpretentiously. It seems that many of folks concur with this assessment. And, I suspect that fans of these wines will not, after all, require French lessons to remember Clos de l'Ours.
Notes:
CLOS DE L'OURS
Fabienne and Michel BROTONS
4776 chemin du Clos du Ruou
83570 COTIGNAC
Phone: + 33 4 94 04 77 69
Email: closdelours@gmail.com
GPS : 43.494775 ,6.155505
A lovely guest house, part of the Chateaux and Hotels Collection, also shares the property.  Each beautifully adorned room faces the vineyard.  I will be writing about our very relaxing stay here in more detail in an upcoming article in The Modern Trobadors.  For more information about the guest house, please see their website, www.closdelours.com or call +33 (0)4 94 04 77 69
Unfortunately, Clos de l'Ours wines are not available in the United States… yet; they are still looking for a distributor. (Hello out there, distributors!!!) The wine will be available in the United Kingdom soon.
Clos de l'Ours La Griffe, the domain's entry-level red, is no longer produced after the 2014 vintage.