PATRICIA WELLS IN MY KITCHEN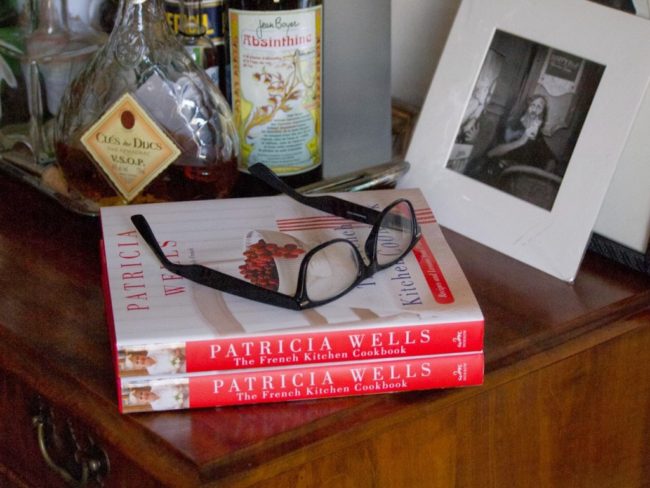 Okay, Patricia Wells is not really in my kitchen. But her new book, The French Kitchen Cookbook: Recipes and Lessons from Paris and Provence, has occupied a prominent place in my kitchen since I met its author last week in Darien, Connecticut.
Wells made a stop at the Darien Library as part of her cross-country book tour to promote her newest entry in to the category of French cuisine cooking. The event, sponsored by Barrett Bookstore, packed the room with close to 200 people. Mostly women and many toting copies of earlier published books, this was an enthusiastic crowd with lots questions that demonstrated a depth of knowledge about her recipes seldom seen in such a venue. (For example, one of her first questions was from a woman, clearly a long-time fan, who wanted to know if Wells still maintained that the beef for boeuf bourguignon doesn't need to be seared. "In a boeuf bourguignon recipe [in a much earlier] cookbook, you did not say to sear the meat…do you still stand by that?" Wells couldn't recall the recipe in that particular cookbook, prompting another fan to volunteer that she happened to have brought along the cookbook in question for Wells to sign. I don't know if they resolved the issue of searing or not searing the beef and I didn't note the name of the cookbook so I can't verify the claim…)
Wells, looking more Paris than Provence, dressed in a lovely black, soft leather skirt that dropped just below the knee, a black sweater with fabric trim, black opaque hose, and black patent leather ballet flats. She was the picture of elegance. Standing at the podium, she began the evening by addressing a question she said she is often asked: "How do I learn to cook?"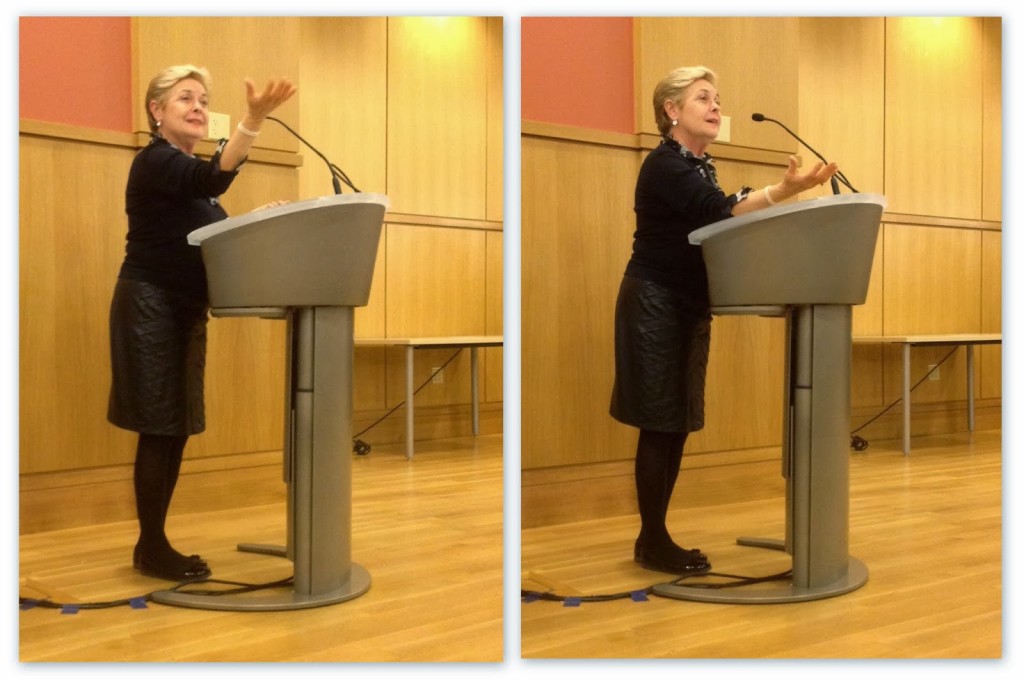 "Practice, practice, practice." Wells said that learning to cook is like learning to play the piano or to play golf, or tennis. So, she advises her novice students to think about what they most like to eat and to come up with "ten recipes [they] would most like to perfect." For example, if
tarte tatin
is on the list, Wells said to "make it over and over until you perfect it."
"By the time you get to ten, you will have quite a repertoire." And, then you can start all over with ten new recipes.
Even though I cook quite a bit (and I don't think most people would turn down a dinner invitation from me), I thought this was a really good idea, especially for people who are still becoming comfortable in front of a stove. As Wells said, such an approach would make entertaining much easier as you know what to put on your grocery list and how things are likely to unfold in the kitchen.
Wells then went on to "rules to be followed in the kitchen" or, as she writes in her new book, "truc[s] that will lead to greater success and satisfaction in the kitchen."
Wells talked about some things that seem obvious but, I think, bear repeating occasionally. She emphasized the importance of reading the recipe first (I elbowed my husband). She stressed the value of using the right utensil—such as the right knife or pan—and said that people tend to use pans that are much too small (I elbowed by husband again). And, she reminded us to "taste and taste and taste" Wells suggested keeping a jar of tasting spoons nearby
"Plan how things should taste together and look together on the plate," Wells also reminded us. She suggested that this takes some practice, too. I think this is an especially good investment of time, the proof of which is on the plate. The individual components may be very good but they simply don't go together. Pumpkin soufflé just doesn't complement almond-crusted sole filets (my example) and the two preparations together are not aesthetically appealing either (which is another very important consideration, according to Wells and I could not agree more). Wells prefers working with white dishes and a white or solid-color background. I can't say that I entirely agree although I appreciate the allure (and may have to invest in some white dishes!).
Wells is a stickler for cold plates and bowls for cold dishes and warm plates and bowls for hot dishes. She keeps a regular stash in the freezer and is prepared to warm others when required. Thanks to my mother, I have a plate warmer but there is no room in the freezer for a stash of much more than the frozen berries and bananas that already dominate the narrow shelves!
The truc that most struck home with me was Wells' suggestion to prepare a mise en place before embarking on the recipe. This means "everything in place." It's such a good idea to measure everything ahead of time that I don't know why I don't do it more often. I usually do this with Chinese food—there are so many ingredients that need to be chopped, shredded, measured and otherwise dug out of the cupboard—but I don't usually set out all the ingredients for recipes for other cuisines. (Am I not patient enough?) Wells sang the virtues of this approach in her talk and in her book, saying that missing ingredients are more easily noticed and that keeping the kitchen clean is more easily accomplished. Okay, okay, I'll endeavor to begin with this step!
In preparation for this post, I decided to spend a week in the kitchen with Wells' new cookbook. I would make something each day and, for each recipe, I would prepare a mis en place. I made some terrific meals from the recipes in her new book and I can attest to the merits of incorporating mis en place into your repertoire of culinary skills.
Wells' book includes recipes for appetizers, salads, soups, main meals of seafood, poultry, meat, and vegetables, breads, desserts, and more. Described as recipes "inspired by the vibrant Provençal countryside and the bustle of Parisian life, I see the influence of North Africa and of Asia, particularly Japan. (In response to a question from the Darien audience, Wells said that she has seen, in recent years, the influence of Japan (e.g., the juice of yuzo) seeping into Parisian cooking.
I have eight cookbooks and two restaurant guides (that include recipes, too) written by this remarkably talented woman. I have made many of her recipes over and over again. Most of her recipes are simple and yet yield anything but simple meals. Well, simply delicious I suppose we could say.
Wells' list of accomplishments and honors is long and storied: former New York Times reporter, restaurant critic for the International Herald Tribune, the only woman and the only foreigner to work as restaurant critic for the well-known French weekly magazine L'Express, author of at least a dozen cookbooks, well-known culinary instructor and founder of her cooking schools in Paris and Provence, and recipient of four James Beard Awards as well as the Chevalier de l'Ordre des Arts et des Lettres (for her contributions to French culture). And yet, she is infinitely approachable and genuine.
"It's her Midwestern roots," said Germaine Juneau, friend of mine—we actually met in Lourmarin a few years ago—who has taken two classes from Wells. "She is from Milwaukee, Wisconsin," elaborated Juneau (who also hails from Wisconsin).
I would love to take one of Wells' classes, especially the one on truffles (already full for 2014). The courses are, by most people's standards, expensive. For example, the truffle course is $5500 for the five-day course, exclusive of lodging, but Juneau, who took the truffle course, said "it was fantastic and well worth it—top drawer, complete attention to detail, and fun." (Wells' other courses in Provence are $5000 for the five-day instruction.)
Juneau said that she loved the opportunity to be immersed in and to really experience Provençal cooking but, in a broader sense, "to be part of the terroir" of the region. In the truffle course, they went on a truffle hunt, to the truffle market in Carpentras (where men opened their coats to expose their truffles), to a truffle-canning facility, and ate truffles every day. Wells includes regional wines with every course, another highlight of the class, according to Juneau.
Like many students, after taking one course, Juneau signed up for a second another (taught by Wells in Vietnam).
Maybe someday I will enroll in one of Wells' classes and find myself in her kitchen! Her home in Provence, an 18th century farmhouse called Chanteduc, is in Vaison-de-la-Romaine, about 100 kilometers (60 miles) north of Lourmarin where we hang our hats in Provence (and used to keep our pots and pans!).
In the meantime, as Wells writes in her new book, "In the end, no matter where we are cooking together, it really is all about the joys of combining good food, good wine, and friends all together around the table."
__________________________________________________________________
NOTES:
Patricia Wells' cooking classes are described here: http://patriciawells.com/cooking. To read more about Wells' book on truffles, Simply Truffles, see my post: https://www.themoderntrobadors.com/2012/01/longing-for-black-truffles-consoled-by-fragrant-memories-and-patricia-wells-simply-truffles/
To see Wells' recipe for my very favorite fig tart, see my post: https://www.themoderntrobadors.com/2013/08/figs-in-provence-a-cause-for-sleuthing-celebration-and-a-lingerie-show/
Germaine Juneau, who is now living in Paris "doing her 'junior year abroad' in retirement," is writing a blog for friends and family but if you want to have a peak, you are welcome to pop by www.Germainedujour.com. Her Paris kitchen may not be conducive to cooking but she is thoroughly enjoying the markets.
Adam Gopnik wrote my favorite book about the meaning of enjoying food and drink around the table, sharing with family, friends, and those who may become your friends by the end of the meal. See my post about The Table Comes First: Family, France, and the Meaning of Food: https://www.themoderntrobadors.com/2012/01/adam-gopnik-is-right-the-table-comes-first/