SAFFRON: THE OTHER FIELD OF PURPLE IN PROVENCE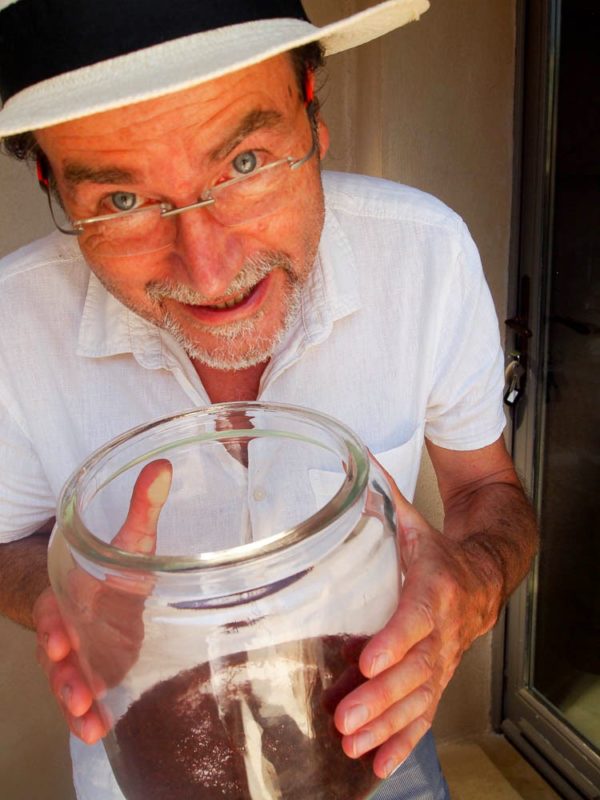 Deep in the heart of the pine, oak, and garrigue covered forests that lie between Mont Ventoux and Les Dentelles de Montmirail, grows a little over 1000 square meters of Crocus sativus. There, around 200,000 flowers are harvested every fall, from which 1000 grams of the most expensive spice in the world is produced.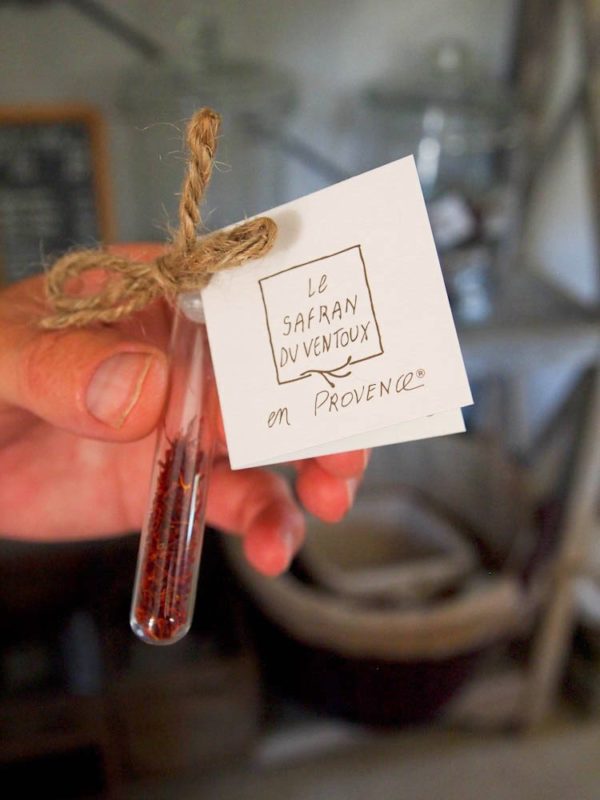 A tube of 0.3 grams of saffron (9 euros). Photo: Pamela J. O'Neill
It was the allure of saffron that drove Pamela O'Neill and me to ascend the narrow roads that traverse this area of the Vaucluse—west of Orange, between Vaison-la-Romaine to the north and Carpentras to the south—on one of the hottest days thus far this summer. Up past the perched village of Le Barroux—famous for its formidable 12th-century châtéau—and on to an even smaller road, we continued our climb up the hill in search of saffron.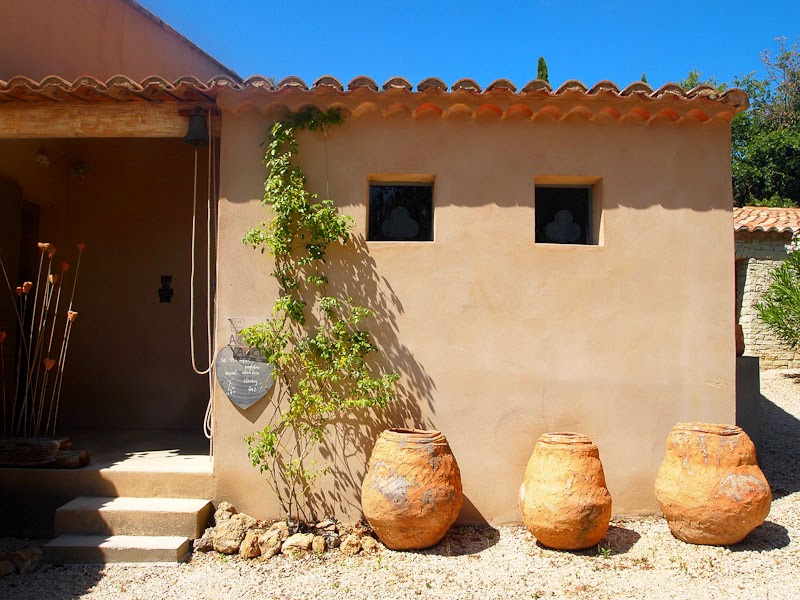 The boutique at L'Aube Safran. Photo: Pamela J. O'Neill
Our efforts were duly rewarded—and our thirsts quenched—when we met François Pillet who, with wife Marie, owns the safranière and the very fashionable but low-key bed-and-breakfast, L'Aube Safran.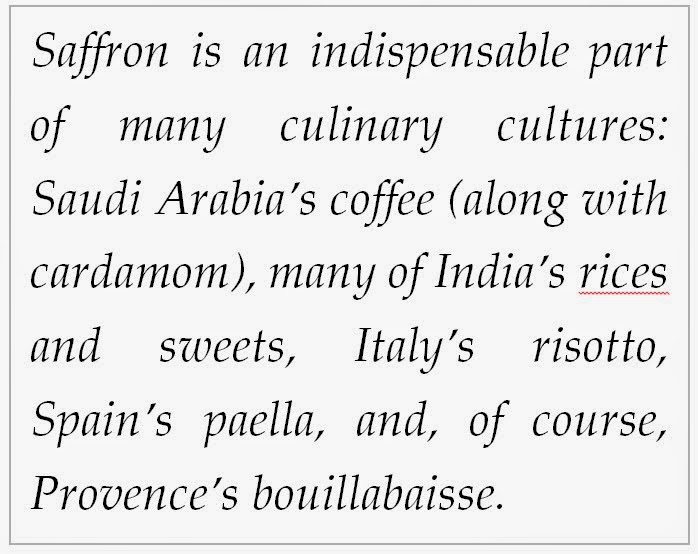 Grapevines, rows of lavender, olive groves, and even oak groves inoculated with black truffles—all agriculture for which Provence is famous. But, saffron?
I had no idea that, from the 14th to the 19th century, this area of France was the country's third largest producer of saffron (safran, in French). Severe frosts and war, according to one source, apparently led to the demise of saffron farms although I'm sure the high cost of hand-harvesting this fragile crop was another.
The extreme weather patterns of this area of Provence—hot dry summers, cold winters, and rainy autumns—coupled with the limestone, porous soil of this area make the Pellet's L'Aube Safran property ideal for growing Crocus sativis.
The Pillets learned about Provence's history of cultivating saffron when their original plans for changing their careers did not work out. In the early 1990s, François and Marie left their respective jobs in Paris—as architect and interior decorator—to study winemaking in Carcassonne (located in the nearby region of Languedoc-Rousillon). They wanted to live in the countryside and produce their own wine.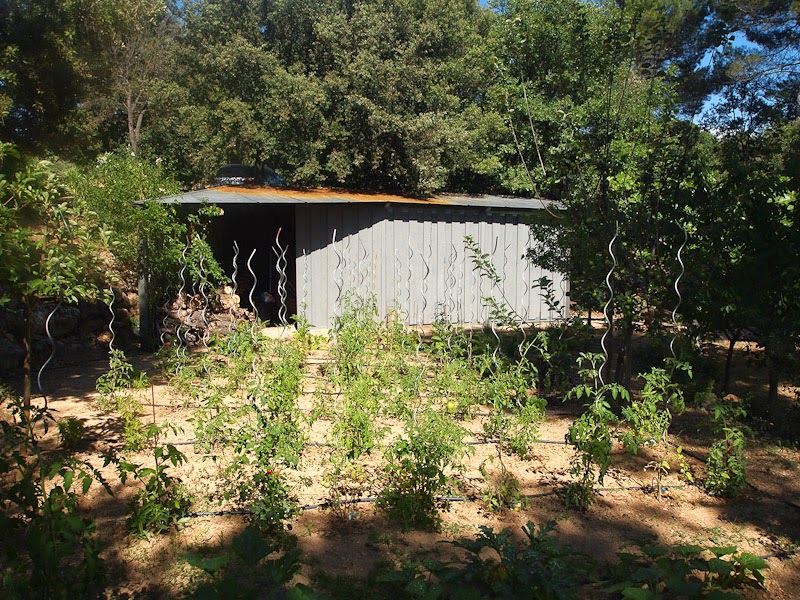 The Pillet's garden of tomatoes. Photo: Pamela J. O'Neill
Upon graduation, they studied organic farming in the Vaucluse and decided they wanted to make this area their home. Finding a vineyard to purchase in the Vaucluse in the mid-1990s, however, proved impossible, leading the couple to pursue a completely different agricultural path and to open a smartly appointed inn.
François told us it was "serendipity." They found a two-hectare plot of land and began plans for building an inn and cultivating saffron. In 2003, they moved in.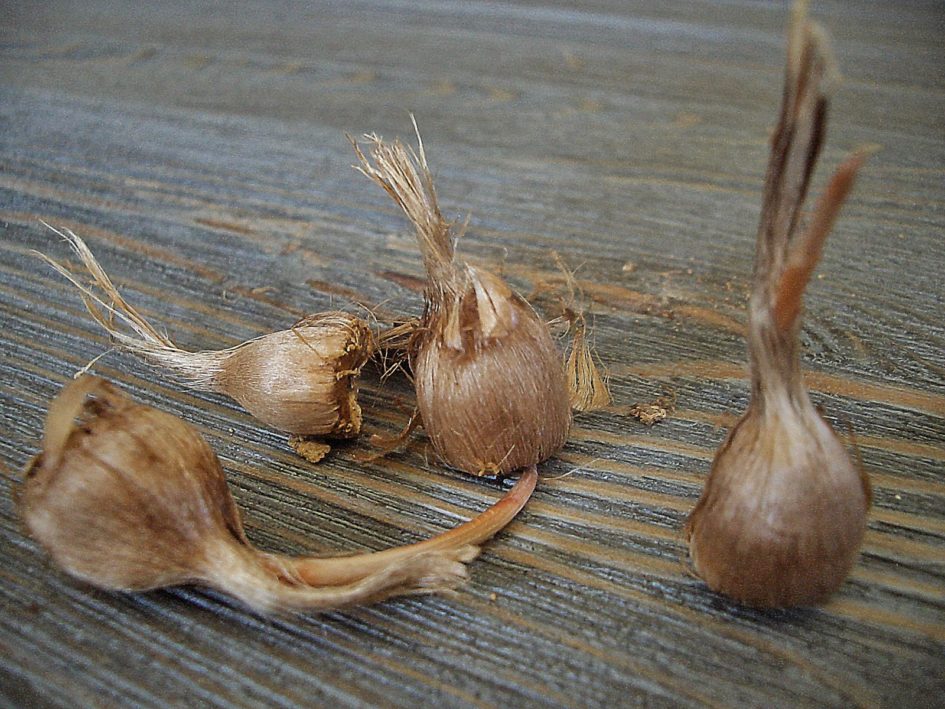 After exploring the use of bulbs from Spain and Morocco, the Pillets settled on bulbs from Holland.
Photo: Pamela J. O'Neill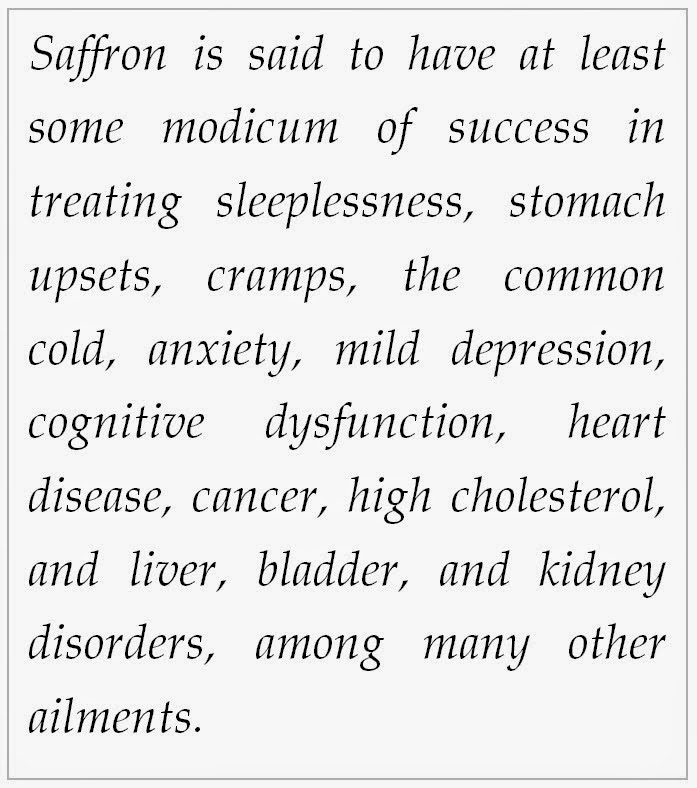 Cultivating saffron is an immensely intensive labor of love. The sowing of the crocus bulbs (technically, corms) is done by hand—requiring the farmer to remain in a bent position for a long periods of time during the warm days of late spring into early summer.
Harvesting is also done entirely by hand, squatting to reach the flowers that may rise only 15 centimeters (6 inches) from the ground. Bundling up in warm clothes is a must as the harvest takes place in October into November. Picking begins at dawn when the flowers first open and must be accomplished quickly because the flowers wither rapidly under the warm sun, causing the precious stigmas (also called filaments) to lose their brilliant color and unique aroma. It is the stigmas that will be eventually transformed into saffron.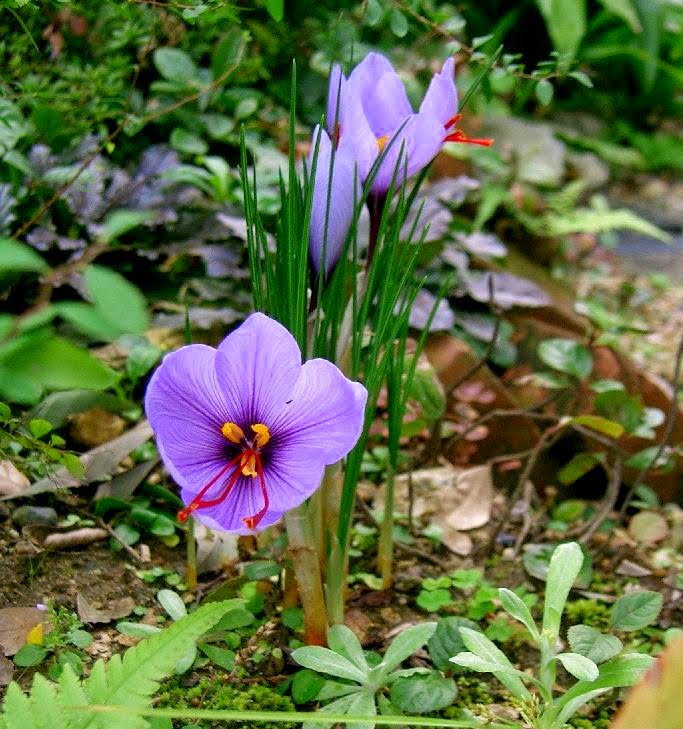 Crocus sativis. Photo: Wikipedia Commons
At the peak of harvest, about 5,000 to 8,000 flowers are harvested each day at the Pillet's farm. A total of about 200,000 flowers are harvested from about 60,000 bulbs planted across six parcels of land (totaling 1000-1200 square meters). So, according to my calculations, the harvest lasts as long as 40 days.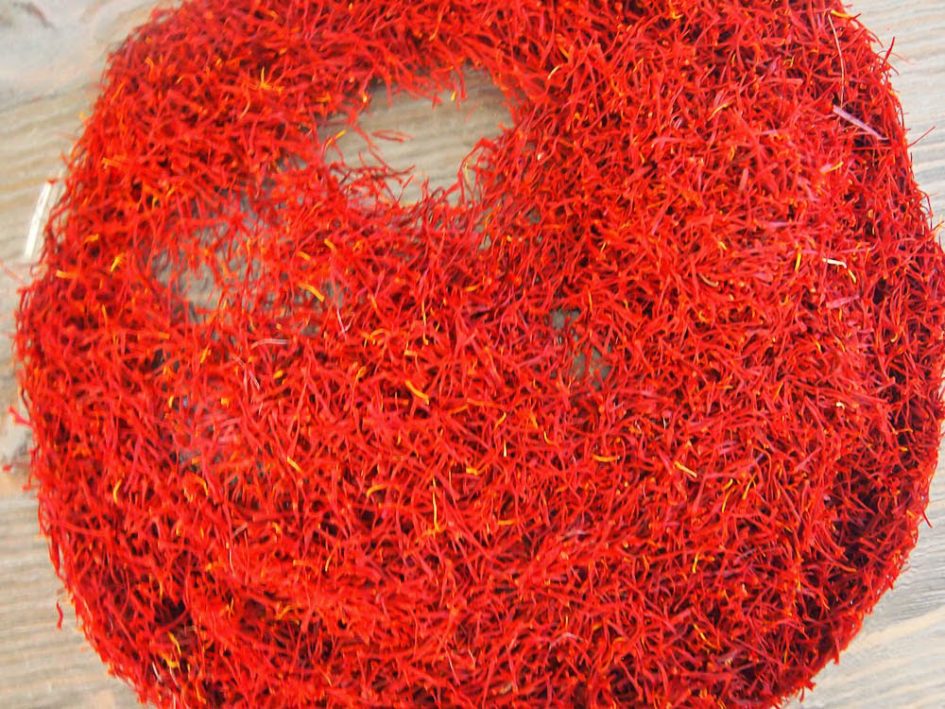 Saffron from the Pellet's crocuses. Photo: Pamela J. O'Neill
During the harvest, the stigmas are immediately separated and dried in order to remove moisture and preserve their fresh flavor and distinctive color. This is a tedious but critical step in successful saffron production and may require the Pillets and their team to work well into the wee hours of the morning.
There are only three stigmas to each flower. Bear in mind that the average meal requires three or four stigmas—at least one flower—for each person. The entire crop is only 200,000 flowers and yields just over one kilogram or about two-and-a-half pounds of saffron. It seems such a small yield requiring so much labor that, clearly, saffron cultivation is a labor of love. On the other hand, the retail value of just one gram of the Pellet's saffron in the boutique is 27 euros and the retail value of just one ounce of pure saffron easily exceeds several hundred dollars! By weight, saffron is as good as gold. Red gold is right!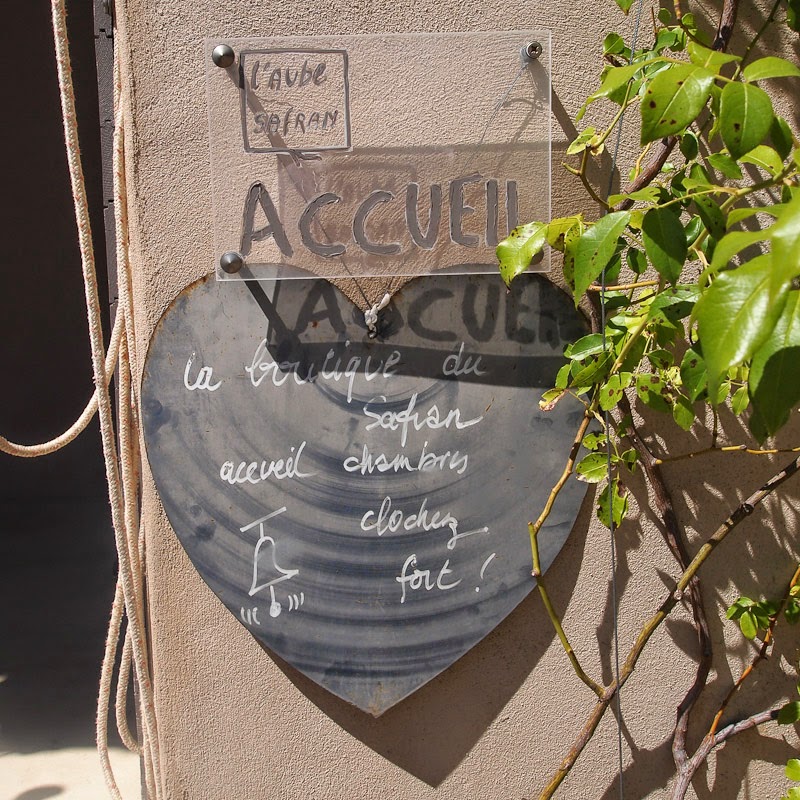 We pulled the chord to ring the bell! Photo: Pamela J. O'Neill
François's love of saffron was apparent from the time he answered the bell we rang upon arrival. He invited us into the boutique where the strong aroma of saffron filled every corner of the room. Tiny tubes, small pots, and jars of saffron are sold and, depending on the season, chutneys made from the bounty of their land may be purchased (e.g, fennel, apricot, tomato, and olive are among the chutneys listed on their website). All are marketed under the name "Le Safran du Ventoux." Bulbs may be ordered (minimum order of two lots of 100).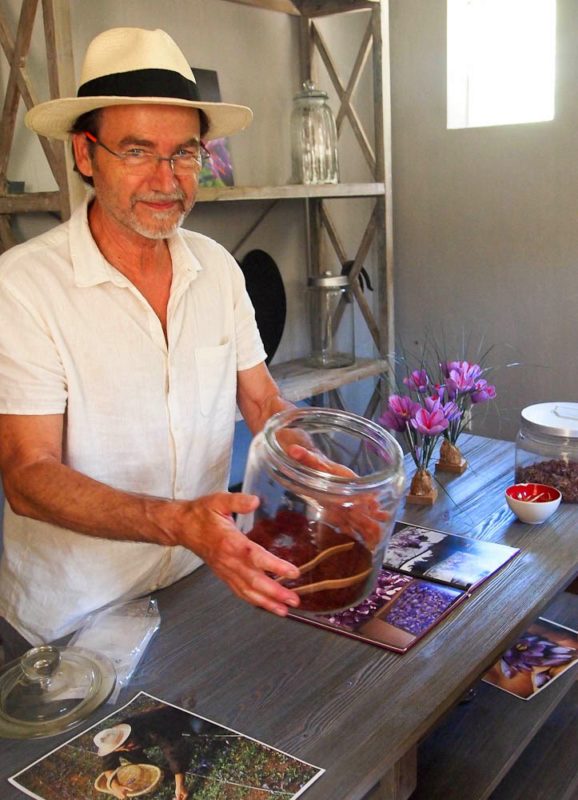 François opened his jar of reddish-orange saffron for us to take a whiff.
Photo: Pamela J. O'Neill
He opened a huge jar with nearly an inch of red saffron covering the bottom. "What do you smell?" he asked, smiling.
Pam poked her nose in the jar and reported that she smelled apricots and figs. My nose detected tobacco and hints of vanilla. Both of us agreed it was the most fragrant saffron we had ever had the pleasure of smelling. A sure sign of pure saffron is its powerful aroma and distinctive color. Patricia Wells, whose summer home and famous cooking school are in nearby Vaison-la-Romaine, opts to use the Pellet's saffron.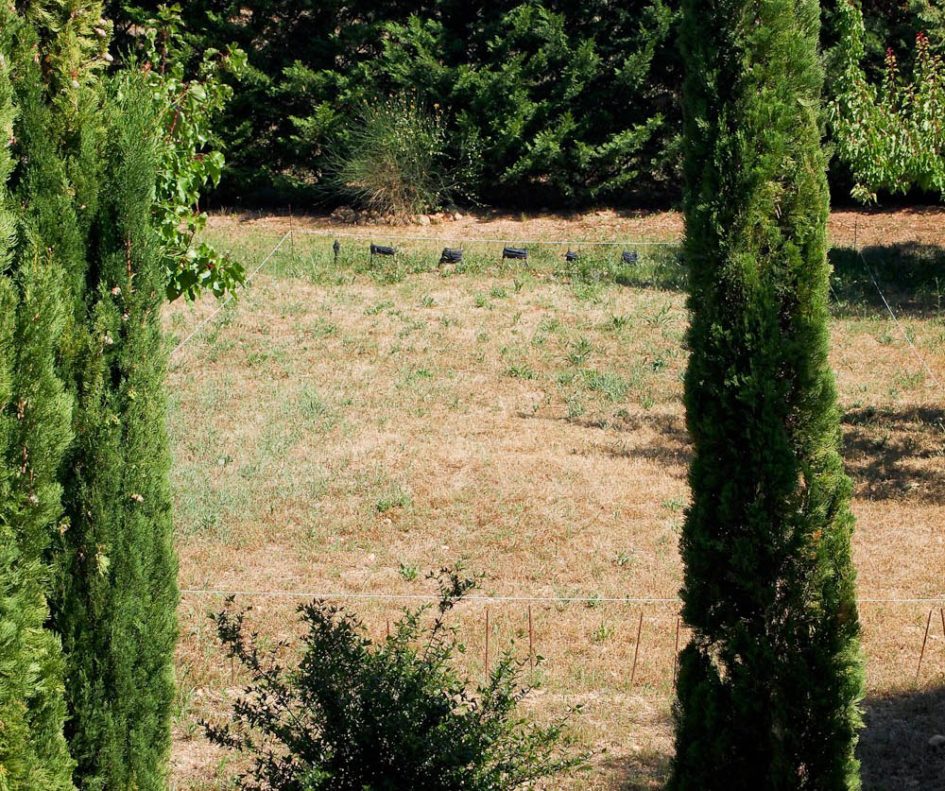 Come fall, this field will be covered with purple crocuses. Photo: Pamela J. O'Neill
We learned a lot about saffron from François as he told us the story of how he and his wife came to live in a beautiful inn on the forest-covered land at the base of Les Dentelles de Monmirail, surrounded by six plots of Crocus sativis.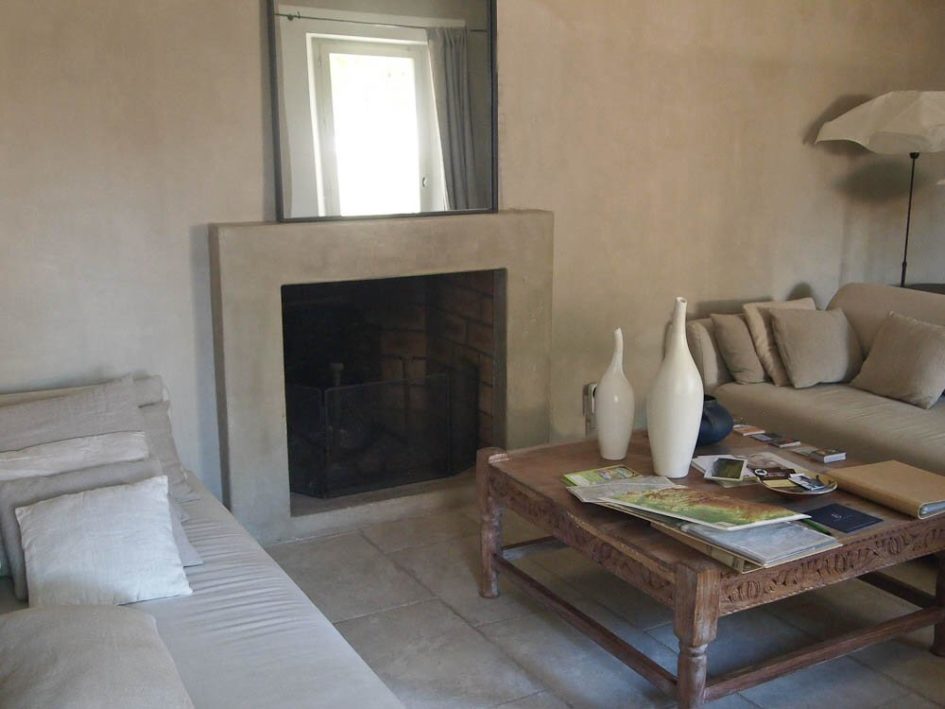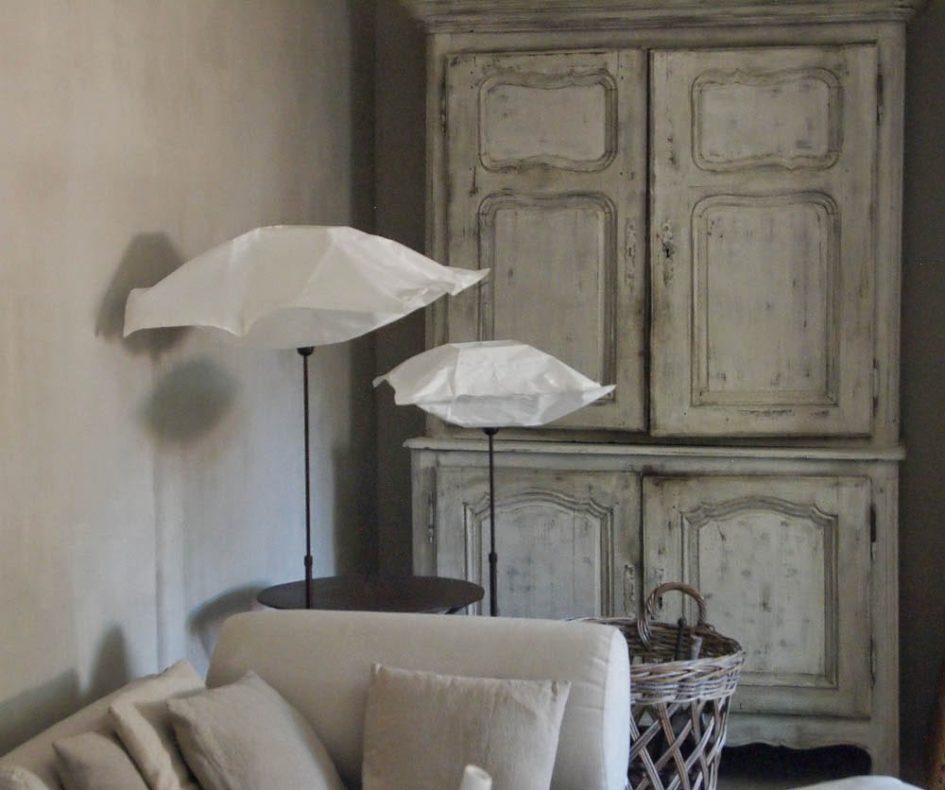 L'Aube Safran interior. Photos: Pamela J. O'Neill
François invited us into the inn which radiated tranquility. Tastefully appointed in the natural palate of colors for which Provence is well known and beautifully adorned with large canvasses of modern art in muted colors, it was easy to feel comfortable and relaxed.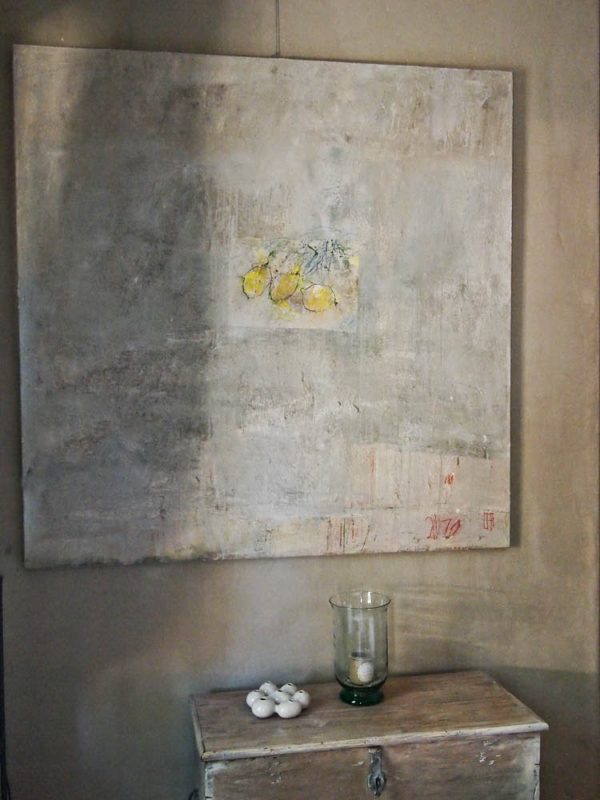 L'Aube Safran interior. Photos: Pamela J. O'Neill
The living room opens into a courtyard where I imagined guests taking breakfast or an afternoon tea, or simply relaxing. The stone pool inspires reflection and calmness. I immediately felt an intense feeling of calmness washing over my hot and very tired body.
François was the architect behind the house design and Marie was the interior decorator behind the color scheme and furnishings.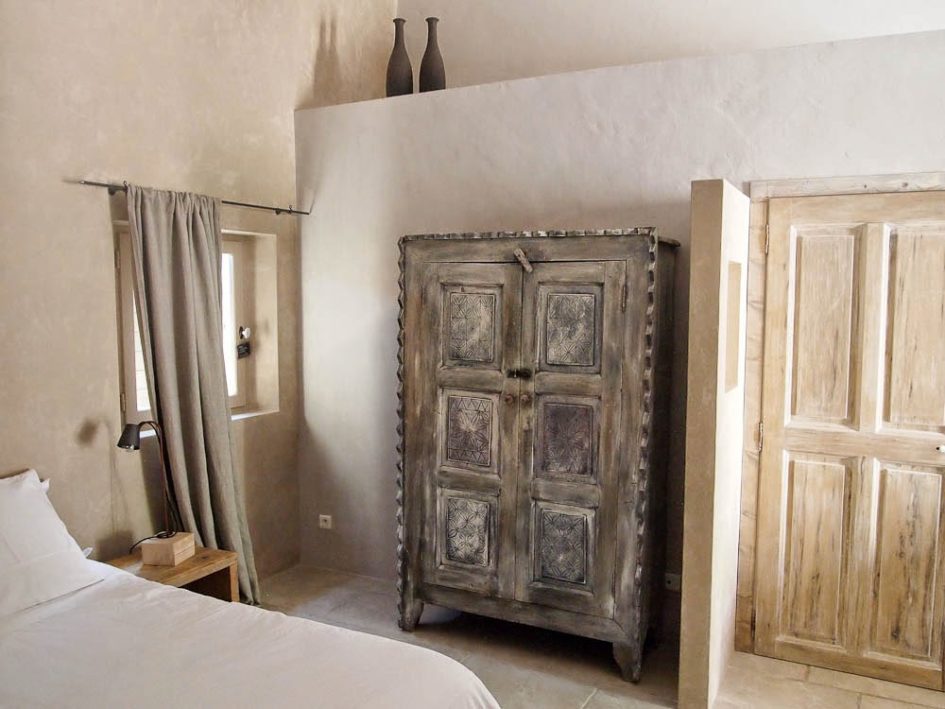 Guest room in L'Aube Safran. Photo: Pamela J. O'Neill
We saw one guest room—there was only one of the five guest rooms that was not booked—and it was lovely. It opened onto the grounds where one felt pulled to venture further and we obliged. A beautiful pool was nearby.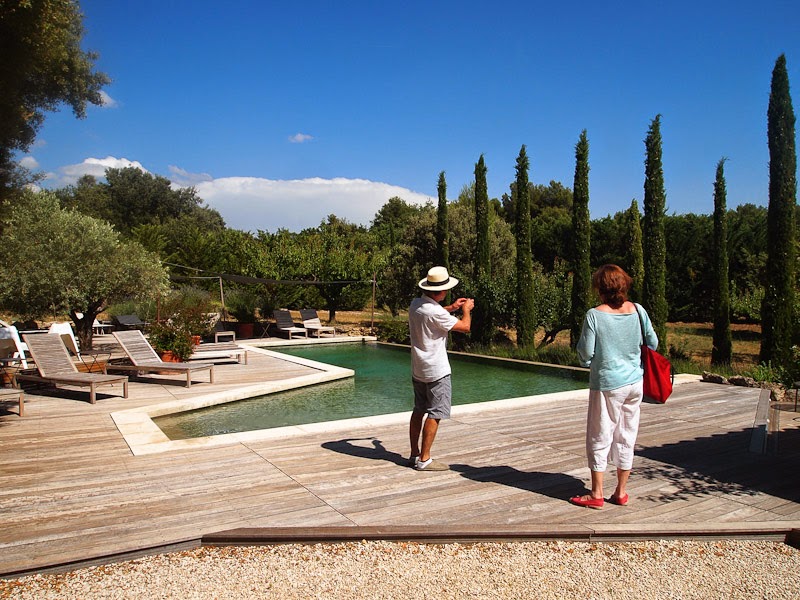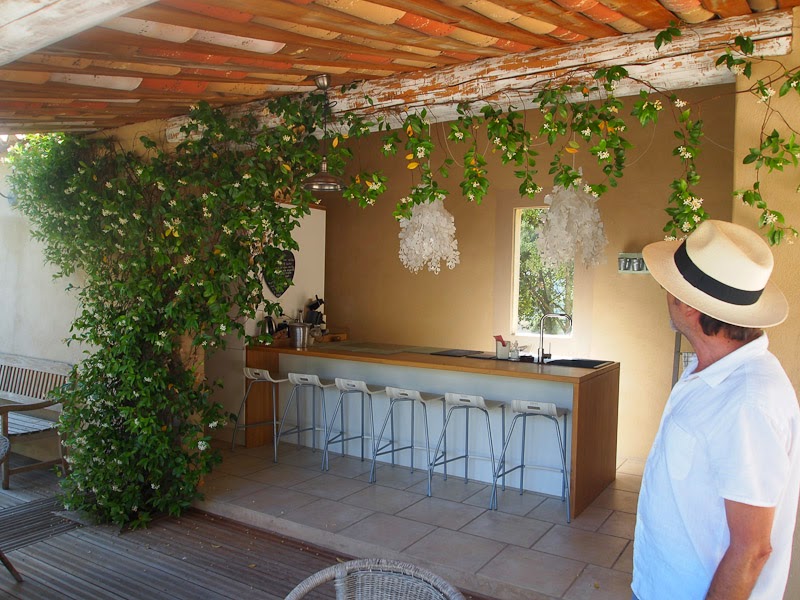 The pool and adjacent bar. Photos: Pamela J. O'Neill
It would be exciting to be in residence when the saffron harvest begins. I tried to imagine the exotic aroma of saffron wafting up from the parcels of land where the Pillets and others would be working quickly to pick the small flowers and pluck the delicate stigmas from the purple flowers. I imagined its simultaneously sweet and earthy fragrance permeating the room. I would love to be in L'Aube Safran one fall to see Provence's other field of purple and experience its harvest.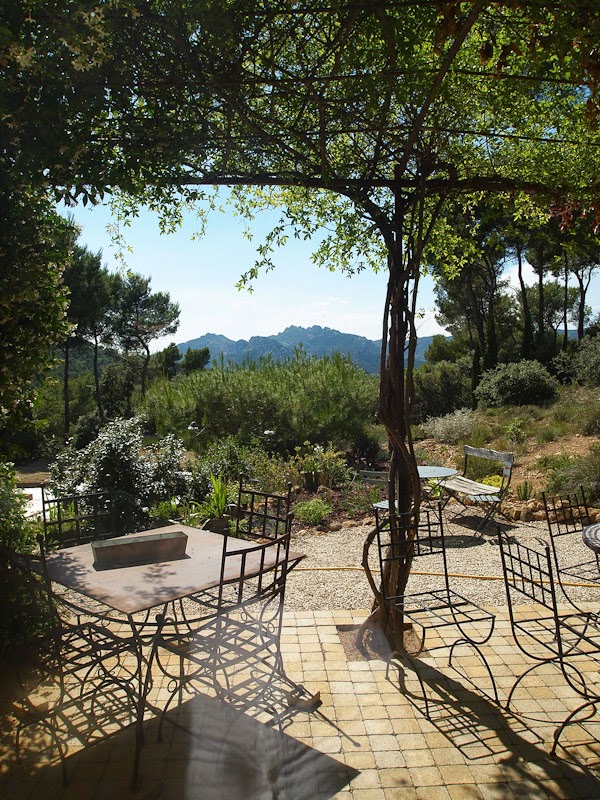 The very distinctive Dentelles de Monmirail can be seen in the distance.
Photo: Pamela J. O'Neill
Notes:
L'Aube Safran is located in Le Barroux. It is open April through mid-November. Room rates start at 160 euros a night. Visit the website (www.aube-safron.com) for more details, including Marie's schedule of preparing dinners for guests and recipes from her collection of saffron-laced meals.
Un grand merci
to
Germaine Juneau
for alerting me to L'Aube Safran. I met up with Germaine in Ansoius, where she spent her last weeks of a year-long sojourn in Paris.