TUESDAYS IN PROVENCE : OH THE STRESS OF WHICH MARKET TO VISIT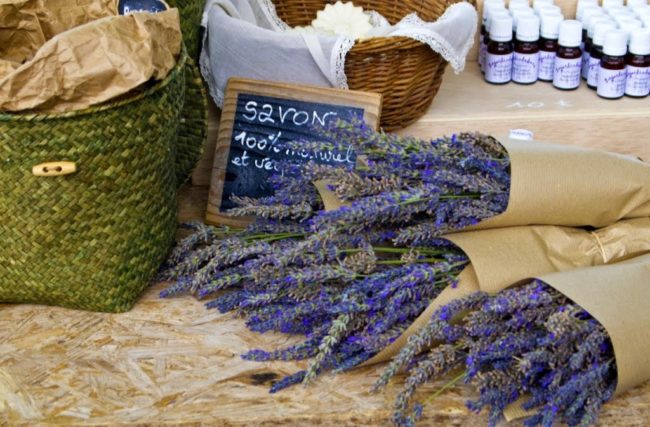 It's Tuesday morning in Lourmarin and, as I drink my grand crème at Café Gaby, soaking up the morning sun and watching the passers-by, I feel pressure mounting. Our empty baskets rest on the chairs next to us and our shopping list—loosely composed so that what I find at the market can guide my ultimate selections—sits on the table. Which market shall we head toward this morning? There are so many markets from which to choose. Stress in Provence? Yup….but, oh to have such stress.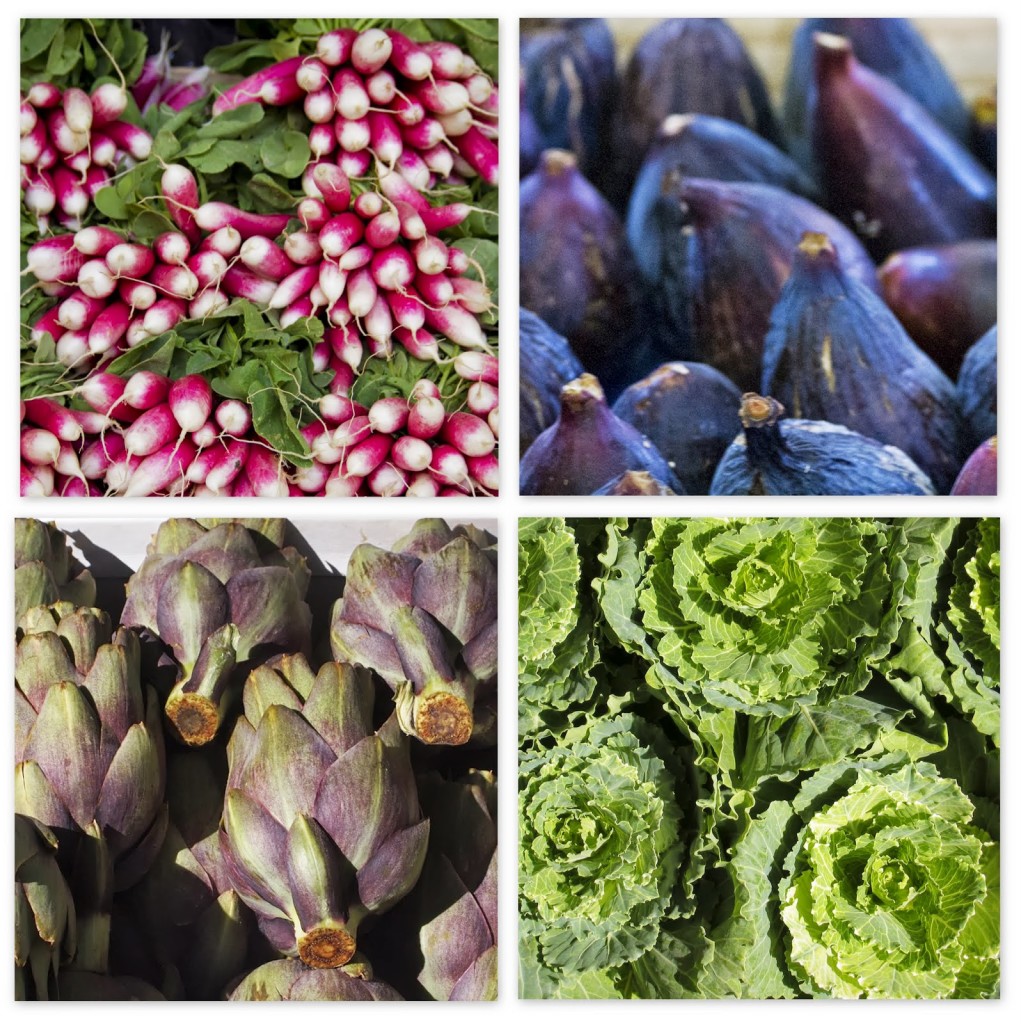 Every day is market day in Provence, but not all days are as blessed as Tuesday, a day that can boast an inordinately large number of terrific markets within an hour's radius of our stomping grounds in Lourmarin.
Usually we go to Cucuron, one of my very favorite markets in Provence. In just minutes—the village is just 8 kilometers from Lourmarin—we can find ourselves tooling around the Bassin de l'Etang, a stone pool that is spring fed and dates back to the Middle Ages. Giant plane trees frame the Olympic size pool and, in the warm summer mornings, offer a welcome canapé of shade. Vendors line three sides of the pool and, in the summer, spill over into areas beyond both ends of the water. Cafés line the fourth side.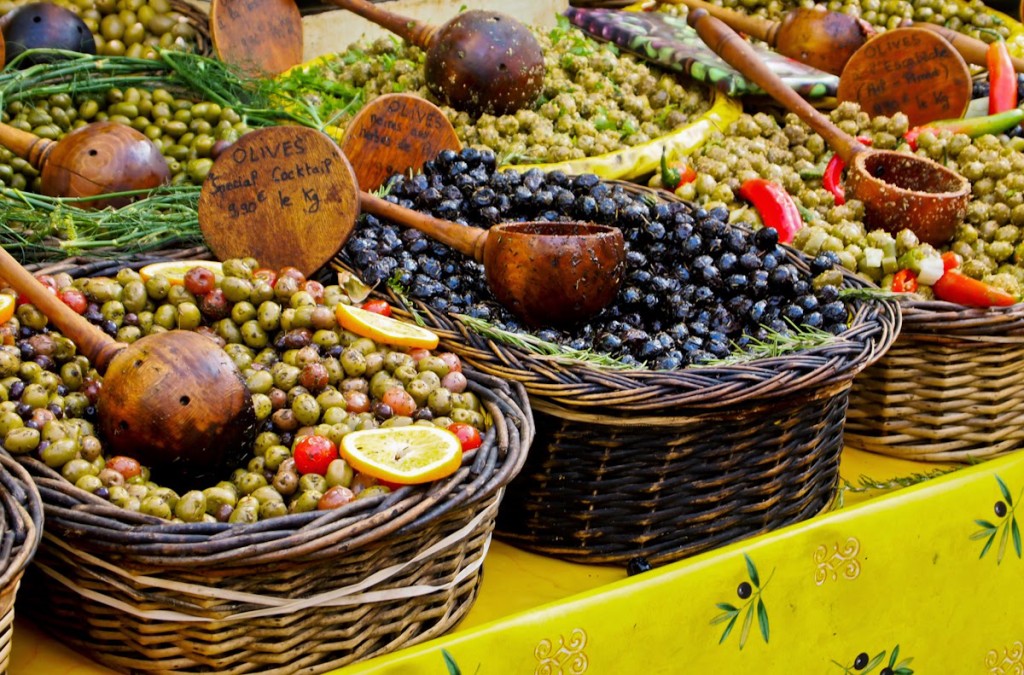 It is a relatively small market, particularly in the off-season, but the vendors are especially good (year-round). Our favorite sources for fromage, rotisserie meats, and honey are regularly there. In the summer, the market swells to include, for example, a fellow who sells wines from Châteauneuf-du-pape and a vendor with racks of…
very fashionable linen clothes. The produce is excellent. In addition to the rotisserie, there are other wonderful prepared foods to pick up—from pizza to Vietnamese food, our food experiences have always been very successful in this market.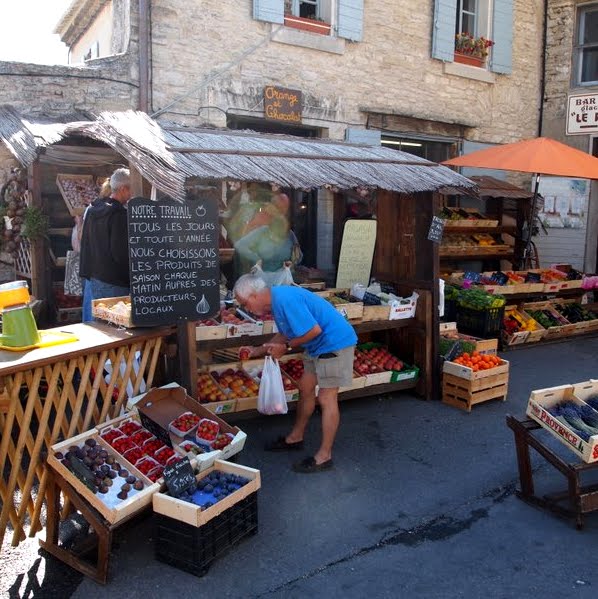 Regular TMT readers know that we also really like the market at Gordes, about 26 kilometers northwest from Lourmarin. The setting of this relatively small market is also lovely: it wraps around the base of a medieval château, a scene that will be familiar to fans of Ridley Scott's A Good Year, based on Peter Mayle's novel of the same name, starring Russell Crowe, Abbie Cornish, and Albert Finney.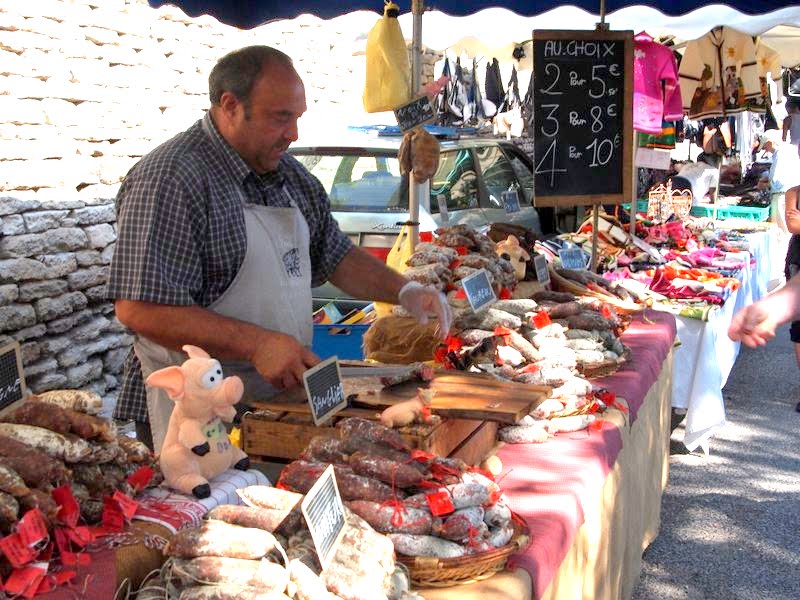 Not surprisingly—it is Gordes where, every summer, well-heeled Parisians flock to hang their hats in their très cher vacation homes—this market is an upscale one that focuses more on gourmet foods, fine linens, and arts and crafts than on produce. (A good head of lettuce may be hard to find.) It is a colorful and vibrant market that is definitely worth a visit.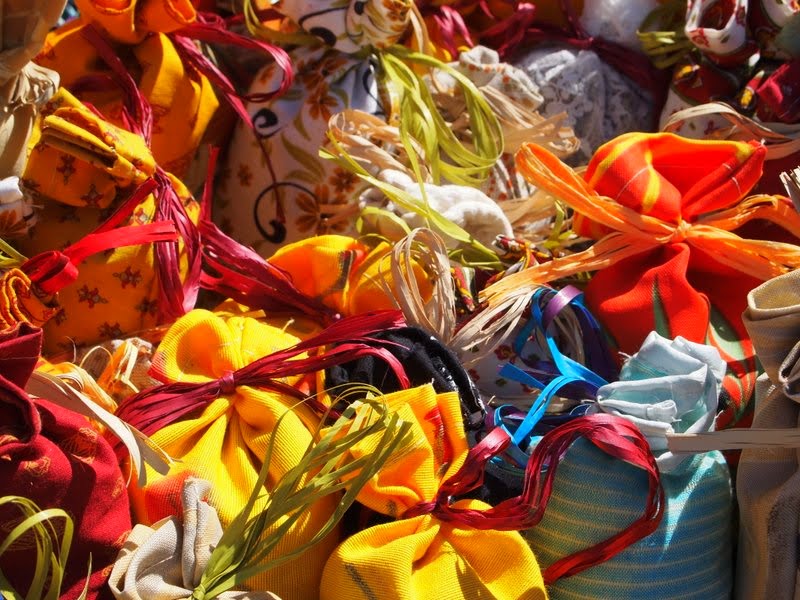 Saint Saturnin-lès-Apt, just 16 kilometers farther (from Gordes), also has a Tuesday morning market. It is smaller and not geared to high-end tourists like nearby Gordes; in fact, the whole village, although lovely and charming, has not made tourism its mission. Nonetheless, remnants of its medieval past entice tourists to veer from the beaten paths to see this picturesque village of rambling streets and beautiful doorways. There are ruins of 11th-century walls, a huge château and adjacent chapel. If you want a very nice market without busloads of people, continue from Gordes to this pretty village. And, do walk up to the ruins as there is a remarkable view of the countryside and the Luberon mountains. (You will see why this area is a popular destination for hikers.)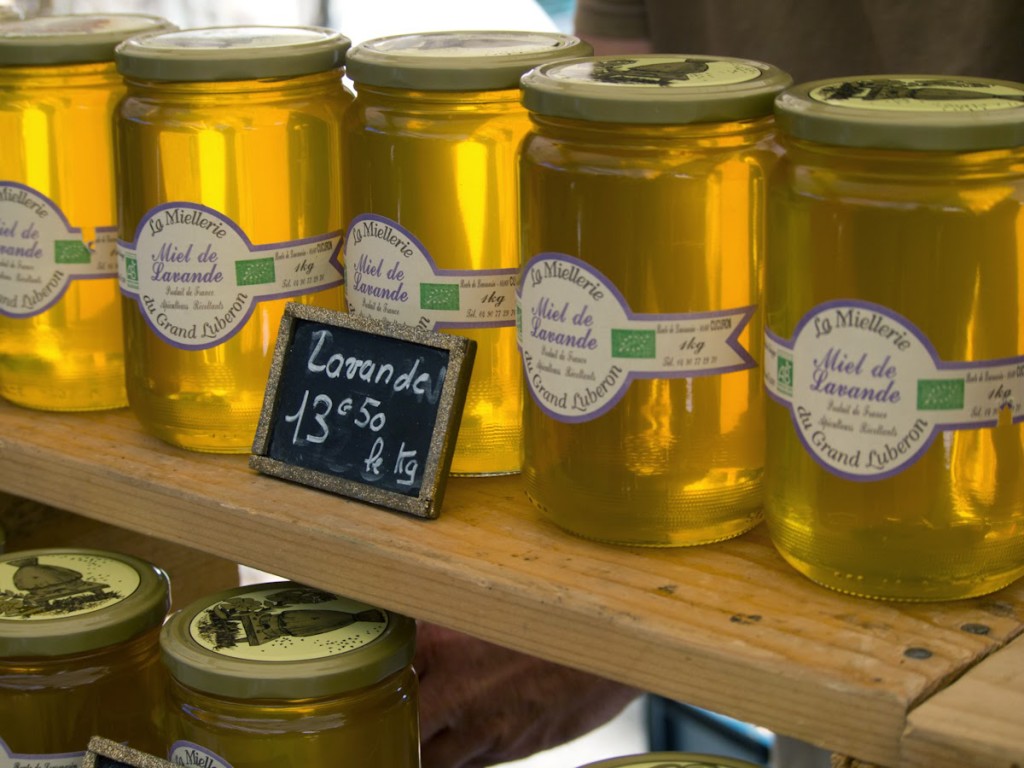 The tiny medieval village of Lacoste, just 17 kilometers northwest from Lourmarin, offers another market option on Tuesdays. If you are off to market early, you might consider stopping here and then going on to Gordes (12 km farther). The market is small and primarily consists of fresh produce and locally made products; the venue and views would be the attraction.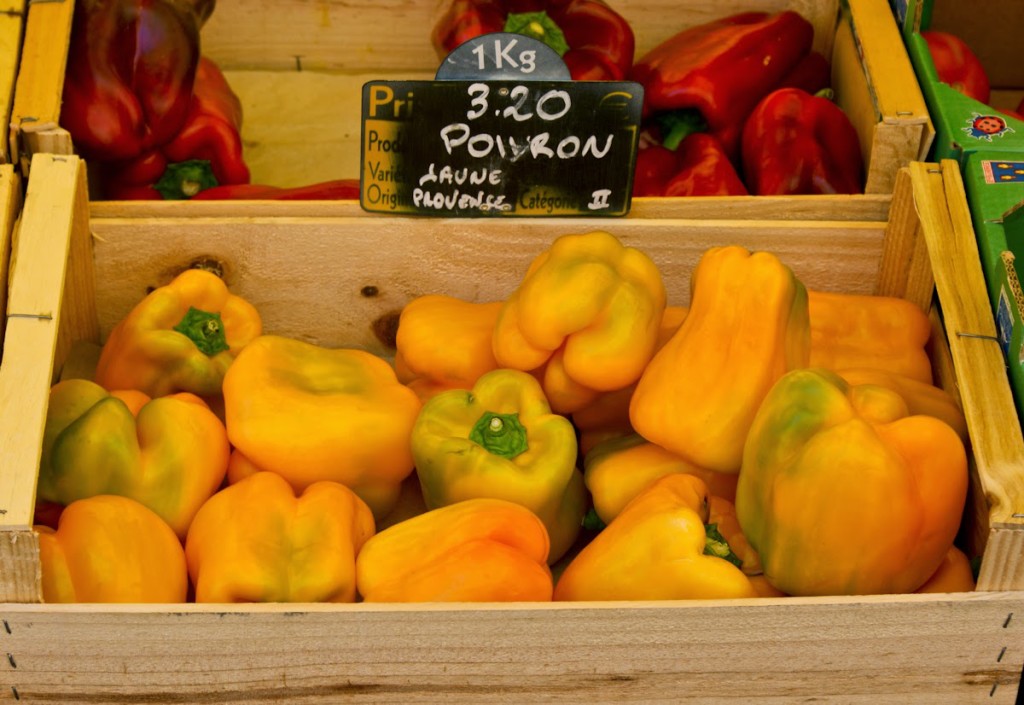 Lacoste, like Gordes, is a perched village and, in fact, if you choose to go directly to Gordes along the D36 (through Bonnieux), you can clearly see the ruins of the 11th-century château where the notorious Marquis de Sade once lived. Actually, aristocrat Donatien Alphonse Francois comte de Sade did not move in until the 18th century, but he is clearly its most well-known resident with his violent sexual practices having inspired the word "sadism." The village is also known for its early Protestant sympathies which, in 1545, led to the pillaging of the village and slaughter of its Vaudois inhabitants. The château is now owned by Pierre Cardin and is undergoing extensive renovation. The whole village is experiencing a somewhat controversial cultural awakening with Cardin's summer music festival and the events of the Savannah College of Art and Design.
La Tour d'Aigues, just 17 kilometers from Lourmarin in the southeastern direction, offers another market on Tuesday mornings. This market is one of our long-time favorites for its wide selection of luscious produce; if you want more than food, save this market for another Tuesday but if your goal is to find high-quality ingredients for dinner, this market is for you. You will see many local folks doing their shopping. The market is set on the town square, dominated by the remaining walls of the 16th-century chateau. The sheer size of the château walls, coupled with the beautiful detail inherent in its Renaissance style, reminds the visitor that La Tour d'Aigues was once an important town in the region. Work is currently underway to restore what is left of the castle. L'Ange Gourmand is a good choice for an enjoyable lunch and, if you are returning to Lourmarin, you will drive by our favorite ice cream shop. A stop at L'Art Glacier would be a nice way to wrap up the afternoon.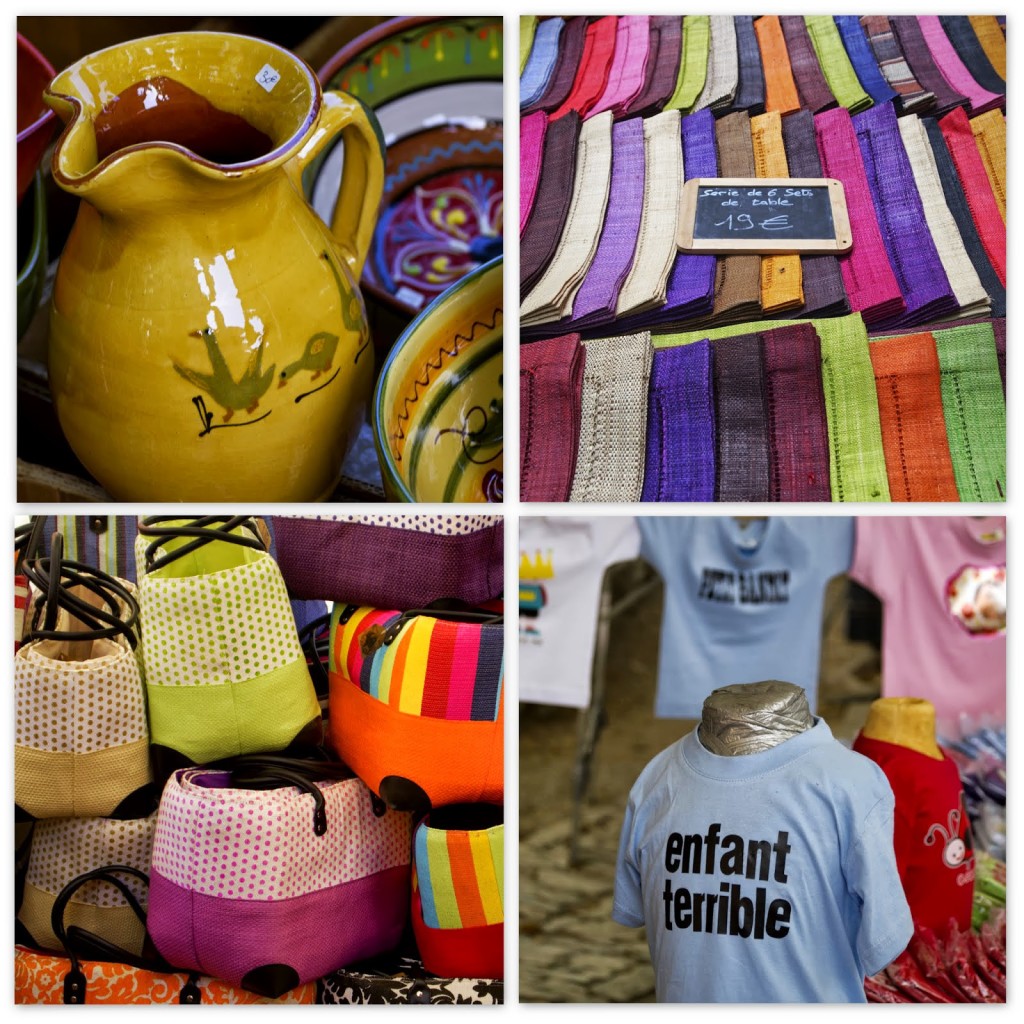 Beyond the hour-radius of Lourmarin (that characterizes the aforementioned markets), there are more markets. Consider the Tuesday markets in Vaison-la-Romaine, Tarascon, La Ciotat, Banon, Beaumes-de-Venise, and Lorgues—excellent markets in wonderfully inviting locations that are well worth the drive. Combine the markets with other activities and—voilá—you have created a most memorable day in Provence. For example, visit the extensive Roman ruins in Vaison; tour the fascinating medieval castle in Tarascon; see lavender fields and taste chêvre cheese wrapped in chestnut leaves while in Banon; taste the famous fortified wine made from Muscat grapes in Beaumes-de-Venise; or a taste all colors of wine at Château Roubine in Lorgues.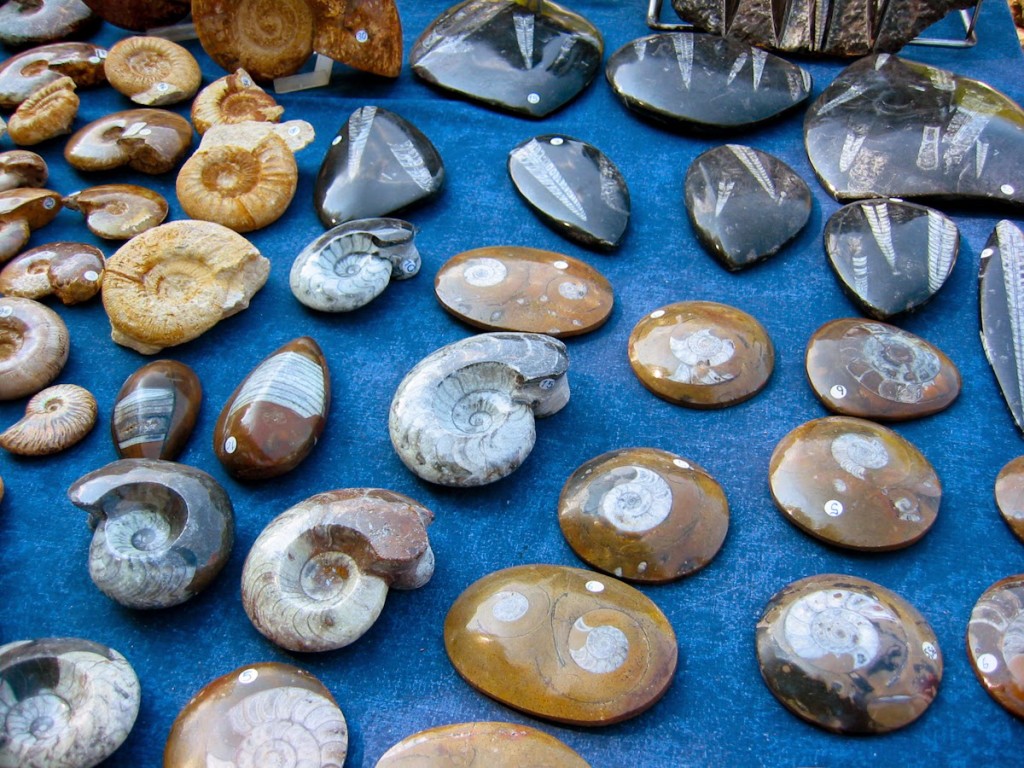 There are still other markets—flea markets—on Tuesdays in Aix-en-Provence, Apt, Stes-Maries-de-la-Mer, and St-Tropez.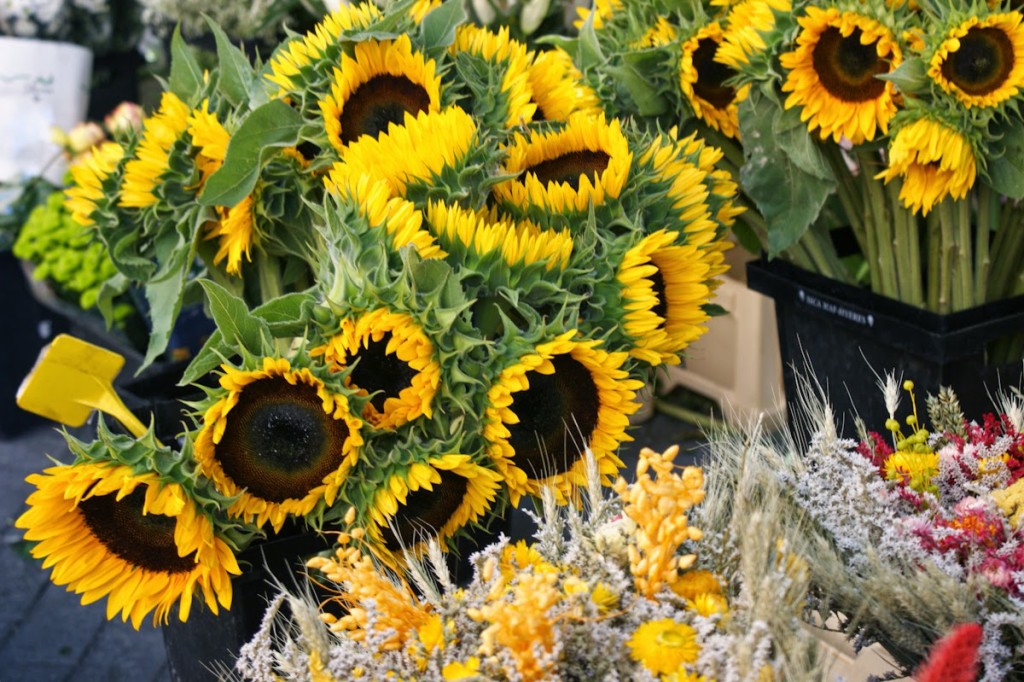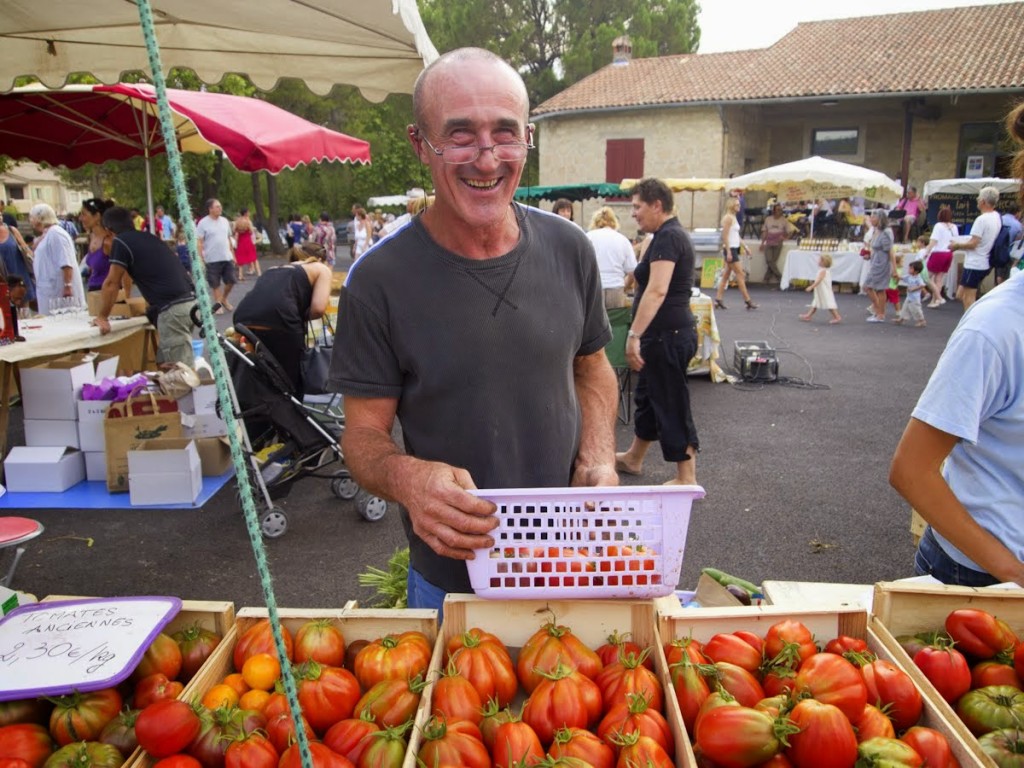 And, if your love of markets is not yet satiated, visit Lourmarin's evening market, a "marché de produit de bouche exclusivement" which means that it is a market of products exclusively for the mouth. All products are limited to those that are culinary-related as well as local and many are biologique (i.e., organic).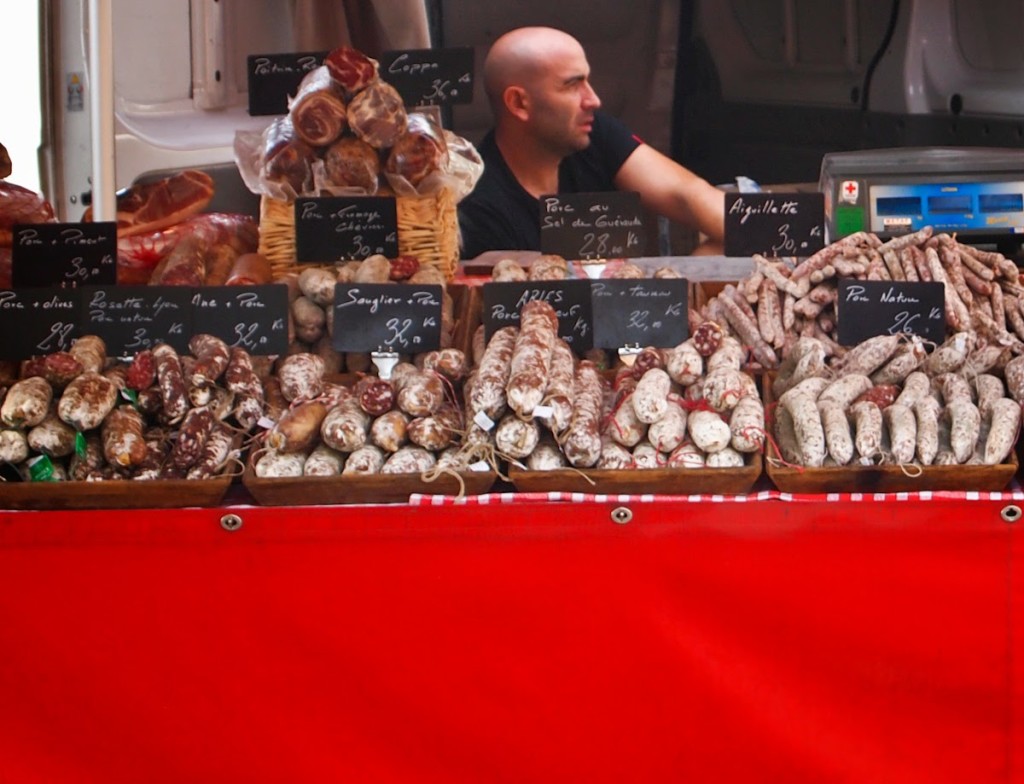 You will find fruit, vegetables, fruit juices, wine, olive oil, honey, jams, cheese, and meats. From May through October, from 5:30 to 8:30 p.m., in the newly renovated former agricultural cooperative across the street from the center of the village, you will find local chefs cooking and patrons sipping wine, listening to music, and doing a little shopping. But, really, I think the Tuesday evening market is another opportunity to socialize. The chatting, the banter, the laughter–it is all irresistible. Even those of us who don't speak much French are drawn in and I can't help but think that these markets provide as much nourishment for the spirit as they do food for the body.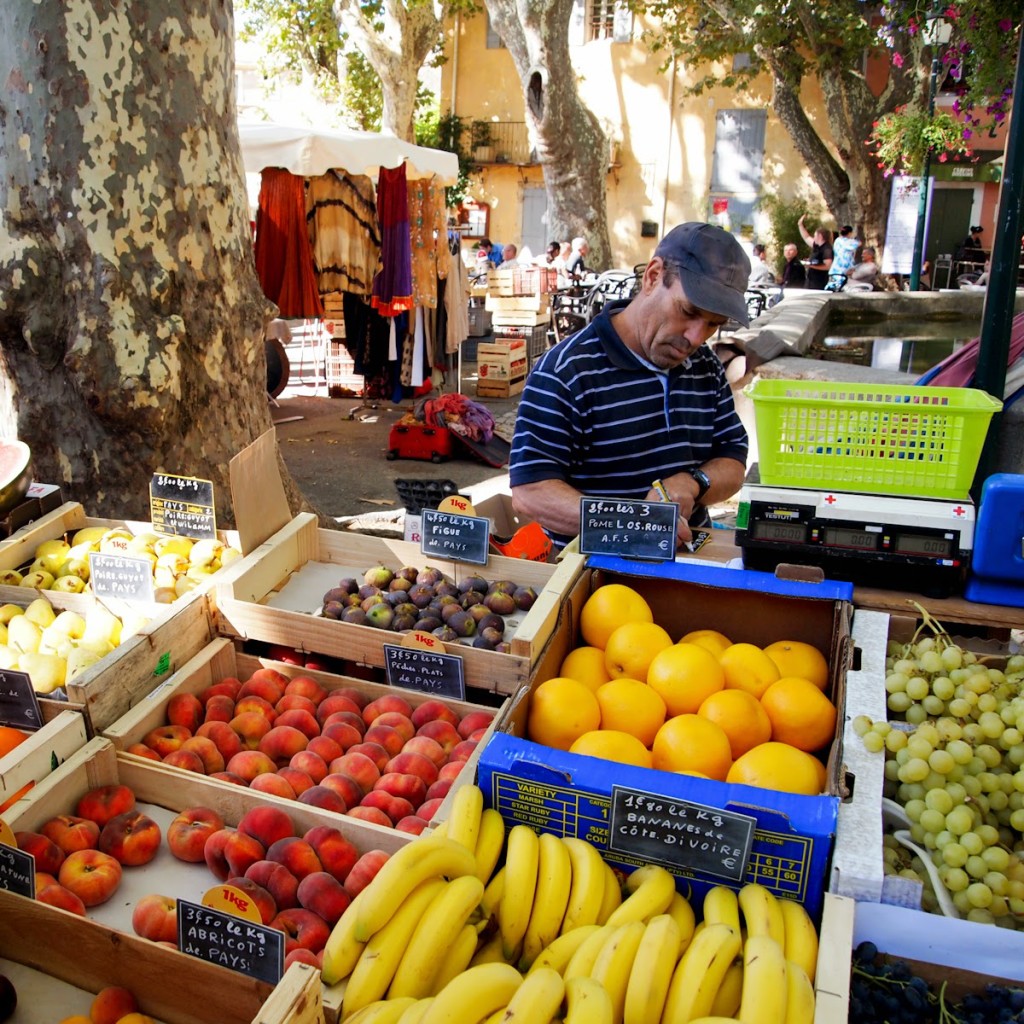 I love the markets of Provence. They are transformative. When the trucks, vans, and wagons roll into the villages on market day and the vendors arrange their brilliant red tomatoes in precise rows, stack their jars of fragrant honey into flawless pyramids, and cook their paella to perfection, even the sleepiest village comes alive. For centuries, on a certain day (or days) every week, we can count on the market coming to town and we will go and buy our food and wares, catch up with friends and neighbors, and revel in the glory of tradition.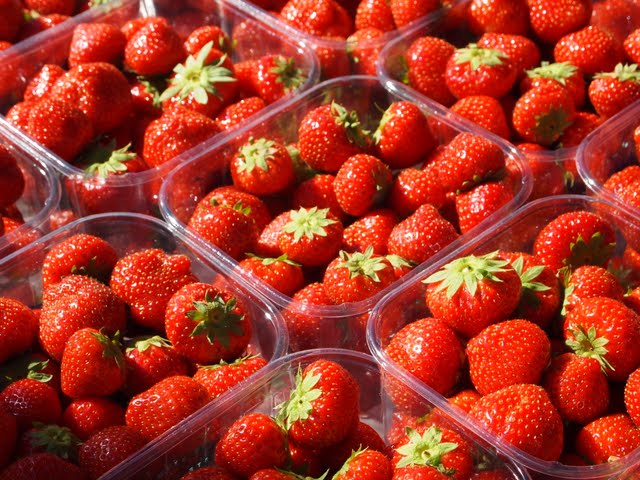 On Tuesday, I will probably go to Cucuron—and be very content—but I do wish there were more Tuesdays in the month.
For a list of other The Modern Trobadors (TMT) posts about markets in Provence,
click here
.