"WHERE TO GO IN 2013?" THE NEW YORK TIMES LISTS MARSEILLE AS # 2 DESTINATION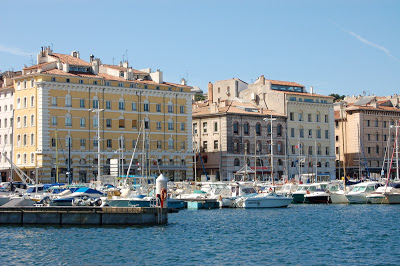 View of Le Vieux Port in Marseille Photo: David Scott Allen
MARSEILLE: "EUROPEAN CAPITAL OF CULTURE" IN 2013
One of my scariest walks was to the Gare-de-Marseille-Saint-Charles. It was just as dawn was breaking and, having made a couple of wrong turns, the clock was moving uncomfortably close to the departure time of our train. Weighing the remaining minutes and the long distance to the Europcar office, my husband dropped my daughter and me off—along with a lot of luggage—so we could walk just a few blocks to the station while he deposited the rental car and ran the numerous blocks back to the station. Given the congested tangle of one-way streets, he dropped us off as close as possible, but I recall that walk as seeming to go on and on.
The sleeping homeless men that lined the sidewalks evoked no fear but the young men who emerged from the dark to approach us for money and who shouted at us from a distance were as unnerving as I can ever remember. I held my daughter's hand tightly and gripped our bags as best I could. I instructed my daughter to look straight ahead and to walk quickly. In the distance I could see the gendarme patrolling the perimeter of the station. As they caressed their machine guns and watched us walk through the notoriously seedy streets of The French Connection, they elicited as much anxiety in me as they did comfort.
We lived to tell the tale, as they say, one that ended in a plush train car. When we finally sunk into our reserved seats, our daughter famously said, "Mom, do you want some pastis?"
That was fifteen years ago when most tourists did not include this gritty Old Port on their itinerary. Today, France's second-largest city is vibrant, colorful, and cleaned-up. (Well, okay, two out of three is not bad in Marseille—cleaning-up is a Sisyphean task down there.)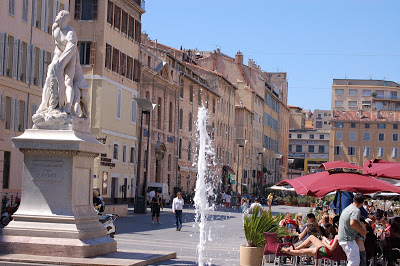 A few blocks away from Le Vieux Port Photo: David Scott Allen
After a 660 million euro ($865 million) public-private investment in cultural-arts attractions, Marseille hopes to shed its image as a hotbed of crime and drug-smuggling in exchange for a respectable reputation and a stop on everyone's itinerary in the South of France.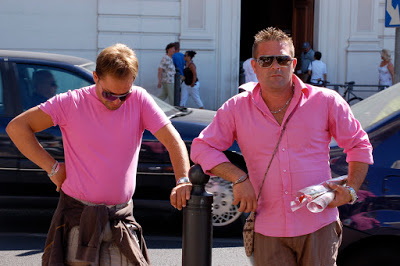 Tourists at le Vieux Port Photo: David Scott Allen
The Old Port's hopes moved closer today: As Marseille makes its official debut as… the 2013 European Capital of Culture this weekend, today's New York Times lists this ancient Mediterranean port as #2 in "Where To Go In 2013."
"The European Capital of Culture" is a coveted title awarded to two European cities each year to highlight their "internationally recognized cultural scenes." (Kosice, Slovakia is the other city in 2013.) After submitting a proposal describing how the city will develop an international cultural-arts project that reflects the region and has wide audience appeal, a two-year long selection process begins. Programs in "dance, music, theatre, heritage, and contemporary art" are considered as well as those in "science and technology, sport, cuisine and popular culture." Created in 1985 to "bring the people of Europe closer together," the title was first awarded to Athens, Greece; since then, thirty cities have received the honor and the concomitant economic and social benefits. The title will not be given to another city in France for at least ten years.
With over 400 cultural events planned for 2013 and nearly 60 brand new or newly renovated exhibition and performance spaces opening, Marseille will be on my list of places to go this year. It is just an hour from Lourmarin, our home base in Provence, so we usually make a stop in the Vieux Port, if only for a café and some wonderful people-watching, as we make our way to Les Calanques. This year, I hope to make Marseille a day-trip to visit at least one of the exhibitions.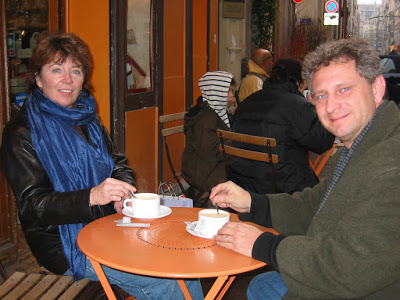 Susan and Towny at Torrefaction Centrale Cafe in Marseille
"Painters and the Mediterranean" will focus on some of the most famous artists who took up residence in the region—van Gogh, Cezanne, Matisse, Picasso, Bonnard, and de Stael, all of whom painted scenes of the South of France between 1880 and 1960. This exhibition will be hosted by Marseille's Palais Longchamp and Aix-en-Provence's Musée Granet.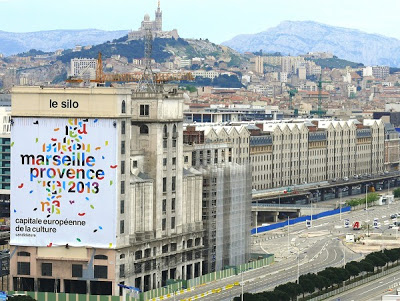 Le Silo d'Arenc
Look also for exhibitions and performances in Le Silo d'Arenc, a granary built in 1926 and newly transformed into a performance center; MuCEM, a museum of "European and Mediterranean Civilizations;" the J1, a hangar near the Old Port that has been converted to a welcome center and an exhibition space; the Regional Center of the Mediterranean where, among many attractions, there is an underwater gallery; and Regards de Provence Museum, a former maritime sanitary control station built in 1948 and recently renovated to showcase exhibitions.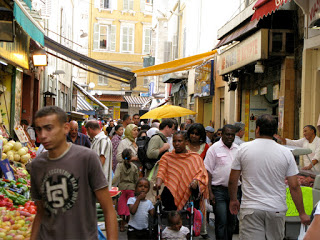 North African Market in Marseille
There are many other reasons to visit Marseille. Our favorites include the Basilique Notre-Dame-de-la-Garde, a huge Romanesque-Byzantine basilica built in the mid-19th century, that offers gilded beauty inside and a panoramic view of the harbor outside; the North African Market with enticing scents and interesting tastes; and the city's famous bouillabaisse. Nearby, consider a 30-minute boat trip to an island where you can visit Château d'If, the 16th-century fortress-turned-prison made famous by Alexandre Dumas' The Count of Monté Christo or 30-minute drive toward Cassis to visit Les Calanques, the fjord-like inlets filled with beautiful crystal-clear water.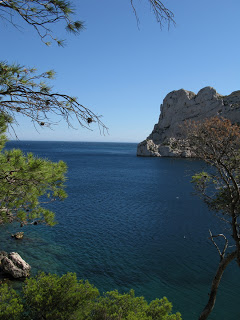 Les Calanques
As Marseille begins its year as a Cultural Capital of Europe, there are high hopes that the expected injection of a billion euros into the city will help to loosen the grip that crime has long held on Marseille. In 2011, compared to the previous year, robbery was up (23%), burglaries increased (14%), and armed robberies went up (40%). The murder rate increased by 9% in the first three months of 2011. By way of comparison, though, with 245 homicides over the last five years, your chances of being murdered in Marseille, according to my rough calculations, are about the same as in New York and much better than in Chicago. Almost a quarter of the murders in Marseille is linked to drugs and organized crime.
In addition to drugs and organized crime, with the unemployment rate of 12.1 %—and reportedly over 40% in the city's youth of North African descent–the city suffers from the consequent poverty and social problems that are linked to crime. Corruption in the police department as well as police officers who have just plain "given up" on reining in the drug lords and mob figures further contribute to city's efforts to combat these problems.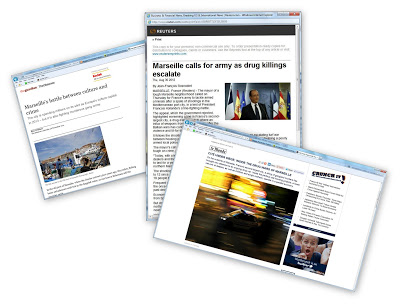 Neither these statistics nor my walk to Gare-de-Marseille-Saint-Charles will deter me from visiting Marseille. But both underscore the importance of practicing common sense (that should be used anywhere). Don't leave valuables in your car; don't flaunt your wealth, which includes money and jewelry but also smart phones and tablets; don't veer off the beaten well-lit path; and pay attention.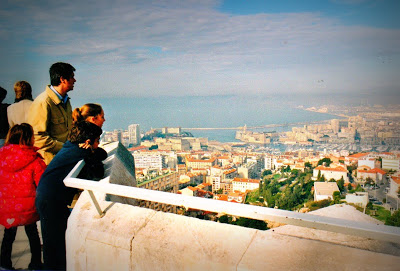 View from Basilique Notre-Dame-de-la-Garde
Marseille is France's oldest city. The Phoenicians landed in 600 B.C. The Romans passed through some 500 years later and then the Visigoths and Germanic tribes and lord knows how many Kings before Marseille became part of the Republic of France. It survived the Bubonic Plague and the Great Plague. It survived the Second World War. I suspect it will survive the challenges spawned by today's urban problems.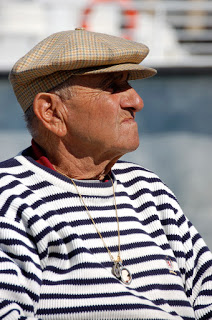 With its new title as Europe's Cultural Capital (and its New York Times endorsement), I hope many people will include Marseille on their itinerary. I suggest you choose Lourmarin as your home base and make Marseille a day-trip.